There are a lot of reasons why you might be drawn to a battery-operated fog machine. They're generally smaller and more cost-effective than larger, more powerful models and they're easily portable because they don't have to be placed near an outlet. Some models also come with some great extras like LED lights to really crank the party up a notch.
If you're not sure where to start, don't worry. We're here to help. First, we're going to get into what a fog machine is and take a look at how they work and why a battery operated fog machine may be the perfect choice for you.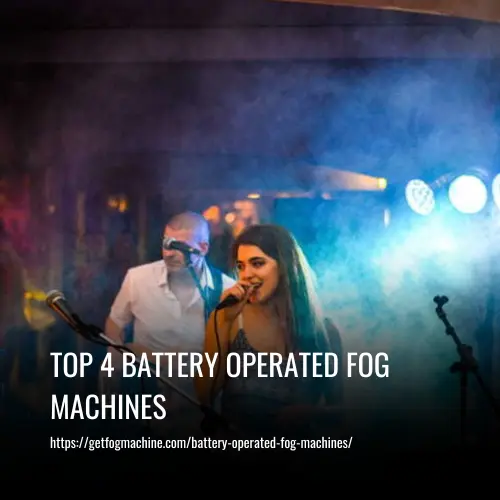 What Is A Fog Machine?
Let's get to the basics first. A fog machine — sometimes known as a smoke machine, haze machine, or fogger — is a device that produces a thick vapor closely resembling fog. You've probably seen them in action before, they're commonly used in the entertainment business, at concerts, in theatrical productions, or even at themed parties to give that extra spooky or dream-like feel.
There are many fog machines on today's market, designed for all sorts of different events and venues. Now that smaller, more practical models are available, you're not just seeing them used at large events for professional purposes.
Today, homeowners are starting to invest in fog machines of their own. Whether it's for small-scale parties, personal photoshoots, or just plain old fun, these smaller models are growing more and more popular and it's not hard to see why.
One trend that is quickly taking hold is the ultra-portable, battery operated fogging machine. These machines offer impressive functionality alongside ultimate portability, and we'll be diving into them next.
How Do Fog Machines Work?
In order to see whether you require a fog machine for your own personal use, it can help to gain a greater understanding of the products themselves. Sometimes, by understanding how something works, we are better able to envision its applications, and how it might benefits our lifestyles!
Most fog machines work in a similar fashion. That being said, there are important differences between machines, so consider this section a general guide to the inner workings of these machines.
Most machines work by heating fog juice, thereby turning it into fog. Basically, the fog juice is placed in the fluid reservoir of the fog machine. Then, the machine will use a pump to bring the fog machine from the reservoir to a heat exchanger, where it is heated up to the point where it becomes a vapor. The vapor is blown out of the fogger machine, where it comes in contact with colder outside air. Through exposure to this colder air, it takes on the "fog" appearance you are familiar with.
Of course, not every fogger works in this manner. In fact, some foggers will actually chill the fog, which creates a fog output that is heavier than the outside air. This fog sinks to the ground and becomes low lying fog, rather than filling the room.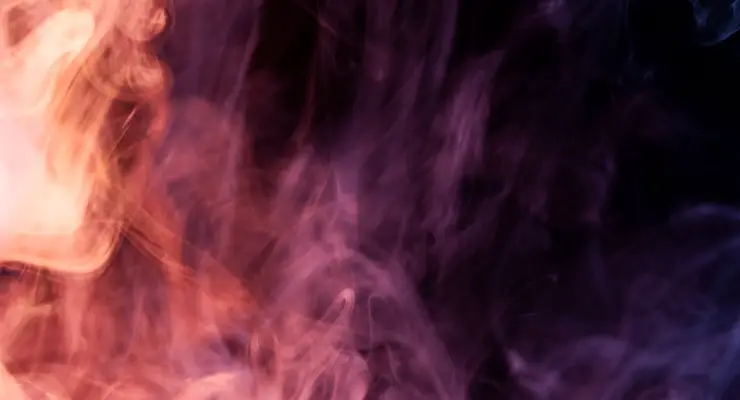 All About Battery Operated Fog Machines
A lot of fog machine models use a power cord and require an outlet for use. There's nothing wrong with this type of fog generator; in fact, they're powerful, reliable, and some are very effective. But there are some situations where the power cord becomes inconvenient, and may even prevent you from using your fog machine where you want to. That's where battery-operated models come in.
If you're planning to take your fog machine outside or use it in different locations, battery-powered is the way to go. There may not be an outlet nearby and or, if there is, it may not be convenient for the rest of the setup.
So, a battery-operated machine is a good choice. Here are some more reasons why battery operated machines might come in handy:
Cost: These machines are usually more cost-effective. Battery-powered fog machines are generally lighter and smaller so they cost a bit less than others. While you do have to buy batteries, you can find models that have internal rechargeable batteries, which is great.
Portability: Because the machines are generally smaller and lightweight, they're a lot easier to carry around from place to place. This is ideal if you're taking your machine into the middle of nowhere for a photoshoot or to some other outdoor location where a celebration is taking place.
Concealment: Because these machines tend to be small and portable, they are also quite easy to conceal. Concealing these machines is ideal so that the fog effect isn't distracted by the machine itself. Concealing the machine adds a more mysterious and authentic appeal, because viewers can't actually see where the fog comes from.
Functionality: Because you aren't tethered to a wall with a power cord, you're essentially free to use the machine how you want! It opens up an entire world of opportunity, and the entire outside is available to you. This makes it the ideal machine for outdoor events, outdoor decoration, and much, much more.
Basically, no matter where you take your battery-powered fog machine, you aren't restricted by needing to be close to an electrical outlet. You can place your device anywhere, switch it on, and it'll work — provided, of course, that you remembered to put batteries in it. Some of these machines include batteries, and some don't, but even if you have to supply your own, setup is still easy and affordable. You can work around anything and get the fog effect right where you want it.
How to Choose The Right Product
When choosing between different models of battery-powered fog machines, the best way to find out if you're getting a durable, good quality product is to check out the customer reviews. Amazon has a slew of them from people who bought various smoke machines, all of which are very helpful to prospective buyers.
Other than that, you should also keep in mind whether a product specifies that it's made for children's usage. If so, it's likely to be less durable and generally of lesser quality. This also means that products intended for children are generally cheaper as they're considered to be more of a toy than a smoke machine for practical, festive functions.
You should also check to make sure the fog machine you choose can be used both indoors and out. This won't matter much to some people but if you're hoping to take your fog machine out in the backyard for a party or into the middle of the woods for a cool photoshoot, you need to know that it's safe to use outside.
And finally, the most important thing is that you buy the machine that suits your usage requirements! You need to sit down and consider how you will actually use the machine. If you decide that you don't need the portable features as much, then you might be better off with a classic fog machine. The best fog machine is really just the one that fits your needs.
When to Use A Fog Machine
Here are a few examples of places where fog machines would add to the festiveness of the environment. Take a look at some of our top smoke machine uses and try them out once you've decided on a product:
Birthday parties. No matter how old you are, adding a smoke machine to your birthday celebration can only make an awesome party even better. Whether you're going for a dreamy party in the clouds for a kid or a horror-themed milestone birthday for your favorite 40-year-old, a fog machine is essential.
Summer BBQ. Fog machines are great any time you spend time gathering outdoors but a summer BBQ is ideal, especially if it lasts into the evening. There's nothing better than sitting back on a warm summer evening with a cold drink in your hand. Except maybe adding a fog machine.
Photoshoot. There are so many ways to use a fog machine in a photoshoot. You can create a dreamy atmosphere to engagement photos, create a unique look for outdoor sessions in the woods, or go all out and plan one of those horror-themed wedding shoots that have been going viral lately – with a giant T.rex, zombies, or movie monsters chasing the couple and their wedding party around a lake, garden, or through the woods.
Halloween decor. Yes, fog machines are amazing at Halloween parties and the perfect addition to the neighborhood haunted house. But what about adding one to your front porch so fog billows out from around your jack-o-lanterns or putting one at the end of your walkway so trick-or-treaters have an extra special experience when they come to your house.
Dances. Proms, winter dance, homecoming, wedding receptions, it doesn't matter. Adding a fog machine to a dance floor makes it extra special. (Just be sure to use the machine properly to avoid any residue settling on the floor which can be a slipping hazard.)
Costumes: Portable fog machines are particularly effective for costumes, and have gained quite a following in the cosplay community. Creative cosplayers have taken to spicing up their costume with a dash of fog, and portable machines are the perfect tool for the job. They can create realistic effects such as fire smoke, fog, gun smoke, dragon's breath, and much more! Cosplayers are known for their creativity, and a fog machine is becoming an essential tool in their arsenal.
Performances: Fog machines are incredible tools for performances. From stage shows, to concerts, to DJ sets, a fog machine adds an extra element of excitement or whimsy. Whatever mood you need to create, fog is capable.
Pro Tip: you may also want to invest in a smoke chiller, depending on the look you're going for. Do your research into what kind of smoke effect you want before impulsively buying a machine and hoping it does it right! Most fog machines are great for sending fog up into the air, but if you were hoping for a fog that creeps along the ground, you may want to consider adding a fog chiller to your setup.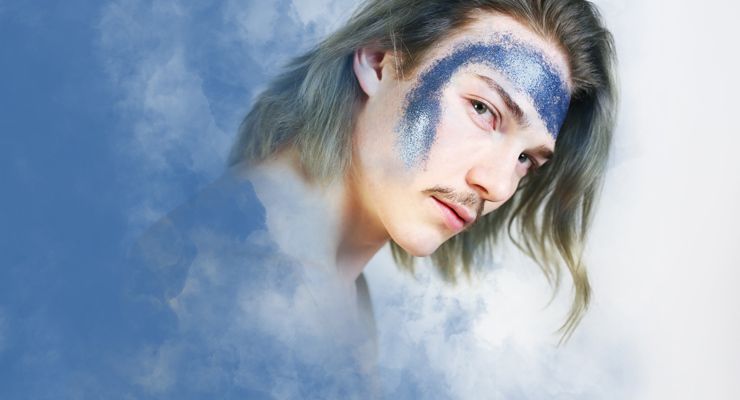 Best Portable Fog Machines on the Market
Now that you know a little more about these machines and why you can't live without one, it's time to shop. But how do you know which battery-operated fog machine comes out on top? Well, that's why we're here.
Here are the most impressive, best-reviewed, and highest-rated models of battery-operated fog machines out on the market right now.
We know that portable fog machines have a wide range of applications, which is why we've included several different products. There's something on this list for everyone. Consider which machine is best for you:
Our Rating
The Antari Portable Battery Operated M1 Fog Machine is a great choice for just about any event. It's lightweight and has a nice handle so it's easy to transport and, because it's battery-powered, you don't need to worry about an outlet.
This machine has settings for light and heavy fog so it can give you a small amount of fog for a little bit of ambiance or a lot of fog for heavy coverage. It shoots fog at any angle so you can get it right where you need it to go and there aren't any annoying power cords or fluid lines to worry about.
Another thing we love about this product is that it uses a rechargeable battery so you don't have to worry about constantly having to buy new ones to keep the fog going. It comes with a battery charger as well as fluid and a heavy-duty case for safe and easy travel. At nine inches long and two pounds, you can easily work this one into your decor.
The coolest thing about the MicroFogger Pocket Fog Machine is how small it is. As the name implies, it actually fits in your pocket which makes it suitable for placing in a giant jack-o-lantern, tucking underneath a tree during an outdoor photoshoot, or even carrying around as part of a costume (place it in a bucket for a smoking "witch's cauldron"!).
The single button operation is easy to use and it only uses a few drops of fog liquid at a time. The rechargeable battery is super convenient, too, because you don't have to worry about the cost of getting new batteries every time they run out of juice.
This model from Froggy's Fog is also handheld, allowing for maximum portability and precision. It packs everything it can into one durable, handheld package. Considering its size, the amount of fog this machine produces is, well, you won't believe it! This device allows for continuous fogging for up to ten minutes and has the optioned for a radio remote control, cable remote control, timer, and DMX box.
This is a pretty pricey model and might be more suited for professional applications. That said, there's probably no machine out there quite like this one. If you're looking for something small and battery operated that still packs a punch, this is the one for you.
As far as battery-powered fog machines go, Concept Smoke Systems' B1 Fog Machine is one of the best models around. The B1 produces instant fog with absolutely no warm-up time. It features simple operation, low fog fluid consumption, a dense and controllable fog output, and complete portability.
The device's 400-watt heat exchanger control allows it to provide large volumes of safe, non-toxic smoke when power is unavailable. The 12vDC battery allows for fogging that lasts over ten minutes when the setting is on its maximum possible output, although results may vary. That said, you can also use an external battery if you need more run time. It includes a suitable battery charger, battery pack, fluid tank, and 500 ml of fog fluid.
Here at Get Fog Machine, our only concern is that you get the best fog machine possible. So if you've read through this article and decided that a portable fog machine won't match your needs, then that's not problem. We have many other resources about all types of fog machine.
Therefore, we'll cap off our list with an alternative – it's one of our favorite non-portable fog machines. This is a powerful machine from Chauvet, one of the top names in fog machines.
This machine is part of their DJ Hurricane series, which offers many different machines rated for the fog output they provide. The Hurricane 1000 means that the machine is 1000 watts, which is considered an ideal fog output for medium-sized gatherings and events. This thing pumps an impressive amount of high-quality fog into the air.
This machine is strong, durable, and built to last. Chauvet's products are extremely reliable, and there's a reason the Hurricane line is such a popular choice among DJs and performers. The Hurricane line includes options for everything from household use to professional event venues – so pick the one that best matches your needs!
Check out this video demo if you want to see the full Hurricane line in action.
Going Forward
Are Fog Machines Right For You?
Fog machines are simply one of the best things you can invest in if you want to take your entertaining to the next level. They're a great way to add depth and interest to party decor, photoshoots, dances, or a Halloween display.
There are a lot of great corded options on the market but they're somewhat limiting because there's no guarantee that you'll be able to get to fog right where you want it. There may or may not be an outlet nearby and, if there is, that doesn't mean that you'll be able to seamlessly add your fog chiller to the surrounding decor.
Should You Go Portable?
Portability is the main reason that battery-operated smoke machines are such a good choice. If you want to have complete control over your setup and achieve precisely the look you're going for, you have to be able to use your fog machine anywhere. Whether you need to move it away from the wall and under a table or you want to turn it on in the middle of the woods, a battery-powered fog machine allows you to do whatever you want.
We gave you some ideas as to where and how to use your fog machine, but we're pretty sure you'll come up with lots of ideas of your own once you have one for yourself. Get ready for the best party ever!
FAQs
How Often Should You Clean a Fog Machine?
In order to keep your fog machine running properly, it requires proper cleaning. However, it's not always clear how often you need to clean it. Basically, the answer is that it depends. It depends how often you use it, the quality of fog juice used, whether it's been in storage, how long you kept it running, etc.
A good rule of thumb is that you should clean the machine every 40 hours of operation or once every two weeks. For information on proper cleaning and maintenance, check out our full guide to cleaning here.  
Will Fog Machine Damage a Carpet?
Generally speaking, no, it won't, but does depend. It depends how much fog you have used, and the quality of the fog juice you have used. If you have outputted an especially high amount of fog, then there's a chance it will get into your carpet causing slight damage. It's best to check whether your fog machine and fog juice are rated for indoor use.
Every fog juice will leave some residue, it's just a question of whether that residue will dissipate and leave your surfaces clean. As long as you keep to high-quality products, and exercise common sense indoors, you should be okay.