Everyone knows the key to a good party is setting the mood, and there are some crucial factors that every party must have to be a success. Lights and music are paramount to creating the perfect atmosphere and with even a basic setup of each, you can transform the most boring event into something spectacular.
Lighting is an area that is sometimes overlooked in favor of the music, but with the right choices, you can make any space look like a professional setup. If you're someone who throws regular parties or just wants to make sure your upcoming event is going to have the perfect atmosphere, you'll want to invest in some party lights to make that happen.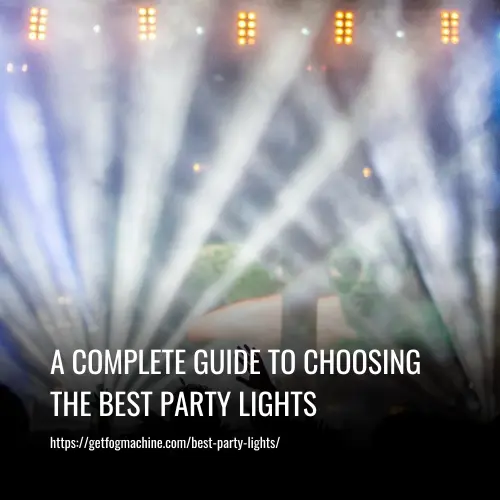 Party lights come in all shapes and sizes, whether you want your standard house party lights or something with a range of effects and features to choose from. Just as important as the music, these lights can set the mood and change the atmosphere in an instant with the push of a button, so it's a must-have for all types of events.
Choosing the best party lights isn't as straightforward as it seems though, and you'll have to consider budget, effects, brightness, practicality, and what other features these lighting systems have to offer. In this buying guide, we show you why those features matter so much and give our recommendations for the best party lights on the market, making your search a lot easier.
Our Recommendations for the Best Party Lights
A good party light should be versatile enough to suit any type of event you're having, from casual cocktail parties to full scale dance parties. To ensure you've got the perfect atmosphere, we've hand picked the best party lights on the market to narrow down your search, giving you a simple way to set the mood.
1. Karaoke USA Machine
For a complete package that can get a party started, the Karaoke USA Machine is our top pick. With an impressive LED lighting control and karaoke/sound system included in the one device, it's like a one stop shop for any type of party you're planning. It comes with LED lights, karaoke system, two microphones, power supply, and a powerful speaker system, giving you a portable party wherever you go.
The LEDs will be the focal point of the party and you can easily set them up to sync with your music and they'll play all night as sound activated party lights. With various effects and flashing LEDs, you'll get a colorful and rhythmic light show that suits any genre of music and will help set the atmosphere of the entire room.
The only negative that customers found with this machine was the quality of the microphone, needing to turn it up louder than they'd like to in order to hear people singing. If you're using it as primarily a sound system and party light effects this won't bother you, but you could upgrade the microphone if you want to get the karaoke started at your next event.
In addition to this spectacular light show, the Karaoke USA Machine helps you play music and also set up a karaoke station. With 300 songs included on the device and the option to connect your phone, tablet, mp3 player and more, you'll never run out of music and will always have the bright light show running as you do.
The Karaoke USA machine comes with a 7" digital screen to display the lyrics and settings, it lets you record your voice so you can play back music, and a wireless remote control so you can change the lights and music from anywhere in the room. Just add this to a party and watch the atmosphere improve, plus it gives guests something fun to do with the karaoke system.
To get more value for money, choosing DJ party lights like this means you're able to get music, lighting, and entertainment all in one. The Karaoke USA Machine is our choice for the best house party lights and music setup, and it's priced well below other similar devices on the market, so you're getting even more bang for your buck.
2. Litake Party Lights
The quintessential party light that everyone thinks of has first to be a disco ball, and with the addition of these to your party, you'll completely change the look and feel of the room. Litake Party Lights are multifunctional disco lights with 3W of power that come with three sound activated modes and seven different lighting modes so you can choose something for every type of event.
Customers loved how bright and colorful these lights were, illuminating the largest spaces. As one of the cheaper options on the market, they're pretty impressive with how much power they give off, proving that you don't have to spend a fortune just to get something worthwhile. Better yet, there are four lights included so you can spread them out and get even more coverage from just the one product.
The main negative customers mentioned was the remote control and how it had a very limited range. If you want to change the effects during the party you'll have to get upclose to the lights to make them work, which kind of defeats the purpose. For larger spaces where you don't want to hover around the dancefloor, you might prefer to choose another lighting system.
There are seven different lighting modes you can choose from and also three sound activated modes. The Litake Party Lights do everything including flash, rotate, and change colors, so they can be used for just about any type of event. When you want to use them, just plug them in and start them up, without the need for any complicated setup.
You won't be able to connect these to your music so they won't sync up, but that won't stop them from looking amazing. With so many choices for how they can play and variable speeds, you'll be able to get it perfectly matched up so it can play for hours with or without sound, and even the largest space can be transformed.
The Litake Party lights are a great pick for an affordable but seriously effective mood booster with four little lights that are capable of quite a lot. These lights prove you don't have to spend a fortune just to brighten up a room, and as long as you don't mind moving in closer to use the remote, you'll be seriously impressed by how much power a little device like this can muster.
3. Solmore DJ Lights 
Having a light system that matches up perfectly with your music is one way to turn your event into a serious party, and the Solmore DJ Lights can do exactly that. These lights come with four different modes including sound activated, strobe, and auto-play, as well as being able to sync up to the rhythm of your music and flash in time with it.
Weighing around 1.4lbs in total they're pretty lightweight and they measure 6.3" at their longest so they're compact enough to put anywhere. You can leave these on the floor or attach them to anywhere else thanks to an included flexible mounting bracket, and they're travel-friendly and portable.
The best thing about the Solmore DJ lights was just how much they were capable of. If you didn't want to test out any of the four main modes you can also adjust the colors with just singular colors or mixed, and project them on the wall, ceiling, floor, or anywhere else you want them to be. With an IR remote control and sound activation, they're also easy to adjust at any time.
One thing that customers didn't like was when they used the sound activation modes it always turned on strobe lighting. This might not be a problem if you're looking for the best strobe light for party settings but if you just want the colors and nothing else, it can feel a little obnoxious. For this price point it's understandable to find a few flaws, but some might find it too overwhelming.
You can use the Solmore DJ lights as a standalone stage lighting feature that sits wherever you need. Thanks to the durable metal housing and a cooling fan built into the lights you can leave them for hours to play without giving it a second thought. To set them up, you just plug in and play, without having to attach any complicated cords and cables.
There doesn't seem to be a warranty offered on the Solmore DJ lights but for this price, they're still fantastic value for money. With some minor flaws found when you switch the modes, it might take some fidgeting to get it right, but once you've set them up correctly they'll provide you with hours of entertainment.
4. Nequare Party Lights
If you like the unique look that only disco lights can provide, you'll love the Nequare Party Lights set up at your next event. These lights offer seven different modes, as well as three sound-activated modes, and they're built to be durable enough to leave on the floor of any party. With four lights included in this system, they cover a lot of ground and you can fully customize where and how you set them up.
One great thing about these lights is that they have a durable casing that keeps everything protected. You can leave them on the ground amongst all the partygoers and not worry about any damage being done to them. They can also be installed on the wall, speaker system, or anywhere else at the party with each light having its own mounting bracket.
Although more durable than most, the lighting that comes out of this system isn't as powerful as you'd hope for. Smaller spaces would do fine with the Nequare Party Lights and they're ideal for a home setup of up to 20 square meters, but for anything larger, you'd need to spend a lot more to get the space illuminated to your liking.
OUR RATING
The Nequare Party Lights come with a long extended cord so they can reach more places and with four remotes included so you can control each one separately. Some users found that just one remote was able to control all of the lights and others had to use the individual remote to make each light work. This could be a bit of a pain if you're having to take four remotes with you at your next party just to control the lights.
These lights sync up to the music you're playing by using a small microphone built into them. This means no additional attachments are needed for your stereo. They're incredibly lightweight at around 9.6oz and compact enough to fit anywhere. For the best results though, have them up high to illuminate your desired party area.
Nequare has managed to create some effective and affordable party lights but they'd better suit a smaller space or house party than anything else. You'll get a great range of effects, durable casing, and options to control each one separately, so they come with a lot of freedom to create the perfect party atmosphere, no matter the event.
5. Luditek Party Lights
When you're in need of some bright and colorful lights to fill up a room, the Luditek Party Lights are a great option. Priced a little more than most of the other disco lights we've reviewed, they offer a lot more powerful and are capable of filling larger spaces, even though there are only two lights in the box. These lights are sound activated or remotely controlled so you've got options for how to control them and they're perfect for events that require a lot of color.
Customers liked the variation of colors and settings you could use with these lights. There are three main colors of red, green, and blue, and then two additional color combinations. In addition to those, you'll also get seven different settings like strobe or high-speed rotation, all controllable with a handy remote.
The remote itself could do with an upgrade as people mentioned how bulky the battery was that came with it. There are two separate remotes in the package from Luditek and although you only need one to control them both, it's better to keep one as a backup. The voice activation option is a nice bonus and lets you change color, strobe or light, but you have to speak pretty loudly to get it to work.
OUR RATING
Another negative worth mentioning was the length of the power cord. You'll likely need to add an extender to give it enough room to work, so make sure you can hide it somewhere it won't be a trip hazard for party guests.
For such a small package these lights are pretty impressive, and just the two are ideal for a 30 meter squared space. They don't use a lot of power, are lightweight to move, and can attach anywhere with a mounting bracket or sit up on a flat surface, whatever you require. Because they're so compact you've got a lot of options for where to use them, including on the ground, the walls, or even attached to the ceiling.
The Luditek Party Lights are pretty similar to other disco lights on the market but they're impressively powerful for such a small size and just two LED lamps. If you're setting up a house party or just want to keep the kids entertained at home, these compact lights are pretty fun to use. They're easy to adjust, easy to setup, and give offmore brightness than you'd expect, so the slightly higher price tag can be justified.
---
The Features to Know About When Choosing Party Lights
Part of choosing the best party lights is knowing what features you need to make sure they're a success. Some people need a multipurpose light with all of the added features that are going to suit them for Halloween, birthdays, and Christmas dances, and others just want something simple and fun to illuminate their kids' bedroom for weekend dance parties. Compare these features to see what each party light system has to offer and how it might suit you.
Number of lights
Depending on the type of party lights you're purchasing, you'll have to consider how lights are included and what size they are. Some are attached as one larger setup and others have multiple lights that can be set up across the room. Usually, smaller lights are less bright but give the option to spread them out, whereas larger setups are quite powerful.
Control
Party lights come with various control systems depending on the setup you plan to have and what works best for adjusting their settings. Remote controls, voice activation, and synchronized with music are three common control methods, with some offering all of these options.
Lumens
The lumens of light is a measure of how much illumination comes from a source. The higher the lumen rating the brighter the light will be, with most party lights being less than a standard light bulb. Some lights will list their lumens strength as a way to gauge how bright it will be and also the space it's capable of covering.
Colors
Party lights can be a simple LED bulb acting as a strobe with no color or with many different colors. The most common color combination is RGB, or red green and blue, with the option to mix and match with various settings or play just one color at a time.
Coverage
The space that you're intended on converting for a party will need to be illuminated by these lights, so make sure they have enough coverage. Most lights have a specification for how the size of the room they're suitable for, but it will depend on the area you're having an event.
Settings
A good party light should come with multiple options for effects and these can be adjusted by changing the settings. Some settings you can control include strobe, rotation, speed, color, brightness, and rhythm. Others will be able to synchronize to the music you're playing and display a light show in time with the rhythm.
Extra Features
A good party light should come with multiple options for effects and these can be adjusted by changing the settings. Some settings you can control include strobe, rotation, speed, color, brightness, and rhythm. Others will be able to synchronize to the music you're playing and display a light show in time with the rhythm.
Setup
At the most basic, party lights will feature a flat surface that allows them to sit on top of a table or speaker system to display lights. Others will come with a flexible mounting bracket so you can attach it to other objects, so consider where you'll be setting yours up. Also look at the power supply, how long the adapter is, and whether there's an option for battery operation.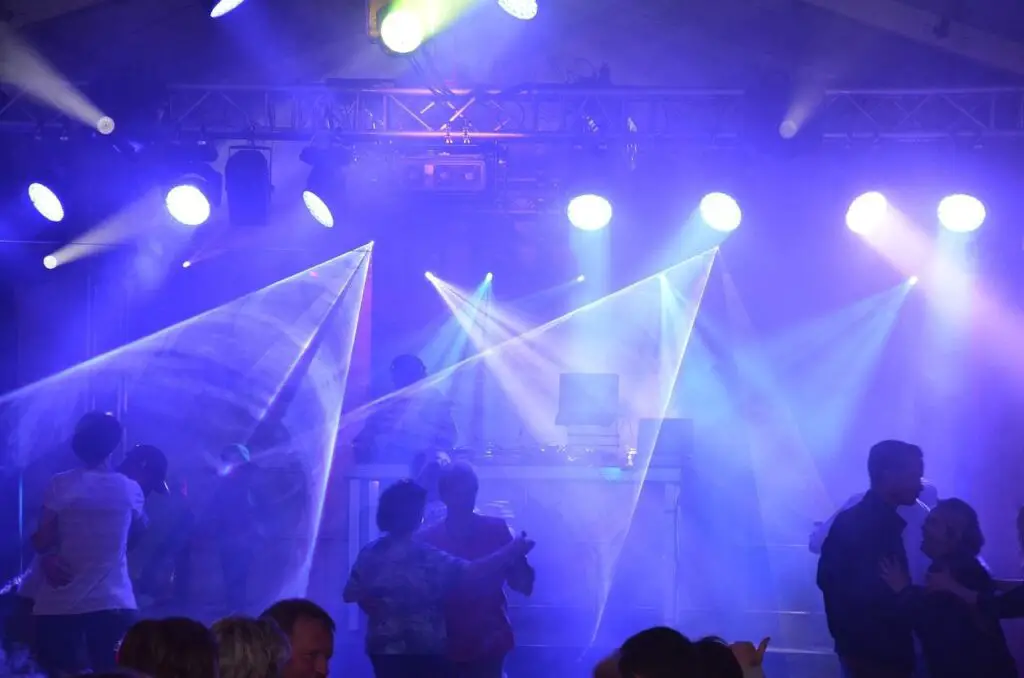 The Ideal Way to Set the Party Atmosphere
The right lighting can have just as dramatic an impact as music at a party, but it's something that we often overlook when we're trying to set the mood. A simple investment in some party lights guarantees you can achieve this mood regardless of the type of party you're having, and when they're synced up to a great soundtrack it's even better.
These lights we've reviewed cover all types of setups and price ranges so you're bound to find the perfect style.  Whether you want to illuminate the dancefloor and get everyone moving or create a fun disco backdrop for a kids party, these lights are capable of doing it all.
Resources: