Karaoke machines are a lot more accessible than they used to be, which is a big leap from the days when you either had to either go to a bar to sing, or rent a large, bulky machine. We've come a long way since then, and now you can own your own home machine for a very reasonable price.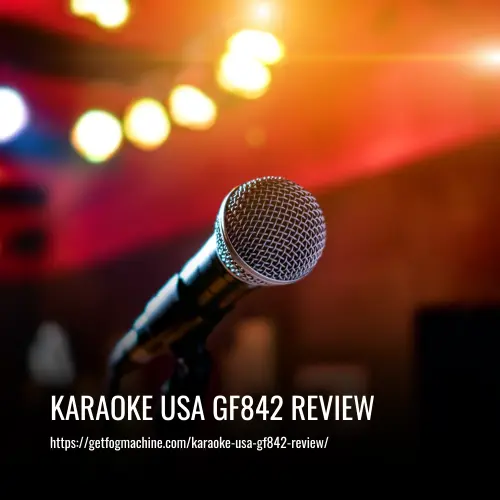 Although karaoke machines are more prevalent and affordable than ever, that doesn't mean every product out there is worth owning, or operates in a similar manner as others. Today, we'll take a look at the GF842 from Karaoke USA, which is a smaller home karaoke unit that offers some solid features and options throughout.
About The Product
The first thing you'll notice about the GF842 is how flashy it looks. The screen and speaker both face outwards, and the speaker has an array of lights built in that react to the music as it plays. Control knobs and inputs are found on each side of the front, with the dual mics located on the back.
On the top of the GF842 you'll find a cradle for your smartphone, or possibly a smaller tablet if you have one that can fit. This feature is a bit misleading, which we'll get to in a moment.
The GF842 is not overly big, but it doesn't have a miniature feel like some other karaoke machines in a similar price range. This unit definitely has a presence in the room, and provides more of an "official" feel that I assume most people would want with a karaoke machine.
Now for the actual features. The GF842 has a vibrant 7-inch screen that provides a good amount of text with compatible CDGs, although many will probably prefer to connect the unit to a television or external screen for the full effect. Still, for more intimate gatherings, the 7-inch screen is certainly adequate, and clear.
As for the GF842's speaker, it gets the job done as well. Running as a 35W peak digital power amplifier, the unit provides plenty of power to the speaker, which can get fairly loud without clipping or distortion. Again, plugging the unit into external speakers is definitely better, but the speaker performs well on its own.
There are also a number of LED lights built into the speaker, which adds a lot of extra ambience, especially if you have the room lights turned down low.
Audio controls are found on the front of the unit, and you can use them to skip songs, adjust the volume, and even adjust the key of the songs if need be. For added convenience, the GF842 comes with a remote control.
While you can definitely use the GF842 for basic karaoke, it's also fully capable of recording your performances to play back later, if you'd like. A record feature transfers the karoke track and live audio onto the same file, giving you an instant recording on an SD card.
As for the mics, the GF842 comes with two that include improved Panasonic mic cartridges that ensure very good sound quality.
If you want to connect the GF842 to external speakers and/or a television screen, there are auxiliary hookups located on the back that will let you do so. Furthermore, if you'd like to do karaoke without the need for CDG's, the GF842, you can play YouTube, Spotify, or whatever else you'd like to connect to via Bluetooth on your phone or tablet.
However, if you go the Bluetooth route, be advised that the video will not display on the GF842's screen. So, if you're trying to sing along with a YouTube video that has lyrics, you'll have to watch it on your phone or tablet's screen as it plays.
The GF842 does come with its own CDG that contains 300 songs, but literally every single one is basically a kids song singalong…so if you're an adult, you're going to want to order some CDGs on your own, or create them,
What We Like
The biggest appeal of the GF842 is that it comes with all of the essentials, and has the versatility to offer both built-in sound and video, or the option to use auxiliary hookups instead. The inclusion of the two mics is a great thing as well, and they're better than the usual throw-ins some manufacturers include.
The recording aspect is fun if you'd like to use it, and it's relatively easy to use. All of the controls are self-explanatory, and it won't take you long to get up and running.
Even though most will want to hook the machine up to other audio and video sources, the 7-inch screen and built-in speaker work very well on their own, and are definitely adequate for children playing in their room. The LED lights add some festiveness as well, and are certainly appreciated.
While it's nice of Karaoke USA to include a CDG with the unit, they should probably advertise that it's a bunch of children's songs, so as to not be misleading.
We also think a handle for carrying on the top of the unit would make it easier to transport as well.
Although it's understandable that you can't sync your video to the screen, it'd be nice for future models of the GF842 to be capable of doing so.
Buying Advice
Unless you're planning on using Bluetooth the entire time, it's a good idea to order some CDG's to use with the GF842. You should also buy some auxiliary cables, and some AAA and 9V batteries for the remote and LED lights.
The Verdict
Overall, despite a few drawbacks, the Karaoke USA GF842 is a great value if you're trying to spend under $150 for a karaoke machine. The fact that it offers adequate built-in performance puts it over the top, along with the inclusion of two high-quality mics.
This machine is versatile, flashy, easy to use, and has some choice extra features that give it even more value. If you need an upper-tier kid's karaoke machine, or simply desire one that's a few notches above entry level, and can still be used for parties, this is a great buy.