Fog machines are an excellent addition to most celebrations and events. What better way to add to the party aesthetics and fun than with a fog machine? 
Whether it's a birthday party dance floor, wedding or even a film production — you can guarantee a fog machine will spice things up.
Consider that larger foggers take longer to get started but ultimately give you a better fog. A common option is to run a larger fog machine at the same time as a smaller fog machine that can be used to "top up" the fog at important points in the proceedings. First, let's look at the Rockville R720L.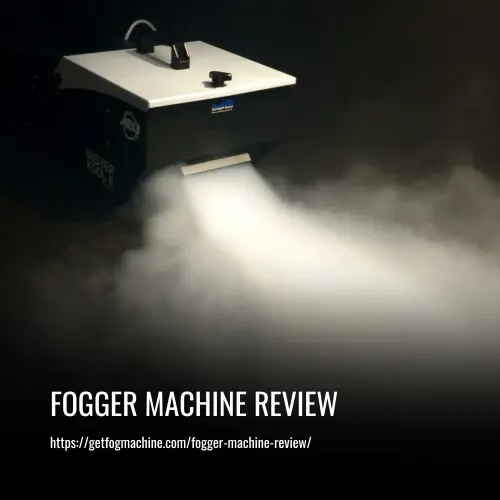 The Rockville R720L is a staple in the industry, and as we shall see later, it is often bundled with other items for a complete fog machine party package. Around the same size as the Chauvet H700 and the DJ VF400, it packs in more features. It's also known for its excellent build quality that lets you lug it to event after event without worrying about it ever breaking.
A great addition is the wireless timer remote that allows you to disperse 30 seconds of fog remotely at the touch of a button. This can make shows more interactive and gives you more control over the effect. 
Our Rating
Top Features
The Rockville R720L has the fastest start time on the market! It's a great feature that helps ensure a smooth set up before a show. It only takes 3.5 minutes before the machine is ready to be used. 
It is the number one model at its price point in terms of fog production per cubic meter (3000 cubic feet of fog per minute). The fog created is of the most luscious quality – velvety smooth and lingering for a much longer time than other machines we've used. Even fog machines that cost several times more than the F720L struggle to compete. 
On top of the usual fogging ability, the Rockville R720L has built-in LED lights. This allows you to make your fog colored for a really cool effect.
The Rockville R720L uses industry standard water-based fog fluid. You can purchase Rockville fluid or fluid from Chauvet or American DJ. 
What We Like
The build quality is excellent. This fogger machine won't let you down.
Comes with a wireless timer remote. 
Very fast start time. 
What We Don't like
Only comes with 0.6 L of fluid.
The included 3-watt LED lights could be a higher wattage.
The only power source it will take is 110V AC. 
Buying advice 
Make sure that you have a dry run with the fog machine before the do a live show so you can understand how much fog is output and whether you'll want to use the remote at certain points. We also suggest that if you are purchasing this unit alone to buy a few replacement bottles of fluids when you get the unit so you can be sure you won't run out. Each bottle lasts a while but it pays to be ready in advance. Also, make sure the venue you are going to be at has a 110 V AC power source or adapter.  
Conclusion
Whether you are a veteran party planner or just starting out in stage effects, the Rockville R720L fogger will have something to offer you and will leave you feeling happy and confident in your purchase. It is a great unit that pumps out 3,000 cubic feet per minute of fog, which is comparable to much more expensive units. So whether your expensive equipment broke and you need a good replacement that won't break the bank or you are just starting out and you need your first fogger, the R720L be the right choice for you.
If you're looking for the complete party package and not just the fogger, it pays to choose a complete set like the Chauvet DJ Nimbus Pro Plug/Play Dry Ice Fog Machine with additional DJ Facade, LED Fogger, and fluid. It's a neat party package that includes some extras! 
Our Rating
Top Features
The Chauvet DJ Nimbus Pro package contains a fogger and various other party pieces. Here are the main pieces of the kit: 
Chauvet DJ Nimbus Professional Plug-n-Play Dry Ice Fog Machine. Produces thick white fog that drifts close to the floor.
Rockville RFAAW DJ Event Façade with White Scrim and Travel Bag. Aluminum panels to shield the performance area from the dance floor.
Rockville R720L Fog/Smoke Machine. Outlined above, the R720L is a small fog machine that can be controlled wirelessly via a remote and has multicolored LED lighting.
Rockville RFJG Fog Fluid. 1 gallon of fluid to produce the fog. Provides exceptional fog and is water-based. 
What We Like 
The bottom line with these products is they perform their function perfectly and as advertised, and that's the most important thing for event planners. A lot of fog machines and similar products under-perform or have issues with setting up. Here's what we liked about each item.
This machine performs excellently. It produces a thick white fog that lingers for a long time and drifts heavily across the floor. The machine itself is also excellent — easy to use, easy to refill, and works quickly compared to some fog machines too. With a tank capacity of 4.5 gallons, you also won't need to keep refilling regularly. The adjustable multi-level control arm allows for easy control. Enough water is heated from 10 pounds of dry ice to produce six minutes of run time.
Our Rating
These are well-constructed bits of kit that are useful to those that need them. They save you from having to order from multiple places. The facade is extendable too with panels of the same type. 
Our Rating
Rockville R720L Fog/Smoke Machine
This little machine is useful for topping up the fog levels and creating a good level of fog at a distance. With the remote control, you can switch between modes and activate when you want to give your event a little boost.
Rockville R720L Fluid
A high-quality liquid and more than enough to get you started with machines. The fog is water based and thus causes very little irritation to skin or breathing. 
What We Don't Like 
The machines are a little on the clunky side (but that's to be expected with most fog machines). The heating time for the Nimbus is 50 minutes with only one of the heating elements activated, which is something to consider when setting up the equipment prior to use. Thankfully, the R720L is able to be up in running in less than four minutes should you need a quick burst of fog.
Buying Advice
When buying this package, keep in mind that the Chauvet Dry Ice Machine does require some time to be set up prior to the event it's being used for, and it's geared towards dance floor usage and similar events.
Conclusion
If you're throwing a medium-sized party or event and need some reasonably priced kit to get you started, the Chauvet dry ice machine is the perfect purchase — and the additional kit that comes with it only makes it all the more worthwhile. Chauvet equipment provides excellent quality at an excellent price, so check them out if you'd like to find out more about specialist party goods.