Are you looking for a sleek, heavy-duty, powerful fog machine to add that extra something special to your upcoming event? Look no further.
Today, we're going to be walking you through the ins and outs of one of the powerful types of fog machines on the market: the 1000 watt device. We'll give you a full rundown of the best 1000 watt fog machines, and then give you a full buyer's guide to help make your decision.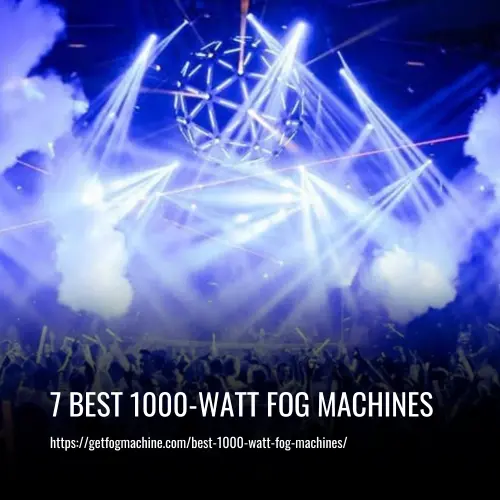 First thing's first: What exactly is a fog machine?
Before we get started, you might be wondering how exactly these machines work. Here's a quick rundown:
Fog machines – sometimes called smoke or haze machines – are devices that produce vapor that resembles fog. You've probably seen them in use at concerts, haunted houses, stage performances, and maybe even themed parties. These machines come in a lot of different sizes. Believe it or not, you can even get small ones that you can add to a cosplay costume or prop.
Most of these smoke machines work by using a heat exchanger, pump, and fogging liquid. The pump pulls the liquid through the heating element which turns it into vapor. When this vapor is released into the cooler outside air, it creates a fog that spreads throughout the air. It usually collects up toward the ceiling, and disperses over time.
If you want fog that creeps along the floor (otherwise known as ground fog), you may need to invest in a fog chiller or make one yourself. A fog chiller (otherwise known as a ground fog machine) does exactly what their name suggests, it chills the fog so that it's heavier and sinks to the ground, creating a wholly different look and effect. Believe it or not, there are a lot of DIY chiller designs out there that are pretty easy to make.
The other type of fog machine is known as a "haze machine". This machine uses an aerator instead of a heated method. This means that it expels a larger particle size directly into the air, creating an overall hazy effect that looks pretty awesome when the light reflects off of it. Note that these machines do not create the same cloudy fog effect as heated fog machines, but they are still pretty cool.
The bottom line is that there is a wide variety of fog machines on the market today, so you can find one suitable for just about any event or venue. While there are smaller models designed for home use, there are also larger, more powerful options available for professional use or for anyone who plans to use their fog machine a lot.
In This Article
If you're looking for something heavier, more powerful, and probably a little more expensive, then this article is for you. We're examining 1000-watt fog machines for generating maximal fog output.
First, we'll take a closer look at some ways you can use a fog machine. Then, we'll help you match your usage requirements and determine when it's the right time to invest in a 1000-watt fog machine.
Different Uses For Fog Machines
You might think that you won't get a lot of use out of a fog machine but, honestly, once you have one, you'll be actively looking for ways to use it and come up with all kinds of ideas. Here are a few ideas to get you started:
Home/Amateur Applications
The first popular usage for fog machines can be categorized as "home use". These fog machine users keep a fog machine for home use and for fun applications. They aren't looking to make money with their fog machine, and just use it to liven up certain events and displays.
For home, you might find more use from a 400-watt machine. A 1000-watt machine might be too powerful for your purposes, and actually create too much smoke for your room. 400 watt machines will produce a more manageable amount of smoke for a small room.
Some popular home uses include:
Birthday parties (child or adult)
Summer BBQ
Photoshoots
Halloween parties and decorations
Dances and other social events
Professional Applications
The next major category of fog machine usage is for professional applications. Professional fog machine users utilize a fog machine to supplement their career. It usually involves a large scale event which requires the generation of more fog, and this is where 1000-watt machines really shine.
If you're looking for something that has the power to be used in a professional capacity, you might be using it for:
Theatrical productions
Concerts
Raves and/or large-scale parties
Clubs
Red carpet events
Miscellaneous entertainment industry functions
Office Holiday Parties
If you're planning to use your fog machine for these kinds of events, it's a good idea to take a little more time to consider your options. When you need a smoke machine that can perform frequently at a high capacity, look for one that's reliable and designed to last. You'll definitely want to take a peek into 1000-watt fog machines, since they are much better equipped to meet these demands.
Why 1000 Watts?
Smaller fog machines are meant to be used every once in a while for a small party or Halloween decorations. They're great for this purposes, and are the ideal machine for home users.
However, when you need something that can fill a large space regularly, it's time to look for something heavy-duty. You need a fogging machine with power that can produce what you need without being stressed or burned out. The best way to tell how much power a device has is to look at its wattage. The higher the wattage, the more power the machine has and, in most cases, the more it can do.
A 1000 watt machine isn't an exact measurement of the amount of fog you can expect out of these machines. It will still depend on the quality of the machine you buy, and the type of fog juice you use. That being said, the average fog output from a 1000-watt machine is roughly 450 cubic feet per minute (CFM).
Pros and Cons of Investing In 1000-Watt Fog Machines
Of course, there are pros and cons to 1000-watt fog machines just like anything else. If you're on the fence about buying one, here are some of the main things to keep in mind:
Pros
They can produce a lot more fog. This is particularly important if you're using it in a large venue. A less powerful machine might only be able to fill a corner or produce fog that's so spread out, no one can really see it. A more powerful machine produces more smoke to get the look you need in a bigger space.
The fog coming out of the machines is generally thicker. Again, this is really important in larger spaces, to make sure people actually see the fog.
The fog coming out of the machine typically lingers in the air a lot longer. Longer lasting fog means you can create the look you want without constantly trying to keep up with the amount of fog that's in the air.
These machines run longer without requiring more fog liquid. This is in part because they're a little more efficient, plus they have a larger reservoir and can hold more liquid in the first place. Many of these devices can produce special effects for hours on end so you can worry about other things.
Because 1000-Watt Fog Machines are the most powerful, they generally come engineered a lot better. This means they perform more efficiently and often have the latest technology.
1000-watt foggers are usually more durable than other models. You can be pretty confident that the design you choose will last through multiple uses over long periods of time.
Cons
1000-Watt foggers are usually quite a bit more expensive than foggers with less wattage.
The fog juice needed to use them may also be pricier as it needs to be formulated for the quality of the machine.
1000-Watt foggers are a lot heavier and not as easy to maintain.
They are less portable than other fog machines which can be difficult if you're planning to take it with you on the road.
If wattage is super important to you, you may not have the option of buying a model that's operated by batteries or by remote control. Wall plug-ins may be your only option as batteries won't be able to provide the juice these machines need to function.
Best 1000-Watt Fog Machines On the Market
Here, we're taking a look at the best fog machines that comfortably pack 1000 watts.
Let's get right into it.
This 1000-watt fog machine from Seasonal Visions comes in at around $80 and is one of the best fog machines out there. It has a slew of impressive features, including an alarm to let you know when the fog juice needs refilling. It holds up to two liters, which provides hours of super eerie special effects. (Note that fog fluid is not included with this product.)
This machine is, to put it bluntly, a special effects essential. It's hugely powerful, simple to control, and easy to conceal.
This is another 1000W model sold as indoor Halloween decor via Walmart. It's an ideal machine to fog up an eerie porch and produce spooky effects for Halloween or any other celebration.
This model packs a lot of power and energy. It comes in a slick black color and features a professional and sleek design that measures 11 x 19 x 11 inches. For around $80, this is another affordable model that delivers.
If you feel like investing a little more for a high-quality machine, take a look at the Antari Z-1000-II 1000 Watt Fog Machine. At around $300, it's significantly pricier than the other models but there are good reasons for it.
This is arguably the most powerful 1000-watt fog machine out there. It's a high performing, efficient, and easy to set up and operate. This model is equipped with an outstanding thermal control system and patented UNICORE heater technology. The heater core is easily removed from the heater block for quick and easy cleaning, which is important if you want to keep it running as long as possible.
Another great thing about this fog machine is that there's an on-board DMX so it works seamlessly with installers, lighting directors, planners, and DJs who desire more control over their fog. The heating element delivers powerful fog to create the best effects thanks to the high-quality pump. For additional safety, this machine also has an electronic low-fluid detector that automatically reactivates and shuts down the power when the fluid level is low or depleted. It also has a standard hanging bracket to facilitate installation in any venue.
If you're looking for a professional-grade machine, this is definitely worth a closer look. Yes, it's a little bit of an investment but, in the end, it's worth it.
This model from Forum Novelties is another great option if you're looking for a 1000W machine. This package includes the 1000-watt fogger, a UL Listed AC adapter with an on/off switch, and a six-inch-long power cord for easy placement and setup. Fog juice is not included in this model so you'll have to buy it separately.
This machine comes in at over $100, which is a bit more than some of our other picks, but keep in mind that higher priced fog machines are generally much more durable and of better overall quality. This product is designed for use in the United States, using 120-volt current.
Last but not least, we have this product from Grandinroad. This fog machine features a well-designed timer with preset intervals. To use it, all you have to do is add a fogging liquid, plug it into the wall, and watch as an insane Halloween experience unfolds before your eyes. The device is controlled manually and has a ten-foot cord. As with most of these models, fog liquid is sold separately.
Another great option is the ADJ VF1100, which costs just about $100. This powerful fog machine is ideal for medium-sized venues like nightclubs, bars, and house parties.
One of the best features of this machine is the high-efficiency heater block. It creates less residue and uses a special sensor to get the heat just right. This machine heats up in only six minutes and puts out an astounding 9000 cubic feet of smoke every minute. Also included is a small wireless remote. Push the button to expel the fog from a distance.
The Chauvet DJ Hurricane line is one of the most popular lines of fog machines on the market. This is the 1000-watt model. As the name implies, it's the perfect choice for DJs and entertainers alike.
This model is designed to be compact yet powerful. It's perfect for entertainers who are constantly traveling between shows, and it's easy to set up and go. It's very easy to control with the manual fog button or with the remote. It even has an LED-illuminated tank so you can monitor fog juice levels.
It pumps out an impressive amount of fog that will be very noticeable by everyone in attendance, especially when paired with Chauvet's own fog juice (which we'll examine below).
A great machine, and a good spot to end our list. Check out a video demo of the Chauvet line of foggers here.
Top Fog Juice Brands
Using a 1000-watt fogger isn't just about the machine. Many overlook the impact of high-quality fog juice for creating that perfect, dense, and thick fog effect for any occasion.
Simply put, if you want to create high-quality fog, then you need high-quality fog machine liquid. This is especially important if you are using the fogger for professional applications, where the quality of fog will be directly tied to your performance.
Here are two of our favourite juice brands:
Chauvet
Let's start with the brand that we surveyed directly above. Chauvet is not only a quality fogger brand, they also make consistent and reliable juices. They make many juice for a variety of applications, which are suitable in water based fog machines of various wattages.
Many fog juices, like the one below, work particularly well in 1000-watt machines (especially Chauvet machines) and is a favourite of DJs and entertainers alike. Their fog juice are made with high-quality, non-toxic materials, and produce smoke is as-advertised depending on what you buy.
Froggy's Fog might be the most popular name in fog juice, and it's a reputation that is well deserved. Their fog formulas work well in a wide array of different machines, with many being particularly suited to 1000-watt foggers.
We particularly like their "Swamp Juice" formula (pictured below). It's a formula which was designed to be "super long lasting", meaning that it lasts a long time in the air before dissipating, and sticks around much longer than you'd expect. It works great in 1000-watt machines, but you should always check the compatibility with your individual machine.
More Power, More Fog
It's fair to say that 1000-watt fog machines aren't for everyone. They're way too powerful for a small house party or to add ambiance to a Halloween display in the front of your home.
But, if you're looking for a machine that's capable of filling up large spaces with fog and built to last, you need something powerful. If you use a less powerful machine, you'll be disappointed with the results. They're just not built to keep up.
There are a lot of different 1000-watt models to choose from, some are professional-grade with all the bells and whistles while others are affordable beasts meant to chug out thick, cloudy smoke.
Therefore, for our final piece of advice, we recommend that you pick a fog machine based on your own needs. If you take the time to evaluate your needs, and identify how you intend to use the fog machine, then you can get the proper machine for your needs. This is the best way to ensure that you aren't disappointed with your purchase. A 1000-watt machine may be perfect for the job, but there are many other options as well.
FAQs
Before we wrap up, let's check out some of the most frequently asked questions about 1000 watt foggers:
Do Fog Machines Set Off Smoke Alarms?
Unfortunately, sometimes a fog machine will set off a smoke alarm. It really depends on the smoke alarm, and whether it registers the foggy vapor as smoke or not. The best approach to this conundrum is to test your fog machine beforehand, and see whether it will be an issue.
If you are using the fog machine for professional applications, you probably won't have to worry, because the venue will have long sorted out this issue.  
How Do You Make Your Fog Machine Smoke Thicker?
If you desire that thick, dense fog that you have seen out of certain foggers, then the best way to do so is to use a fog juice that was designed to produce that effect. Most fog juices are made from a mixture of water and glycol. The more glycol, the thicker the fog. Therefore, your best bet is to switch to a mixture that contains more glycol. Typically, it will be marketed as a fog juice that is "high density".