Everyone loves bubbles, and you don't have to be a five year-old to have fun with them. With that said, dipping into a container and blowing bubbles one-by-one over and over can get a little tiresome.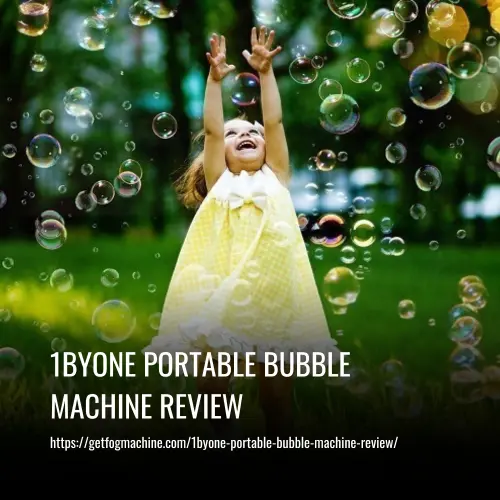 | | |
| --- | --- |
| Price | Available on Amazon.com |
| Pros | Lightweight, Adjustable speeds, Improved drain design |
| Cons | No bubble options |
| Summary | 1byone Bubble Machine is perfect for any indoor or outdoor gathering |
| Our Rating | 5/5 |
Plus, if you need a multitude of bubbles for an event like a wedding, outdoor BBQ, or birthday party, the prospect of blowing a bunch of bubbles on your own is certainly not ideal at all.
Fortunately, you can get a bubble machine to do all the work for you. While these machines used to be geared more towards professionals who put on events, nowadays that are relatively inexpensive, and easily accessible to the average person.
The 1byone Portable Bubble Machine is a perfect example of what a bubble machine should be. It's affordable, easy to use, versatile, and built to last for years.
Let's take a closer look as to what makes this such a great purchase.
About The Product
1byone has a good track record for making solid products, so it's no surprise that their bubble machine is the best you can get for the price.
Lightweight And Easy To Carry
The 1byone Portable Bubble Machine weighs just over 3 lbs, so you'll have no trouble carrying it around when needed. This is much preferred over heavier metal models that can weigh twice that amount.
The machine is made even easier to carry thanks to the carrying handle. You can lock it in to make it stable, unlock it, which allows to to condense the size down just a bit for easier storage.
Plug-In Or Battery-Powered
The bubble machine can be plugged into any standard outlet, which will allow it to run continuously for as long as you need. The cord itself is around 70 inches, so you have a decent amount to work with in case you don't want to use an extension cord.
For the times when you want to be more mobile, or simply take it outside with you, the 1byone Portable Bubble Machine can be run solely on 6 C batteries, which can keep the machine running for a surprisingly long amount of time.
Kid-Friendly
Bubble machines are a great idea to use for kids, so it's no wonder that the 1byone Portable Bubble Machine is kid-friendly. This stems from its small size, light weight, handle, and battery-powered operation.
The materials themselves are built to withstand kid use as well, which we'll touch on a little further down.
If your kids can keep the liquid in the tank leveled even to a small degree, they'll have a fun time playing with the bubble machine.
2 Different Bubble Speeds
Another versatile aspect of the 1byone Portable Bubble Machine is its two different speeds settings that result in a different amount. The lowest speed puts out around 800 bubbles for minute, which should be more than enough for most small rooms and spaces without being too overbearing.
However, if you really want to churn out a high amount of bubbles, you can flip the switch up to and make the machine put out up to 1,500 bubbles per minute, which is roughly 25 per second.
That sure is a lot of bubbles.
No Ponding At The Bottom
A big problem with bubble machines is the tendency to create a pond at the bottom of the tank during heavier usage times. The 1byone Portable Bubble Machine avoids this by placing three small vents that allow just a small amount of liquid to seep out when the machine is turned on.
Tough Materials
This bubble machine may appear to be flimsy due to aboviding metal parts, but that's certainly not the case. The 1byone Portable Bubble Machine is extremely durable and resistant to dents and dings, and keeps the inner parts in place when moved around frequently.
This is largely due to the use of very tough, high-quality ABS thermoplastic polymer. We don't suggest going and throwing the bubble machine around all the time, but if it does suffer a small fall or hit every now and then, it'll be just fine — along with the inner moving parts.
Comes In 2 Colors
An underrated aspect of the 1byone Portable Bubble Machine is the fact that it comes in two different colors. Most people will simply go with the off-white color, but for those who are a little more concerned with aesthetics, the machine is also available in a fun blue color with purple trim.
What Others Say
The 1byone Portable Bubble Machine seems to be a huge hit with most everyone who buys it, whether they need a reliable bubble machine for events, or simply one to keep around for fun time with the kids (and pets.)
The only real complaints seem to be that the 800 bubble minimum can be a little overwhelming in small spaces, with no option to have the machine put out less bubbles. Too many bubbles sounds like a fun problem to have, however…
Buying Advice
If you're buying this to use indoors, make sure you have a large baking pan, or at least some absorbent towels to put under the machine, as it will put out a little bit of moisture.
Also, you may want to prepare yourself for your kids and pets loving this machine a little too much.
Final Verdict
The 1byone Portable Bubble Machine hits on all the right aspects you want out of a bubble machine. Aside from an already low price, you get a durable bubble machine that can put out very high bubble amounts per minute on both settings, and you also get the added bonus of being able to plug it in, or throw a few batteries in and take it wherever you need.
If you're looking for an economical bubble machine you can depend on for years, the 1byone Portable Bubble Machine should be your first choice.