If you've ever thrown a party before you know just how important it is to set the mood. People spend heaps of money on things like balloons, streamers, music, lights, fog, and other effects, and they all work together to transform any boring space into something amazing.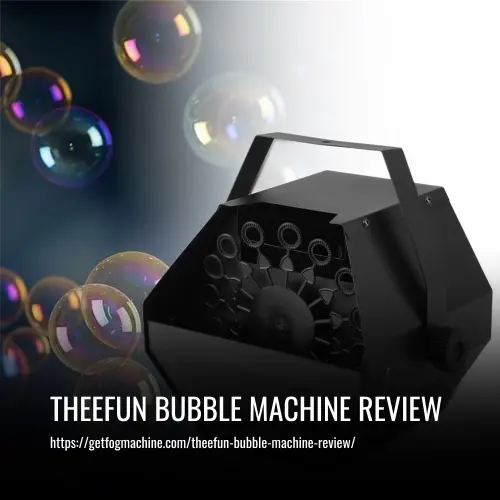 | | |
| --- | --- |
| Price | Available on Amazon.com |
| Pros | Portable Design, Dreamy Atmosphere Creator, Fast Bubble Generating |
| Cons | Not kid friendly |
| Summary | Theefun Bubble Machine with high output produces lots of magical bubbles in the air |
| Our Rating | 4/5 |
One of the coolest effects that work for both kids and adults parties alike is bubbles. However, blowing them all yourself would take hours and mean that you're not able to enjoy the party with everyone else.
Investing in a bubble machine is like getting an instant atmosphere booster and it's a must-have for anyone that likes to throw a party. Whether it's weddings, dances, Halloween parties, birthdays or holiday season, the simple addition of a bubble maker can turn any boring space into something pretty spectacular.
Finding a quality bubble machine can be hard to do, as most professional level devices end up costing hundreds of dollars. Theefun has made their own affordable bubble machine that's perfect for parties, so we want to see what features it offers that puts it ahead of the other budget-friendly competition.
About The Product
Theefun is a company that's all about partying, so you can trust them to provide the accessories and equipment that will make yours a success. Their range includes everything from light and bubble machines to smaller party bag favors, which means they know what people at parties like to have fun.
The Theefun Bubble Machine is a professional style machine that would suit all types of events. Although it's designed to be a professional bubble maker, people could get just as much fun out of it at home and set it up in the backyard to entertain their kids or friends when they come over for a backyard barbecue.
Theefun has made this machine to be budget friendly but it's still got plenty of professional features to brag about. Choosing this one over other more expensive bubble makers on the market seems like a smart decision when you look at everything it offers:
45-foot remote control for access anywhere;
Quiet motor to keep the mood;
Lightweight and portable machine;
Suitable for indoor and outdoor use;
Rotor moves at 18-22 rpm for lots of bubbles;
Made from black rugged metal housing;
Not only do the bubbles this machine makes look cool, but the setup of the machine itself is completely professional. This would look great on a dancefloor or with a DJ setup for a professional touch, and for the low price, you could easily convince everyone that you invested in an commercial machine.
Pros And Cons
One huge bonus that this device has over others is the quiet operation. Anyone who's been around a bubble machine at a party before will know it can steal the attention with its loud noise. The Theefun Bubble Machine doesn't make any noise at all and it was something that made it a top pick with customers.
According to customers, this was also loved for being a portable machine. Theefun put plenty of features in it to make sure you could take it wherever you go including a detachable handle and lightweight feel. For anyone who likes to throw parties in different locations or take the fun with them, this is a huge benefit.
Although the machine doesn't use electricity, it's probably not as kid friendly as others on the market. This is more designed for professional use or to set up parties and not so much a toy. If you're looking for a bubble machine that your kids can enjoy you'll probably prefer one made of plastic and safer materials, not the metal casing this one has.
Buying Advice
If you've been thinking about investing in a bubble machine before but just couldn't justify the high cost of a professional device, you'll love the price of the Theefun Bubble Machine. Currently, this expert quality bubble maker costs around $40 when you shop through Amazon and take advantage of their discounted price.
Another great bonus of shopping through Amazon is using their free shipping service which is usually offered on products over $35. You won't have to pay any freight for this product and if you're a member of Amazon Prime it'll be sent via their express postage service. Within 48 hours you could be using the bubble machine so it's perfect for last minute parties.
Theefun offers an 18-month limited warranty on their bubble machine which isn't too bad. They also give customers 30 days to try out the device and return it free of charge to get their money back if they're not impressed. These little assurances prove that they're a reputable brand and you can feel safe investing in one of their machines.
It's always important to have the right type of bubble mixture when using these professional machines. Amazon has a great range of bubble mixture perfect for machines. Don't be tempted to skimp and get something cheap because it offers more because the end result will be less than perfect bubbles.
The Verdict
Having your own effects maker can give an instant atmosphere boost to a party or event, and something like the Theefun Bubble Machine is the best way to do it.
This is a professional style bubble maker and one that would suit any event from weddings to backyard parties. Best of all, it costs the same as a kids machine but produces professional effects, so you get an even better deal.
Bubbles can be a lot of fun in all types of settings and they can add a dreamy, romantic, or fun feel to your space. To check out what else the Theefun Bubble Machine has to offer and see what it can bring to your next party, click on the button below to get one for yourself.