When it comes to bubbles, you'll be hard-pressed to find anyone that hasn't had some fun with them at some point in their lives. Whether you have memories as a kid of blowing bubbles in the backyard or had bubbles blowing around on the dance floor of your wedding, they are certainly something everyone loves.
Fortunately, we don't have to stand there and blow bubbles one-by-one by hand anymore – the best bubble machines can do all the work for you, requiring little action on your end.
Years ago, bubble machines were more of a niche product that were only available to professional event coordinators, DJs, and others who are in the entertainment industry. But now, they're more affordable than ever and easier to use than in years past.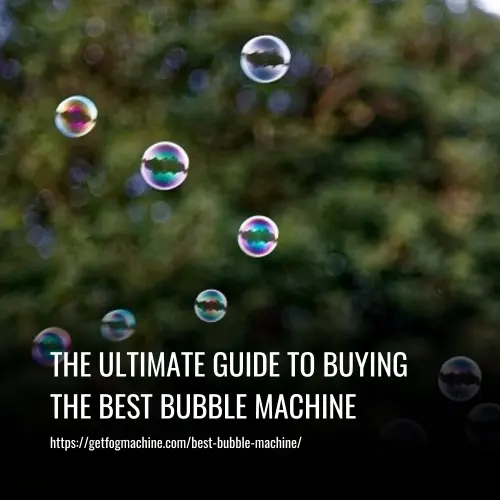 Bubble machines are not just for events either. They can be fun toys for kids and even your pets. Just set one up in the backyard or living room, turn the machine on, and sit back and enjoy the show.
The bubble machine market is a lot bigger than it used to be, as there are now hundreds of different units that are easily available for purchase.
We've done the resting and research ourselves and settled on the 5 best bubble maker machines. Below, you'll find bubble machine reviews of each product, highlighting what makes each one a good purchase.
After that, we'll close with some helpful buying advice that can assist you in buying a bubble machine and ensure that you end up with the best bubble blower for your own needs.
Let's get started with our top overall pick and take it from there.
Best Bubble Machines
1. 1byone Bubble Machine
You don't have to go all that far back in time to see that older bubble machines were almost always unnecessarily large, didn't work for very long, and were a little too expensive for what they offered.
The 1byone Bubble Machine provides all you could want when it comes to a modern bubble machine, and it's as easy to use as it is versatile.
This portable, compact, and lightweight bubble machine easily puts out a high amount of bubbles each minute, and it's highly affordable.
The first thing you'll notice with the 1byone Bubble Machine is the small size. Its looks are certainly deceiving, as the compact size of this unit makes it seem capable of putting out only a small amount of bubbles, but that's not the case at all.
The unit weighs only 3.4 lbs. and has just six bubble wands on the spinner, but once you power it on, you'll see that it's more than enough. Speaking of power, the 1byone Bubble Machine uses both an AC plug-in, or you can use 6 C batteries to power it instead, making it entirely mobile and free of reliance on a power outlet.
And unlike some bubble machines, this one actually gives you two speeds to choose from, allowing you to fine-tune the amount to the space you're in (yes, you can actually have too many bubbles in some instances, which is why this is useful.) The first setting puts out 800 bubbles per minute, while the highest setting cranks out 1,500 bubbles per minute.
The body of the bubble machine is made from tough ABS thermoplastic polymer material, which means it's not only resistant to dents and dings, it will not rust at all – something that's rather nice with a device that spews liquid when it's on.
Some other great features include a carrying handle that can be folded down and locked when not in use and a design that prevents ponding at the bottom of the reservoir by letting a very small amount of liquid out through three small vents on the side. Oh, and the bubble machine comes in two colors: white, and a light blue with purple trim.
Overall, the 1byone Bubble Machine is not only the best value but also the top-rated bubble machine. The ability to choose two distinct speeds is very useful, along with the option to use either battery or wall outlet power. If you need an event-worthy bubble machine without spending a lot of money, this is it.
OUR RATING
---
2. Theefun TBM01 Automatic Bubble Machine
If you're looking for a bubble machine that's capable of filling a large space in a hurry, the Theefun TBM01 Automatic Bubble Machine is definitely up for the task.
This bubble machine makes use of a heavy-duty design that's fully intended for larger spaces and long periods of use.
The Theefun TBM01 has an average size, and while it's not as compact as some other bubble machines, it's definitely not an awkward size, or large enough to where it's difficult to set up or place out of the way when in use.
A lockable handle allows for easy transport. The unit has an overall weight of 5.6 lbs., which is light enough to carry around comfortably when needed. The tank reservoir has a capacity of 1 liter, and although this seems like a large capacity, it's needed to sustain the high bubble output for extended periods of up to 20 minutes.
Theefun TBM01 is 25 watts, is powered by an AC outlet, which means you'll have to plan its use around power outlets or use a long extension cord if called for. A high-velocity fan gives the bubbles enough lift to travel throughout a space as they are made.
As for bubble output, the Theefun TBM01 has a total of 15 wands that spin when powered on, so it produces literally thousands of bubbles per minute. This aspect makes it suitable for large dance floors, events, or anyone who wants to shoot out as many bubbles as possible, regardless of where they are.
The unit is made from lightweight, yet durable metal that gives the Theefun TBM01 some added ruggedness, which is again ideal for frequent use for someone who puts on events on a regular basis. There's no assembly required either, simply fill the reservoir, plug it in, and you're good to go.
One alluring aspect of the Theefun TBM01 is the fact that it comes with a remote control that works from up to 45 feet away. You can power the machine on and off with the touch of a button, giving you some added control over how many bubbles are present, and how often.
The Theefun TBM01 Automatic Bubble Machine performs on a professional level yet comes at an entry-level price. If maximum bubbles and remote control are important to your bubble machine needs, the TBM01 is the perfect purchase.
---
3. Virhuck Professional Bubble Machine
The Virhuck Professional Bubble Machine certainly lives up to its name, offering high outputs of bubbles, a large tank size, and a number of helpful features that give the user a large amount of control over its operation, while keeping the price more than manageable.
It uses the same standard shape and design commonly found with bubble machines in its class, with a hexagonal-like shape and large wheel with 15 wants for maximum output.
The black color helps draw attention from it as well, allowing it to blend in at events.
Moving the Virhuck Professional Bubble Machine around is very easy, mainly due to a well-designed handle that can pivot and lock in as needed or be removed entirely if you're trying to save space or wedge it into that perfect spot when in use. It's also worth mentioning that the unit weighs just 4.4 lbs., despite its overall size and stature.
The bubble machine is powered by a standard AC outlet, with sizable cord length. And while this is a high-powered unit that puts out a ton of bubbles when called upon, the motor and fan stay very quiet, not unlike the fan on a laptop computer.
The main part of the body of the Virhuck Professional Bubble Machine is made from thin, yet durable metal, with plastic being used for the wand assembly, and the knobs for the handle. All of the parts are easy to clean, often requiring just a dry rag and a quick wipe down.
A major selling point of the Virhuck Professional Bubble Machine is its remote control. It works up to 40 feet away and gives you full control over the on/off of the machine, which not only lets you turn it on and off, but also provides an easy way to regulate the amount of bubbles, instead of just having them blow constantly.
The reservoir can hold up to 1 liter of bubble solution, and when left on, will keep the bubbles flowing for up to 30 minutes.
The Virhuck Professional Bubble Machine is a great option for anyone who puts on events or would just like to have a professional-level bubble machine around for any time they feel like filling the home or yard with thousands of bubble in just a few minutes.
4. Froggys Frog Turbo Deluxe Bubble Maker
Froggys Frog is a well-known name in the event/party device industry, so it's not a surprise that their Turbo Deluxe Bubble Maker makes our list for the best bubble makers.
This economical and remarkably simple bubble machine is great for almost any occasion or setting.
This bubble machine is clearly designed to be simple and straightforward: fill the reservoir, turn it on, and let the bubbles fill the air. No remotes, no alternate settings, just instant bubbles.
While this is a budget-minded bubble machine for the average user, it's still somewhat heavy-duty and capable of a high bubble output. The machine itself weighs around 6 lbs. and is made from a combination of plastic and metal parts.
It also has more of a compact size, making it easy to carry, store, and set up, even in cramped spaces. The handle has an adjustable angle, and you can fully remove it if you'd like as well.
The Turbo Deluxe Bubble Maker is electric-powered, so you'll need to keep it near a power outlet or use a long extension cord. When running, the machine can blow bubbles about 6.6 feet away from the front, before being carried off by wind or breeze.
The reservoir area is easy to fill, and the 16-wand wheel ensures that there are no breaks in the flow of bubble being put out. The high number of wands allows the Turbo Deluxe Bubble Maker to quickly fill small and medium spaces with bubbles and can keep the action going for up to 30 minutes before requiring a refill.
The machine is easy to clean in between uses and doesn't have any crevices or small parts that are difficult to reach. Just give it a quick wipe down after use, and you're good to go for the next time you get it out.
The smaller sizer and profile make this an awesome bubble maker for all kinds of uses, whether you're a DJ, or want an easy way to fill the backyard with bubbles for your kids to play in. It's also quiet, durable, and completely safe.
The Froggys Frog Turbo Deluxe Bubble Maker is a versatile bubble machine that any type of user will love. Its solid construction, ease of use, and long duration of bubble blowing in between refills will definitely be appreciated by anyone who buys it, along with a very agreeable price point.
5. Lightahead Portable Bubble Blowing Machine
Believe it or not, sometimes standard bubble machines can actually produce too much of a good thing, filling your space or area with too many bubbles.
Other times, they can be difficult to transport or use away from indoor areas, and also power sources.
The Lightahead Portable Bubble Blowing Machine is the perfect solution for anyone looking for a smaller, more portable bubble machine that is still easily capable of creating a bubble-filled environment.
It's also very kid-friendly and extremely versatile when it needs to be. The machine is very small and has a handle on the top that allows for easy carrying. This is made even easier due to the entire unit weighing a little over 1 lb. You're not going to find another bubble machine that comes close to matching this one in weight.
The lightweight is mostly because of the materials used to make the bubble machine. Lightaheads uses high-quality ABS plastic throughout the bubble machine, which gives it some added durability and ruggedness, while still keeping the weight down to a minimum.
As for power sources, the Lightahead Portable Bubble Blowing Machine gives you two choices: you can either plug it into a standard electrical outlet or pop in just two C batteries, which enables you to basically take it with you anywhere you'd like.
The machine uses a 9-wand wheel, and although that's on the lower side when compared to larger bubble machines, it's still more than enough to generate plenty of bubbles in one space. (Check out the video on their Amazon product page if you don't believe me.)
The 9-wand wheel, combined with a smaller bubble tank still manages to crank out endless bubbles for up to 30 minutes before needing a refill, which is actually better than many of the larger machines out there.
Overall, the Lightahead Portable Bubble Blowing Machine is an excellent product, and likely the best bubble machine for toddlers and small kids as well. It's light, simple, easy to carry and use, and has the added aspect of portability with just two batteries. The low price is definitely an added bonus.
---
How Does a Bubble Machine Work?
Bubbles were one of the most straightforward and simply designed toys we played with as children. It was always a tube full of soap and kept us entertained for hours. The bubbles we remember from our youth have evolved into these bubble machines that make for even more fun for both children and adults alike.
So, how do these bubble machines work? Air passes through the rings that have been dipped in the liquid, and that is how the bubbles are produced. It is really the same concept as the traditional bubble containers and wands we know and love, but with these bubble machines, it is all automatic rather than manual.
Main Components of a Bubble Machine
Fan: this is what generates the continuous stream of air that is needed to produce the bubbles. If the air flow is too fast or too harsh, it can destroy the bubbles.
Shovels of Hoops: this is what replaces the bubble wand from our childhood. This is instead a series of blades that gets dipped into the bubble solution and is then introduced to the air flow to make bubbles.
Bubble Fluid: yes, you can use soapy water to make bubbles but for better results, you should use a special bubble fluid. One has an oily base, for example, that makes a bubble that is much more resistant, but it is also a heavier bubble.
Aspects to Be Mindful of When Choosing Your Bubble Machine
Bubble machines all essentially do the same thing, but they all do it in different ways. Before buying your next bubble machine, be sure to go over the following criteria first, to avoid getting a machine not fit for your bubble needs.
Size
The overall size of the bubble machine may not seem like an important aspect initially, but it can indicate the machine's capabilities right up front, along with how easy it is to haul around and store.
Your anticipated uses for the machine can largely depend on the size of it as well, especially if you have certain stage setups that require things to be perfectly in place.
All the bubble machines on this list tend to be towards the smaller side of the spectrum, making them easier to deal with in general, and appropriate for everything from home to entertainment use.
It is important to remember, that bubble machines are no longer limited to a child's birthday party. They can be used in a variety of different scenarios and in different locations. So, if you need to flood the area with bubbles, you definitely want to make sure you choose the right size machine.
Power Source
The available power sources for your bubble machine can make all the difference as to what you can do with it.
Most every bubble machine will at least be electric-powered, using a basic cord and AC outlet. This allows the machine to run for as long as you'd like, without having to worry about it running down. With that said, you're restricted on where you can use it, due to the need for a power source.
Battery-powered bubble machines allow you to take the machine anywhere you'd like, without having to base the use around available power outlets.
Some machines offer both, which is strongly preferred. Bubble machines with battery power are much better for kid use, as you avoid the risks of an electric cord and outlet and give the bubble machine the portability needed to be carried all over the home or yard.
Bubble Amount/Adjustability
This is definitely something you'll want to pay attention to. Not every bubble machine is made equally, and this applies to how many bubbles each particular product can put out.
There are some machines that can crank out over 2,000 bubbles each minute, while there are others that keep things in the hundreds. Both are fine of course, it just depends on the size of your space, and how many bubbles you need to fill it.
In some cases, you can actually have too many bubbles, making them somewhat of an annoyance, and possibly leading to a slippery floor. This is when it becomes good to have different bubble speeds or a remote that you can use to toggle the machine on and off when things are getting a little too bubbly.
Capacity
The capacity of the tank has everything to do with how long the machine can make bubbles for before you need to refill it back up again. If you see a machine that has 10 or more bubble wands on the wheel, make sure it has a larger tank; otherwise it will need frequent refills when leaving the machine running.
Regardless of size and bubble wands, most bubble machines will be able to blow bubbles for at least 20 minutes before needing a refill.
Price
As mentioned earlier, bubble machines used to be quite pricey, making them appealing to average people. They're now a lot cheaper in most cases, so you don't have to spend a lot to get a good quality bubble machine.
If you're sticking to a strict budget, know that you can get a perfectly functional and professional-level bubble machines for well under $50 in most cases. No, you won't be able to produce enough bubbles for an arena concert or large festival, but it will definitely be enough for the average person's needs.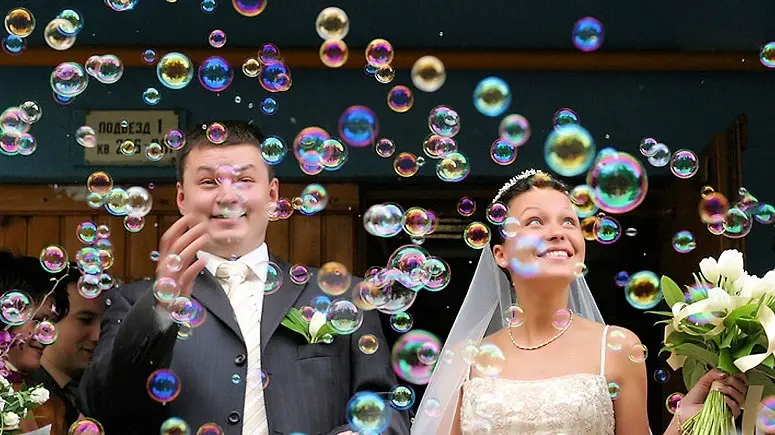 Conclusion
A bubble blower machine is a simple device that doesn't really differ from each another aside from its size, capacity, bubble output, and maybe a handful of extra features such as a remote control that you can find with some bubble toys.
We can confidently recommend any of the above bubble machines for your bubble-making needs, whether it's for the kids, a party, an event, or really just whenever you'd like to fill the air with tons of perfect bubbles – and without needing to do any of the work.
When choosing your new bubble machine, find one that is easy to use, can blow the bubbles out fast and is compact and durable. You will also want to make sure it is lightweight so it can be carried around as needed and it should also fit nicely into the budget you have set.
Additionally, when using bubble blower machines, pay close attention to how much bubble fluid is needed, or you may find yourself dealing with a big, soapy mess and the liquid can easily leak into the battery compartment. Always use caution when filling your bubble machine and always review the manufacturer's instructions and recommendations before using the machine.
Do you have any products you'd like to recommend or any ideas for bubble machine uses? Let us know in the comments below; we'd love to hear your input!
Resources: