When you think of a great party atmosphere, there are many details that go into creating the perfect look and feel of an event. You need the right lighting, music to suit the theme, food and drinks, and of course special effects to set the mood like a quality fog machine.
Fog machines have long been a staple when it comes to decorating a party setup or adding some atmosphere to an event. Though they can provide a lot of fun and help to set the mood, the most essential ingredient in getting them right is a quality fog that will allow them to work their best.
One quick look around and you'll see literally hundreds of different fogs all promising to be the best, but the most important things to look for aside quality is the safety of them. There are plenty of brands that want their fog to be the greatest but forget about the people in the area where the machine is being used, specifically children.
Froggy's Fog is a brand committed to safety and not only creating the best fog. If you've been searching for a premium fog juice to go with your machine and want something that's going to create the thickest, longest lasting fog, and contain no harmful ingredients or toxic stuff, this product might be able to end your search.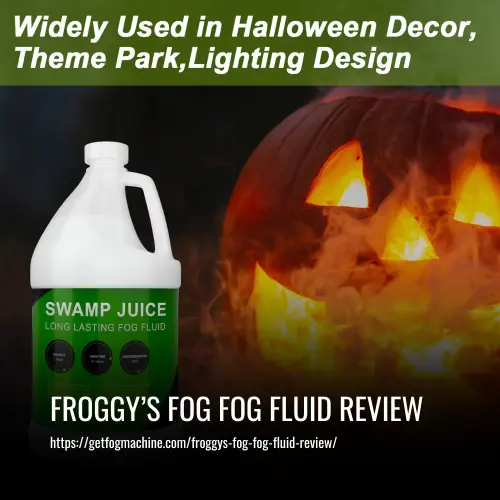 Froggy's Fog Juice
Froggy's Fog has been around for many years in the entertainment industry and their high-quality fog juice and other products are regarded as some of the best. The Froggy's Fog brand has been used in various films and TV shows, concerts, theme parks, Broadway shows, and everyday parties and events around the world.
This reputable brand has been making fog juice for 15 years and they've managed to develop a premium formula that's affordable, high quality, and non-toxic so you can feel safe using it wherever. Making the choice to invest in a quality product like this will have great results for your next event, and will also help prolong the life of your fog machine.
When you get the Froggy's Fog Juice for your next Halloween party or another event, you'll benefit from all of its features. These are just some things that set this product and brand apart from the rest:
​Three sizes including 1 quart, 1 gallon, or 4-gallon case;
​Non-toxic formula and non-hazardous;
​Approved by the FDA;
Long lasting and high output fog;
Water-based fog fluid;
Medium hang time formula;
Suits small and higher watt machines;
​​​​​​​This formula is designed for general use and would suit anyone with a fog machine wanting to use it for discos, parties, weddings, and other events. As a water-based juice and made from premium quality pharmaceutical grade ingredients, there's no need to worry about toxicity or any harm being done to those who inhale it.
There are a number of sizes to choose from, with their one-gallon container being the most popular, so it's perfect for home users and those with commercial fog machines or setups. This is a fog juice that you'll feel glad to use because of its gentle ingredients but high-quality output.
Pros And Cons Of Froggy's Fog Juice
Froggy's Fog makes a whole range of products and they clearly list what each of their fog juices are intended for. This fog juice is for indoors only and it's not as thick as you'd find with some of their other products. There were a few reviews that seemed unhappy with the density and hang time, as they simply forgot to read the guidelines about what type of fog this created.
One of the best things about this fog is the smell, with some people saying it was almost sweet and enjoyable. You won't feel overwhelmed or like there's too much product in the air with this and will be more than happy to let your kids hang around and enjoy the fun effects.
Froggy's Fog makes only American products and all of their ingredients and manufacturing is done right in the country. They guarantee their quality and with 15 years of experience behind them, you'll be guaranteed a premium product to put in your fog machine.
Where To Buy Froggy's Fog
If you own a fog machine and want to ensure a long life for it and a quality fog effect at your next event, Froggy's Fog is definitely a reliable brand. You can get this affordable fog juice through Amazon in a variety of sizes, depending on what you need it for. The popular one-gallon container costs around $19 at the moment thanks to a special discount offered that takes $10 off the price.
Depending on how many bottles you buy, you might be eligible for free shipping through Amazon as well. If you regularly use your fog machine or have events and parties planned in the future, buying in bulk is a good idea to save even more money and quality for no shipping costs.
Amazon also offers extra savings when you use their store cards which get you a further $5 off the price. If you're a member of Amazon Prime as well, your fog juice will be shipped within 48 hours so you can be using it by the weekend.
Final Thoughts
For a safe, quality, and long lasting fog juice, there's no better product out there than the Froggy's Fog Juice. This is a medium hang juice ideal for all kinds of indoor events like weddings, discos, and Halloween parties so you might like to buy in bulk and be prepared.
There's no need to worry about safety or quality when you invest in one of Froggy's Fog products. To check out what else the brand has to offer and why this fog juice is such a popular choice, click here to find out more.