Music is something that can unite us all, and there's no better way to get everyone moving at a party than by playing some familiar sounds. People love the chance to sing along to their favorite tunes and for this reason, karaoke has taken off as one of the world's most beloved pastimes whether it's performed at home or a local bar.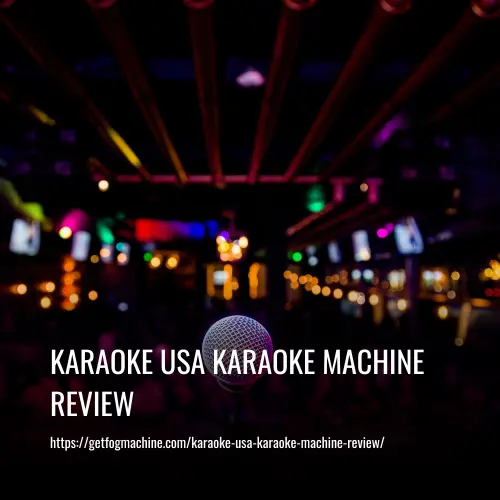 The simple addition of a karaoke machine to an event can turn something that was once drab and boring into an instant hit and it gives a chance for everyone to share their favorite songs. However, most karaoke machines are expensive to own or even hire, so people tend to overlook them as a party essential.
These days it's easier than ever to own one of these machines and it means that people are now able to bring everyone together in their homes, just as you would at a local karaoke bar. With a little bit of knowhow, you can hunt down a professional grade karaoke machine to use at your next party, a weekend at home, or any event where people want to hear music.
Karaoke USA is a respected brand who specializes in these machines and they're now well within the reach of most people's budgets. We've reviewed their standard karaoke machine to see if it's as high quality as they promise, and find out what other features it has to offer.
Karaoke USA Karaoke Machine
Just as the name suggests, Karaoke USA is a brand focused on the fun of karaoke. They make a range of machines for both domestic and professional use, whether you need to supply the fun at a wedding or you're just having friends over on the weekend for some drinks and a bit of music.
The Karaoke USA Karaoke Machine comes with a 7" TFT digital color screen that makes it easy to read for everyone. This machine doubles as a party light machine with LED lights that sync up with the music, giving you both a visual and audio treat.
This size of karaoke machine is perfect for home use and small parties, and it's got plenty of cool functions to make it worth your while. The Karaoke USA Karaoke Machine is a light and sound party starter, with features including:
300 MP3G songs included;
Plays CDG, DVD, MP3, smartphones, tablets;
Bluetooth and aux cord connection;
Wireless speaker and remote control;
Record songs and singing onto an SD card;
Audio and video outputs;
35W peak digital power amplifier;
This is far more than just a karaoke machine because it gives you the chance to record your songs, play LED lights to the rhythm of the music, and operate it completely wirelessly with a remote or Bluetooth connection. The Karaoke USA Karaoke Machine has thought of everything a party needs and packaged it in this simple device, giving you an instant mood booster at any event.
The Pros and Cons
You get everything you need in this karaoke machine which makes it even better value for money. Included is a CDG with 300 songs, color screen, two microphones, wireless remote, and LED light system built in, and the entire thing plugs into your power outlet and is ready to go straight away.
Some reviewers mentioned that the microphone wasn't as sensitive as they'd hoped for, and it required you to sing a little louder and directly on top than you normally would. You do have the option of upgrading this to a mic of your own choosing, but it's a cost you'll have to wear on your own. Depending on how serious you want to get with this machine and if you're interested in recording your voice, you might prefer to have a microphone that's more professional.
Although the microphone was lacking, the sound that came out of the speakers made up for it. Using a 35w power amplifier it's capable of hitting pretty high volumes so it'll have no problem reaching a larger party if you need it to.
Where to Get Your Karaoke USA Machine
Amazon has a current sale on the Karaoke USA Karaoke Machine that makes it exceptional value, priced at around $150. This is down from the usual $250 price tag so you're able to save $100 by shopping while this promotion is running. There is an option to buy a used machine and save some money, but considering the current price on the brand new machine, you're better off getting something unopened in its box and covered by warranty.
Included in that cost is the free shipping service Amazon offers, which includes free express shipping for Amazon Prime customers. As the machine itself is pretty bulky, not having to pay freight is a welcome bonus that not many other sites offer.
The manufacturer offers a one-year limited warranty on this karaoke machine which is pretty standard for these types of electronics, and good coverage for something of this price. You might want to invest in better microphones or even an additional PA system to get more volume, and all of these are available on Amazon as well.
The Final Say
Karaoke USA has managed to create the perfect home karaoke machine for small parties and events. With everything from an LED lighting system and pre-installed catalog of songs to choose from already included, you don't have to spend any more money to get the perfect music setup at your next party.
Having a karaoke machine at home doesn't have to cost thousands of dollars like it used to, and this machine proves just how much you can get on a budget. To equip your home with the Karaoke USA Karaoke Machine and ensure that you never have a dull party again, click here to grab one for yourself.