Most people can recall a fun night in their lives where they headed to the local karaoke bar with friends and spent hours singing their favorite tunes. Some might even make it a regular occurrence and head there for work events, parties, or just on their own to enjoy the feeling of singing along to whatever takes their fancy.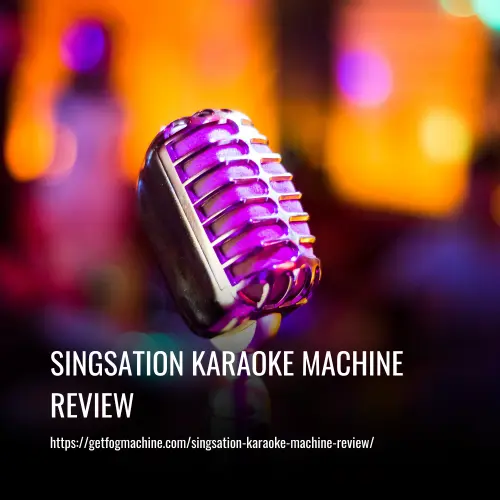 We know how much fun singing to a crowd of friends can be but if you don't want to limit yourself to those nights out where you head to a karaoke bar, investing in your own machine might be the next best option. Karaoke machines today are made to get the same quality sound you'd expect at a club, provided you know what you're looking for.
| | |
| --- | --- |
| Price | Available on Amazon.com |
| Pros | Light effects, pro voice effects, sound effects, control lights and sounds with the wireless remote or foot pedals, adjustable microphone stand (great for all ages!) with smartphone/tablet holder and 2 microphones included, Bluetooth, 60 different voice effects, with 25 different room and ceiling-filling light shows, 40 watt amplifier with 4 stereo drivers and 2 passive bass radiators |
| Cons | No songs included and has no screen |
| Summary | You'll get a total sound system, lighting effects, audio effects, and karaoke device all rolled into one package, and with this machine at the center of your party, you're guaranteeing a fun time for everyone involved. |
| Our Rating | 5/5 |
If you're someone who takes their karaoke seriously or you want an ultimate atmosphere booster for all of your events, you'll be happy to spend a little more to get a decent machine. Choosing one in thisprice range that has all of the features you'd expect of a professional device can prove a challenge though, especially if this is your first foray into karaoke machines.
The SingsationMainstage All in One Karaoke Machine fits this bill and it's a home device made for fun but with the professional quality you'd come to expect when you visit your local karaoke bar. We've reviewed the best and worst features it has to offer to find out if it's worth the larger price tag, so you can find out if it's going to be a worthy entertainment system or not.
Singsation Mainstage All in One Karaoke Machine 
Singstation is a karaoke brand that makes everything from complete machines to standalone microphones and sound systems. The Singstation Mainstage All in One Karaoke Machine was designed to be more than just a way to sing karaoke and more like a total party system, and it has everything from sound and lighting covered.
The Singstation Mainstage All in One Karaoke Machine come with a 40-watt speaker, microphone stand, two microphones, device cradle, power adapter, and remote control. With this single system, you'll be getting such features and functions as:
25 color changing light modes;
10 sound effects and 60 voice settings;
Wireless speakers for a big sound;
Wireless remote or foot control;
Compatible with karaoke apps, video sharing, and YouTube;
Connects to smartphone or tablet;
This was designed to be more than just a karaoke system thanks to the loud speakers, sound effects, and lighting show that it puts on. The Singstation Mainstage All in One Karaoke System can be set up in the middle of the party and will provide hours of entertainment for your guests, so it's an instant atmosphere booster.
The Good and the Bad
The extra features are what makes this one of the better party systems and helps to market it as so much more than just a karaoke machine. You'll get a choice of 25 different light shows to play and a range of sound effects and voice changing effects so people can put on a real performance for their friends and family in the comfort of their own home.
According to the reviews, the sound quality from these speakers was better than expected, and having the option to adjust your own voice means you can sound like a professional. There's no function for recording which is a bit of a letdown, but if you're just using it for a party machine you'll have no need for it anyway.
Also included with the karaoke system is two microphones and the speaker system comes with two passive bass radiators and four stereo drivers. This means even if you're not in the mood for karaoke it doubles as an epic sound system and can easily fill a large space with whatever music you want to hear.
One major downfall of this karaoke machine is that there's no included songs with it and no screen. In order to read the lyrics, you have to connect a smartphone or tablet and do it from there, so it ends up feeling more like a sound system than anything else. If you were hoping for a karaoke machine with a screen and a library of songs ready to choose from, this won't be the best choice for you.
How to Buy a Singsation Karaoke Machine
To get your hands on the Singstation Karaoke Machine you can purchase it through Amazon for just under $250 which is the lowest price we found online. This is priced pretty high considering it doesn't come with its own screen, but the additional functions make up for this missing feature, and it's by far the most advanced Singstation machine on the market.
This price also includes free postage straight to your door and members of Amazon Prime will receive theirs within just 48 hours of ordering. If you have a party coming up this weekend and need some entertainment fast, this would be the perfect addition to the dancefloor.
There's no information available about a warranty offered by Singstation which is a little concerning for an appliance at this price. If the reviews are anything to go by there are no issues with its quality, but having this peace of mind is something that most people prefer when they purchase appliances of this size and cost.
The Verdict
If you need a total entertainment system to transform your party in an instant, the Singstation Mainstage All in One Karaoke Machine is the way to go. You'll get a total sound system, lighting effects, audio effects, and karaoke device all rolled into one package, and with this machine at the center of your party, you're guaranteeing a fun time for everyone involved.
There are plenty of features to admire in this machine and although there's no screen included that won't stop you from setting up your own tablet or smartphone for the karaoke experience. To ensure you never have a boring party again, click here to get your Singstation Mainstage All in One Karaoke Machine today.