Sometimes getting the best equipment for your parties to be the best can be a real struggle. It's hard to find the best product among so many options and varieties. It's important to look for high-quality materials that can provide good performance and last for a long time.
In this way, you'll be able to use them to throw as many parties as you wish. It would also be convenient to find something light and easy to carry with so that you can take it anywhere with you. Especially if you have an active social life you wish to enjoy. But look no further! Check out the Chauvet lights and mini fog machines described below.
Their features are extremely positive and exceed what you can find in a traditional machine not only in pricing and quality of materials but also in convenience and durability. You will want to buy them as soon as possible! Let's go!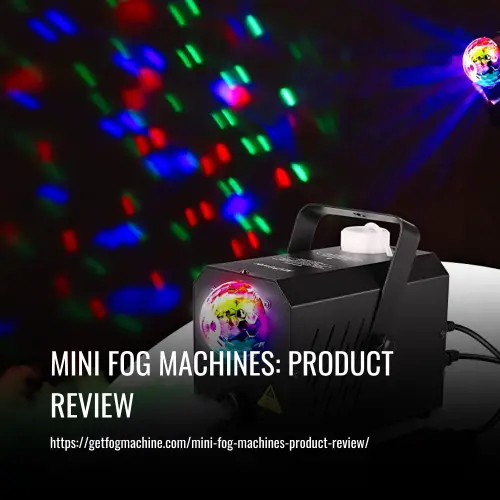 Our Recommended Mini Foggers
What are Mini Fog Machines? How Are they Different from Traditional Ones? 
A fog or a smoke machine, also called fog generator, a device that produces a kind of vapor that looks like fog or smoke. This artificial smoke is mostly used by professionals for different purposes, such as music concerts, discos, or festivals.
However, nowadays, cheaper, smaller, and lighter machines are available in the market. These ones are mainly for personal use at home, birthday parties, or other small venues. They can also be used for several military, training, and industrial applications. 
Standard fog machines create fog by vaporizing water and other fluids stored in a tank. The fog created often referred to as fog juice, then, first expands within the machine and then condenses when it gets mixed with the cool air from the outside. The result is a visible thick artificial fog.
Mini Strobe Fog Machine
This product features a fog machine and mini strobe lights. They are designed to be used in small venues. The set is mas with high-quality material and assures incredible lighting and fog experience. The strobe light features an adjustable output of 1 to 14 flashes per second.
This is great to adjust it according to the beat and mood the music you're playing. Good lighting guarantees a fantastic party, indeed. The fog machine contains a generous-capacity tank and it also heats up the water in a matter of a few minutes.
It's both easy and quick to use. Not only are the machines perfect for small areas but they are very practical to carry with, thanks to their small size.
Features
The package includes 35-watt strobe light and a fog machine.
The whole set is practical and easy to carry.
The fog machine heats up quickly and fills very well small places. It also features a generous-capacity water tank. 
Pros 
Its plug-and-play operation allows you to use it once you take it off the box.
The equipment is lightweight. You can carry it wherever you want
The mini strobe lights have an adjustable store rate from 0 to 7 Hz.
The fog machine includes fog fluid.
Cons
The remote control that is used for the fog machine is wired.
Lights are only white-colored if you're looking for diversity.
Chauvet DJ EZ Pin 4 Pack
Create the perfect setting for any of your parties! The Chauvet high-quality lighting and fog set are practical for any occasion. The lighting unit is suitable for illuminating different focal points, like centerpieces, cakes, and decorations.
The pins spots are battery-powered so there is no need to use long wires. You can also use the mini strobe light to improve the illuminating experience  The set also includes an innovative fog machine. Turned it on with the wired remote.
The remote features a LED light that indicates when the machine has reaches the appropriate temperature. Once it's got the right temperature, output the fog by pressing again the button. The set includes anything you need to throw the perfect party!
Features
The package includes the battery-powered led pin sports, a mini strobe light, and a fog machine. It also features a carrying bag to store all the products.
The magnetic base gets well secured on most metal surfaces. So there is no need to use clamps.
The fog machine can contain up to 0.6 litters. It takes 2 to 5 minutes to heat up and it can fill up to a 14-foot square room with an 8-foot ceiling.
Pros 
It features a practical compact design.
The water-based fog machine's capacity and time to heat can fill most small venues in just a few minutes.
The plug-and-play system allows you to use the machines right after taking them away from the box.
The spot stage light has a 120-degree coverage angle and contains 21 LEDs with 100.000 hours of life expectancy.
Cons
The permanently wired remote is only 6 feet long. Take into account that the machine can't be activated by a wireless remote.
Buying Advice
Stop hesitating and get your Chauvet stage pack. It will help you have the best party or event ever! It will provide the perfect lighting and fog experience. High-quality material, good water capacity, and fast heating, and great lighting coverage!  Everything you need in this practical Chauvet set. It is also easy to store, thanks to the carrying bag it includes with the purchase. So what are you waiting for? Get this incredible pack and impress your friends!
Buying Advice
If you're looking for good quality equipment for your party, then you've just found it! In terms of convenience and features, this set of strobe lights and fog machine is your best option. Get prepared to have the best party ever. No need to prepare the venue with anticipation. The fog machine can heat up quickly and fill a whole room in the blink of an eye. The strobe lights will give the final touch and assure the best lighting experience. So don't wait any longer and purchase this amazing set. Show your friends and family what you've got!
Importance of choosing mini fog machines carefully
Fog machines that use liquid are not so harmful as those that use carbon dioxide or liquid nitrogen. The difference lies in the composition of those elements. As liquid air is similar to common atmospheric air, the fog created is breathable.
In the case of machines that operate only with water, there is no risk at all. However, if the fog fluid contains glycol, which means it is "water-based", then you should be more cautious. Several studies have proven that glycol-based artificial fogs can be harmful, so pay close attention to what you buy to avoid an unpleasant experience.
Lighting and fog machines are important to create a cool environment at your parties. They will make your friends feel they're at the disco! But remember to make sure the machine works only with water, otherwise breathing the artificial fog can be quite a risk. Fortunately, the sets offered above are perfectly safe. Moreover, they're practical and easy to carry with you at any venue. So try them out and have fun using the pack. Enjoy the experience!