Dry ice is the method of choice for professionals who want to create low-lying fog. Well, now you can ditch the conventional method and opt for a fog machine that can produce the type of fog you need. A large number of machines available on the market mean that you can easily find one that fulfills your requirements.
Usually, professionals use low-lying fog on Halloween and for theatrical events. A fog machine manufactured by a leading brand that is suitable for this type of fog can prove to be the perfect investment and yield long-term value.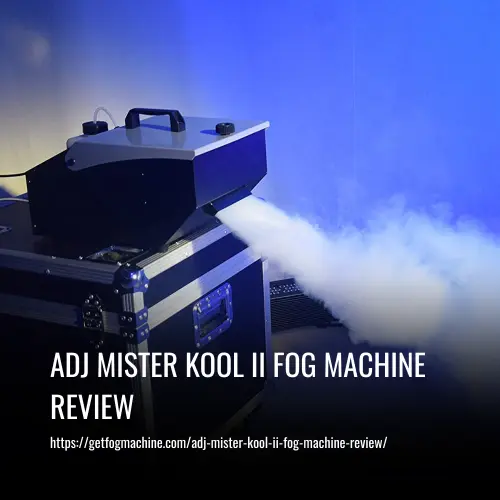 In This Article
In this article, we're diving into one of our favorite fog machines on the market for producing low-lying fog – the ADJ Mister Kool II. The Mister Kool II has gained impressive renown within the fog machine community as an extremely impressive alternative to conventional methods of creating low-lying fog.
We'll dive into all the advantages (and some disadvantages) of this low lying fog machine. After that, we'll provide a full buyer's guide to help you make the ultimate decision.
About the Product
The Mister Kool II fog machine from ADJ Products hit the market over a decade ago and immediately became the preferred choice for professionals seeking low-lying fog without relying on traditional methods. The machine received an upgrade from the brand and is available in its second iteration, the Mister Kool II Fog Machine.
The machine offers the standard set of features you would expect from a market-leading product yet offers the X-factor required to reach the next level of performance. Here is an overview of the notable features of this smoke machine:
Notable Key Features
Low laying fog allows for a dry ice effect
This machine uses ice cubes and standard water-based fog juice
You can load up to four pounds of ice into the chiller box
Water drainage valve system
700W heater
It takes 3 minutes to warm up
Weighs approximately 19 pounds
Dimensions: 18″ x 11.75″ x 10.25″
0.8-liter fluid container
The output is 3000 cubic feet per minute
Low-Lying Fog
The machine produces low-lying fog, creating an effect similar to what you can achieve by using dry ice. Perhaps the most notable feature of this device is that this effect can be achieved using just regular ice cubs and standard water-based fog fluid. That's right, no more dangerous chemicals or hazardous dry ice.  The low fog will stay as close to the ground as you want, producing the effect you desire.
The low lying fog is very impressive for such a compact machine that doesn't rely on traditional chemicals or dry ice. See for yourself, check out this video demo.
Easily Available Materials
As mentioned, the machine requires only ice cubes and water-based fog fluid to work. You don't have to search for different products like those used by conventional ground fog machines to get the low-lying fog you need. Not only are these chemicals readily available, they are much easier to handle and to store.
Wired Remote Control
You get the ADJ VFTR 13 remote with this machine. The remote comes with a 12-foot wire, enabling you to turn the machine on and off as per your requirements. The remote features manual and continuous buttons, allowing you to control the flow of the fog effects. You can also adjust the duration of the fog as well as the intervals at which you want the machine to emit fog. It's an impressive level of control, and if you're looking to organize events or special effects, then you'll want all the control you can get.
Spacious Chiller Box
The chiller box offers considerable space, allowing you to load up to 4 lbs. of ice at one time. This capacity means that you don't have to keep reloading the chiller box to ensure the fog emits smoothly. The 0.8-liter fog fluid container also offers decent capacity, allowing you to keep the machine running for a long period at a stretch.
Suitable For Different Events
The brand states that this fog machine is ideal for professionals working on theatrical events. You can also use it for producing low-lying fog on Halloween, for adding spookiness and scariness. Professionals can use this low-lying fog machine for practically any event, indoors or outdoors.
Easy Clean-Up
The machine comes with a water draining valve system. The water will drain from the machine into the plastic bag that is part of the package. This feature makes clean-up incredibly simple and convenient. You don't have to invest in dry ice, a fog chiller, or even AC units, which can prove quite expensive.
Quick Warm-Up
The powerful motor of this fog machine ensures quick warm-up. The machine only takes three minutes to get up to speed and start producing the fog you desire.
High Output
This is a 700W fog machine, which is considered the "mid-range" of fog machine output. It is able to emit 3,000 cubic feet per minute, which is sufficient for mid-sized events and outdoor spaces. It's not as powerful as a 1000W machine, but will suit your purposes well for a wide variety of events and uses.
The fog machine consumes fluid at a rate of 90ml/min, and has a 0.8 liter fluid tank. Overall, it offers solid performance and power for its size, and outputs an impressive amount of low-lying fog for its price range. It's definitely no slouch when it comes to power and output.
Warranty
The Mister Kool II carries a one-year limited warranty. Upon purchasing your fog machine, fill out the enclosed warranty card to validate the purchase and be eligible for the warranty.
| Pros | Cons |
| --- | --- |
| Portable | A few customers complained about the machine not performing despite testing |
| Easy clean-up | |
| Works with easily available materials | |
| Three-minute warm-up | |
| High output | |
| Spacious chiller box | |
| Wired remote control | |
| Low-lying fog | |
What Others are Saying
Often, the best way to know whether a product is worth buying is to look at customer reviews. These reviews offer an objective look at the product that you wouldn't get elsewhere. Let's check out some customer reviews, both good and bad:
The Good
The overall reception for this product on Amazon is overwhelmingly positive. Most of the people who purchased and reviewed this product are happy with its performance and praise its features.
One customer praised the affordability of this fog machine, stating that it performs superbly despite the low price tag, offering excellent value overall. He also wrote that the amount of fog produced is substantial, as his neighbors asked him about the 'smoke.' A customer stated that he tried out the machine in his garage with only a little ice and was suitably impressed to order two more of these.
Another customer wrote that the machine performs just as the brand describes, offering optimal low-lying fog that creates the desired effect.
Another professional wrote that he used this machine for two events, and so far, its performance is great. We especially like when professionals praise products in their reviews, because these people have often tried and compared different machines.  
Another customer stated that he ran a haunted house Halloween event, and this machine helped him create the perfect atmosphere to attract people. He also mentioned that the machine produced sufficient fog to cover the entire street.
The Bad
Of course, you have to take the good with the bad when making a purchase decision. This means that you also need to consider negative reviews. Unfortunately, a few customers faced some issues when using this product.
One customer wrote that there was no power plug in the package when he received the machine.
A different customer mentioned that he tested the machine several times before using it, but it did not perform when required.
Another customer stated the same thing, i.e., despite testing the machine did not work when he needed it the most.
Overall
So, taking the good with the bad, what did customers think overall? We're happy to report that most customers were extremely satisfied with this product. The overwhelming response was that this machine offered excellent performance for the price. In fact, many stated that this had performance which rivalled much more expensive fog chillers.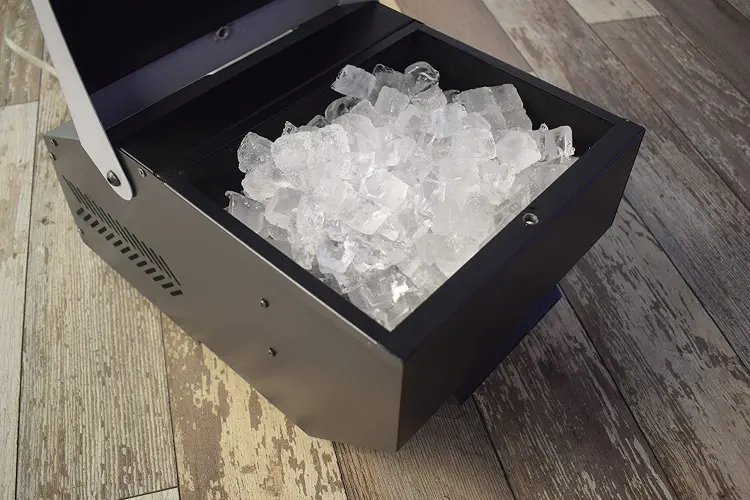 Buying Advice
We want you to make the best decision possible. In this section, we're outlining all the considerations to know whether the Mister Kool II is the right machine for you.
The Mister Kool II Fog Machine is available on Amazon, where you can order it for home delivery. The retail price of the machine is around $200, but it is sometimes available at a 25% discount. The discount will help offset the cost of shipping, as Amazon doesn't offer free shipping for this fog machine.
Tips for Using this Machine
When you use this fogger, you want to make sure to tighten the knob on the ice hopper; otherwise, there might be some fog leakage. You also want to be sure that the drainage valve is open, and the bag is lower than the machine so the water can flow more easily into the drainage bag.
This machine works with water-based fog fluid and ice cubes to chill the fog and keep it close to the ground. The timer remote helps you further customize the control and the output of the fog it is producing. It is best to use a rapid dissipate fog fluid with this machine to achieve the desired results.
When to Use this Fog Machine
To help you get a better idea of whether the Mister Kool II is worth your money, let's take a look at its recommended usage. As with all fog machines, there are certain situations it is designed for, and certain situations it is less than ideal:
Ideal Situations
Halloween Décor/Special Effects
This fog machine is very ideal as a Halloween decoration for your home or for a smaller event. This fog machine is the best choice when you are trying to achieve great graveyard fog effects while you are on a budget. This kind of fog machine allows you to create those graveyard type effects, creating a spooky fog layer that covers the ground.
This is also a great fog machine for special effects, which can be used in filmmaking, photography, or stage shows. But do keep in mind that this is a 700W unit with an ideal CFM of 3000. Therefore, it's best for mid-sized shows, and won't adequately cover a very large stage, or very large indoor or outdoor area.
Small Events
They are also ideal to use for small parties and other gatherings when you want to achieve that kind of effect on the dance floor. Keep in mind it's 3000 CFM coverage radius, and adjust to your party accordingly. It's definitely more suited to mid-sized events (weddings, dances, parties, etc.).
Non-Ideal Situations
Big Events
Of course, like any fog machine, this one won't be perfect in all situations. If you're planning for a particularly large event – such as a concert, or a large party – then this one won't be as ideal. Organizers of larger events tend to use 1000W fog machines.
Larger Stage Performances
Although ideal for many performances, it won't be ideal if you are planning for a show in a larger auditorium or theatre. Unless you only want to cover a portion of the stage, you are probably best suited with a more heavy-duty fog chiller.
Recommended Fog Juice: ADJ Products KOOL-FOG
There are two major components that help a fog machine achieve its desired effect – the machine (of course) and the fog juice. There is a tendency among beginners to think that any standard fog juice will do. While we wish this were the case, it is unfortunately far from the truth. In fact, different juices will produce very different effects.
It is often the case that different machines are most compatible with a specific fog juice, and that is the case with the Mister Kool II. ADJ Products designed it to work with their own brand of fog juice.
We think this fog juice is great! It's affordable, it comes in a big gallon jug, and it helps the Mister Kool II produce excellent, thick, low-lying fog. It's safe and non-toxic, and made with pharmaceutical grade ingredients.
We really like when a fog machine manufacturer makes a juice that is specifically designed for their machines, because there are no worries of compatibility. This is a great choice, and a very economical one at that!
Safety Precautions
When using your fog machine, you want to practice safety to ensure a fun time for everyone. With that in mind, it is important that you refrain from connecting this fog machine to any kind of dimmer pack. Also, you should never operate the machine if the power cord is frayed or damaged in any way.
Also, never block the ventilation holes of any Mister Kool fog machine. If you plan on storing the machine or not using it for a lengthy amount of time, you need to disconnect the machine's main power before storing it.
It is also meant for indoor use only, so any time outside could void any kind of warranty there is on the fog machine, and you may experience a greater risk of electrical shock or fire when the machine is exposed to any kind of rain or moisture.
If the machine breaks, do not try to follow through with any of the repairs yourself. Again, you may void any manufacturer's warranty that comes with the fog machine. There are no user-serviceable parts located in this fog machine.
Final Verdict
Overall, the Mister Kool II Fog Machine from ADJ Products is one of the best in its category. The price is reasonable, especially considering the high level of performance that it achieves. You will be extremely impressed at the amount of low-lying fog pumped out by this machine. Professionals who handle events that require low-lying fog should keep this machine in mind as a top option, but it is also just as ideal for home users!
FAQ's
Do Smoke Machines Leave a Residue?
Yes, but in most cases it is barely detectable, will disappear shortly, and will not cause any damage at all. It really depends on the type of fog machine you use, and the type of fog juice you use. If you use a higher quality fog juice made with better ingredients, then this will not be an issue worth worrying about. Mister Kool II was designed to work with KOOL FOG fluid, which has a rapid dissipate feature, so this will barely be an issue.
How Do You Make Fog Stay Low?
Fog is kept low through use of a special machine. Essentially, it's all because of the temperature. Cold air sinks and hot air rises. Therefore, low-lying fog is created by cooling it to a point where it is colder than the outside air. Mister Kool II achieves this by using water-based fog fluid, and by filling a tray on the machine with ice cubes.