Bubble machines aren't just for kids. They're an unexpected treat for people of all ages. Whether you're hosting a child's birthday party, a festive holiday event, staging a photoshoot, or hosting a rave, there's a bubble blower that's made for your event. These machines are the perfect way to set a fun, whimsical, carefree tone for your party or gathering.
Before we get into some of the bubble machine models on the market, let's take a closer look at what a bubble machine is, what it can do, and how it works. We're giving you a full guide to creating the perfect bubble effect, and helping you choose a battery operated bubble machine of your own!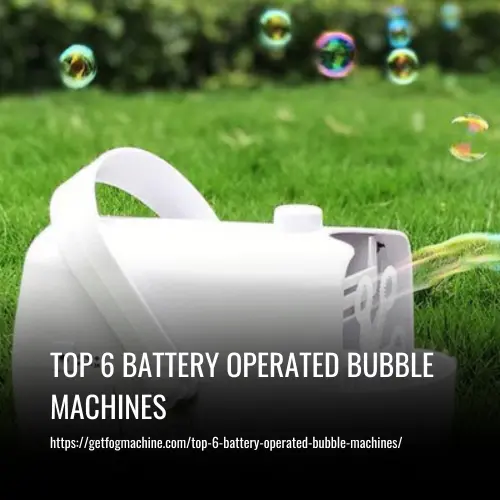 What Is A Bubble Machine?
Bubble machines are devices that automatically blow a lot of bubbles into the air. Some models also have different lighting and color effects. Bubble machines work similarly to fog machines in that they both require a special kind of liquid to work and are powered either by an electrical outlet or by battery-operated remote.
You have surely seen their effects at certain parties, gatherings, or displays. They generate many bubbles at once, sending them around the room while creating a neat effect.
How do Bubble Machines Work?
These machines use liquid that's similar to the bubble solution you used to blow bubbles when you were a kid. Most of these machines are equipped with a series of blades with holes in them (the bubble ring), resembling a kid's bubble wand.
When the machine is switched on, the blades rotate, traveling through the bubble fluid which settles in the holes. Basically, think about it like a fast, automatic version of the classic bubble-blowing wand.
Bubble machines have built-in fans that blow against the wet blades, producing bubbles that are then blown out into the room.
Many of these machines also use what is called a "grinder scheme." This is when the device rotates so that some of the blades are always under the liquid while others are always against the fan, producing a constant stream of bubbles.
Where Can I Buy Bubble Liquid?
Bubble liquid can be purchased just about anywhere online. Bear in mind that these machines can use a lot of bubble liquid, especially if you want continuous bubbles. It's a good idea to buy in bulk.
If you're stuck on what to buy, we'll provide a quick recommendation:
Best Bubble Liquid – Froggy's Fog High Color Bubble Juice
If you're familiar with this site, or with fog machines in general, then there's a pretty good chance you've heard of Froggy's fog. Froggy's Fog is one of the top names in fog machines, and they're also a top manufacturer of bubble machines and bubble machine accessories.
Our Rating
We really like this bubble mix. It's a highly economical choice, and you can buy it in jugs, cases, or even a 55 gallon drum!
This solution is made with high-quality materials that are perfectly safe (only food-grade chemicals are used!). You can really tell the difference with high-quality bubble juice, because it creates bubbles that hold their shape quite well as they float around the room. Low quality juices might create bubbles that are "thin", resulting in bubbles that pop far too frequently.
This mixture creates colored bubbles, giving them a unique, rainbow appearance as the light dances off them. If you're looking to add an extra element of whimsy, then this is it!
Or, if you aren't a fan of the colored juice, Froggy's makes a standard bubble mix as well.  
Can I Make My Own Bubble Liquid?
While some customers prefer to use premade bubble liquid and stock up on bulk supplies, it's also possible to make your own. There are several recipes online that use simple ingredients like soap, sugar, and water that can easily be substituted for bubble fluid.
Before making your own bubble solution, though, you need to make sure that this type of bubble fluid works well with your machine. This is usually listed on the side of the box or in the included instruction manual. Note that some heavy-duty bubble machines don't work well with homemade bubble solutions. In some cases, you can even void the warranty by using bubble juice that isn't properly rated for the machine.
Whether or not this influences your decision to buy on is up to you but it's an important thing to keep in mind while you shop.
Where To Use Your Bubble Machine
With bubble machines, the possibilities are endless! You can use them just about anywhere. Here are some of our favorite ways that clients have used bubble machines in the past:
1. Birthday parties! Bubble machines are great crowd-pleasers for children, adult, and teen birthday parties to enhance the festive atmosphere.
2. Backyard barbecues or parties. Bubble machines are sure to give your backyard event that extra special something, especially as the party heads into the night.
3. Photoshoots. If you're a professional photographer or just a whiz with the camera or if you're having photos of yourself or your family taken, bubbles make a fun and festive addition to your photoshoot. They're great for kids' pictures, engagement photos, prom photos, and more.
4. Holiday events! Bubbles are perfect for the holidays: Halloween, Christmas, Easter, and everything in-between. They add a lot of fun to whatever you're planning and can help bring your decorations to life.
5. Performances. Bubble machines can add a neat effect to many types of theatrical performance. Bubble can create mystery, whimsy, excitement, and much more! Bubble machines are also a prominent fixture at sporting events.
6. Parties and Events. Bubble machines aren't just for holiday events! Use a high output bubble machine to spice up any party, wedding, bar or club, and more.
Benefits of a Battery Powered Bubble Machine
Bubble machines are either powered by batteries or they plug into an outlet. There are pluses and minuses to each type of machine.
Corded Machines
Corded machines are a little more powerful and reliable if you're planning to use your bubble machines for long stretches of time. That said, they're somewhat limited by their power cord, as you can only use them near an electrical outlet, which means it's not always easy to set them up outdoors. Of course, this power cord also means that you don't have to worry about them running out of batteries.
Portable Machine
On the other hand, battery-powered bubble machines are extremely portable and can be used anywhere. You can take them out into the middle of the woods if you want to.
The major downside to a battery-powered bubble machine is that you have to worry about bringing new batteries along so you make sure you don't run out of juice. Some of these machines go through batteries pretty quickly, depending on how long you use them. One thing you can do is read the customer reviews for the models you're considered to see what people have to say about battery life.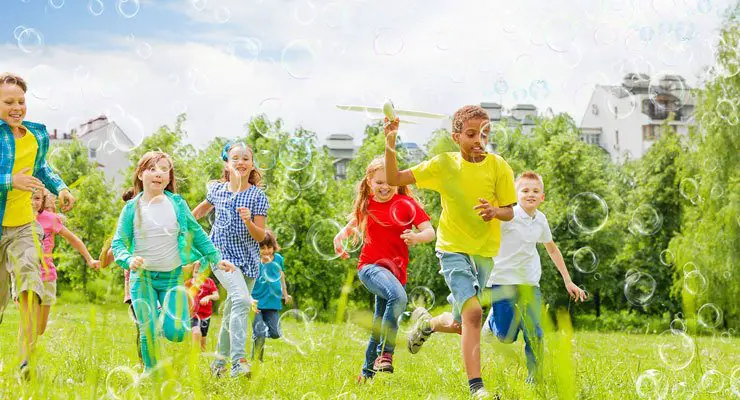 Choosing the Right Bubble Machine
There are a lot of battery-operated bubble machines out there at a variety of price points. Today, we're going to help you find the best of the best so you make the right decision for your event, business, or photoshoot. Here we go.
1. American DJ Bubble Tron
Our Rating
If you're looking for a high-performance machine, check out the American DJ Bubble Tron. It's really easy to use, all you do is add the bubble solution in the easy-access front fluid tank and turn it on. ADJ is a trusted name in party products, and this expertise extends to the bubble machine space as well.
This machine makes hundreds of bubbles every minute and uses a high-velocity fan to scatter them quickly and effectively around the room and the wired on/off remote make it easy to turn off without having to constantly bend over.
This machine also comes with a large bottle of bubble solution to get you started. That said, they do recommend using the bubble solution made by the ADJ brand and say that using inferior products can cause damage to the machine. Therefore, it's a safe bet that using a homemade bubble solution with this one is not a good idea.
This is quite a bit more expensive than many other machines on our list, but the difference in quality is extremely noticeable. This is a machine that is more suited to professional use. If you have more extensive needs, and really want a machine to get the party going, then this is the type of machine you want.
Check it out in action right here.  
2. Easife Bubble Machine With Led Lights
Our Rating
NOTE: Best for bubble blower for kids and toddlers!
The Easife Bubble Machine with Led Lights is a perfect choice for kids' parties. It's exceptionally affordable and you can use it indoors or outside. The LED lights add a fun pop of color that your kids will love.
This device has two speed settings so you can control how many bubbles it produces and conserve battery power and bubble solution when necessary. Another cool thing about it is that it can be powered by batteries, or you can plug it into an outlet when there's one nearby. This offers a lot of flexibility. You can take it out into the backyard when you need to or plug it in, or use it on the porch when there's an outlet nearby.
Another thing we really like about this machine is that it's praised for its safety and child-friendliness.
However, do keep in mind that these children's models are less durable than professional models. They're really better used as "toys", to add a fun bubble effect to a situation. They won't be ideal if you're looking for extreme high output bubbles for a larger event. If you're looking for something you can use over and over again, you may want to look for something at a higher price.
3. Lightahead Portable Hubble Bubble Blowing Machine Bubble Maker
Our Rating
This next battery-operated device is great for indoor and outdoor parties, discos, holiday events, and anything else you might dream up! The great thing about this one is its portability – it's lightweight and has a fold-down handle so it's easy to maneuver around and take from place to place. Additionally, the ABS plastic build is tough enough to transport without worrying about it breaking or cracking.
We like that it produces a constant stream of bubbles so you can fill up a space pretty quickly. The large fan blows the bubbles high into the air and helps spread them out over a larger area. It's designed for indoor or outdoor use. While this machine has a very high bubble output, you need to keep in mind that the "whirring" sound produced by the motor may be a turnoff to some consumers.
It requires two C batteries, which are not included, but you can also use the included power adapter when you find yourself close to an outlet. Just make sure you remove the batteries before you plug it into the outlet. Using both at once could cause the machine to burn out.
Our Rating
Made and manufactured by Creative Motion, this battery-operated bubble blowing machine is a great option that would suit your outdoor or indoor needs. This model is also great for parties and weddings, especially in the hot summer, though may not be powerful enough for larger venues like a stage performance or in a bar. It's a good choice for a kids' party, too, because it's lightweight and made of durable plastic. Plus, it's pretty affordable at around $37.
Like the Lightahead model, the Creative Motion product requires two C batteries, which are not included. The machine can hold up to 10 ounces of bubble juice and shoot bubbles into the air at about one to three feet, depending on the strength of the liquid. The Creative Motion model has a comprehensive set of easy instructions written right on the side of the box and comes at a very affordable price.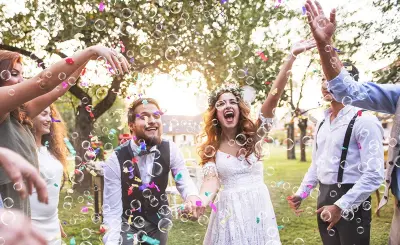 5. iTeknic Bubble Machine
Our Rating
Here's another automatic bubble blower that comes highly rated and recommended. This machine was created by the company iTeknic and given the coveted "Amazon's Choice" label. This model is safe and durable, made from high-quality ABS plastic so it's really tough and you don't have to worry about rust. It has one-touch controls that are really easy to use and is a safe choice to have around kids.
The lightweight design features a detachable handle so it's super portable and convenient. There are two speed levels to choose from, just press the button one time to cycle between them. Both the high and low settings can create thousands of bubbles per minute. You can use this one indoors or outdoors as well.
6. Softeen Bubble Machine
Our Rating
One of the things we like the most about the Softeen LED Bubble Machine is that it has a rechargeable battery and can also be powered with the included AC adapter. This is basically the best of both worlds as you get the portability you want from a battery-powered machine without having to worry about constantly buying new batteries.
The included remote control is really convenient and the lightweight build and handle make it easy to transport. You can use this bubble maker both indoors and outdoors and the fan not only creates a lot of bubbles but also circulates them nicely around the room. Another little touch you're going to love is the simple LED lights that turn the bubbles into a bit of a light show.
You can use any bubble solution with this machine. In fact, the company actually recommends a few homemade recipes that their customers have had success with. Overall, it's another great choice to consider, and we particularly like the sleek look of this machine. You can consider it a "mid range" machine, producing bubble output more than kids' machine, but less than a professional-tier model.
7. Axworn Auto Bubble Blower
Our Rating
Battery-powered bubble machines are great because you can take them wherever you want. Do you want some bubbles in your backyard? Out by the pool? By your tent while you're camping in the middle of nowhere? With a battery-powered bubble machine, you can make it happen. Just don't forget to bring some extra batteries along so you can keep the party going.
To round out our list, we have this fun kids' bubble machine from Axworn. This is a great option to cap off our list, as it's our favorite option for kids. It's simple, it has a neat design, and it's highly affordable. It might be the best value on our list, but don't expect a powerhouse machine.
This is the ultimate kids' bubble machine. It's a fun portable size, and is capable of blowing many small bubbles for kids to enjoy. It even comes with bubble juice to get started.
This machine is operable with either power cord of 5V lithium-ion battery (included with the package). You can also use 4 AA rechargeable batteries (not included). That's a lot of options! We especially appreciate them including the batteries, which is quite surprising given the price tag.
Overall, it's an excellent choice at an extremely fair price. It's a portable kids' bubble machine, so don't expect the bubbles to fill a large room, and don't expect super high output. But if you want an affordable, simple machine for kids, it's tough to go wrong with this one.
Conclusion
Now that you know a little more about bubble machines, we hope you decide to try one. There really is no better way to add a bit of fun and whimsy to a party or make your photos a little more dream-like. Bubbles are fun for people of all ages and having your own bubble machine lets you take your parties to the next level.
Battery-powered bubble machines are great because you can take them wherever you want. Do you want some bubbles in your backyard? Out by the pool? By your tent while you're camping in the middle of nowhere? With a battery-powered bubble machine, you can make it happen. Just don't forget to bring some extra batteries along so you can keep the party going.
FAQs
Can You Use a Bubble Machine Indoors?
Most people have concerns over using their machine indoors because of the potential mess that might be created. The answer is that it depends, and it depends mostly on the quality of bubble juice that you use. High quality bubbles juices (such as the one from Froggy's above) use food-grade chemicals that won't cause harmful residue or stains. It is a fact that bubbles will pop and leave some temporary residue, but if you use high-quality juice, then it's not anything to worry about.
Do Bubble Machines Make The Floor Slippery?
Closely related to the question above is this one, and it's an equally relevant consideration. Once again, the answer is quite similar. As long as you use high-quality bubble juice, you won't have to worry about slippery floors. High-quality bubble juice has been specially formulated to be quick-drying, meaning it won't leave residue, but also won't be a slipping hazard. Once again, it's all about using top quality ingredients, and it's yet another reason to use a high quality juice.
How Can You Make Your Bubbles Stronger?
Believe it or not, there is a pretty big difference in the quality of bubbles created by a bubble machine. "Strong" bubbles are bubbles that have the integrity to hold the form for a longer time. These bubbles will float around the room for a longer period of time, amplifying your bubble effect, and making it more noticeable.
Once again (and we know we sound like a broken record) it's all about the bubble juice! High quality juice, when combined with a high quality machine, will make stronger bubbles. The formula will have been designed to create bubbles that hold their shape much better than others.