Modern Fog Machines
A common concern when operating a fog machine is the toxic nature of the smoke that it produces. For this reason, why professionals are seeking alternatives to conventional machines that can produce the desired effect, yet without the toxicity. The constant progression in fog machine technology means that you now have the perfect solution to this problem.
Modern machines produce smoke that is non-toxic, ensuring that all the people attending the event or party remain safe. You can use these machines for any event, including weddings, dance parties, and Halloween!
In fact, you can create the perfect Halloween party atmosphere when you have a fog machine that produces the right quantity of smoke. You don't have to worry about toxicity or even smell.
This feature adds to the versatility of modern fog machines, and this reason is why you should go against the option of conventional models. The only catch is that you have to spend significant time researching before you can select the right product. Many brands offer these models, and therefore, selecting one can prove a tricky task.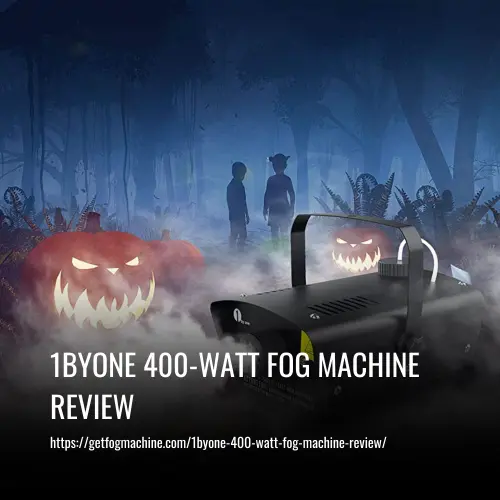 In This Article
In this article, we're reviewing one of our favorite options for a 400 watt fog machine. We're looking at the 1byone 400 watt machine. This is a versatile, functional, and affordability machine that is great for a wide array of purposes. We'll start with a full rundown of this 400 watt machine, and then give you a full buyer's guide to help you make your decision.
Using this guide, you'll know whether or not this fogger is for you.
About the Product
1byone is a leading manufacturer of tech and innovative products. The company is known for producing high-quality fog machines, which suit many different requirements and, at the same time, offer many handy features.
The 400-Watt Halloween Fog Machine is a decent product available at an affordable price that will suit the needs of many professionals and hobbyists alike.
Here is an overview of the features that you can find in this model and how they will benefit you. When reading through these features, be sure to keep in mind what you are actually looking for in a fog machine. You need to match these features with your ideal usage, so that you can see whether this is the perfect machine for you:
Light Unscented Fog
The primary (or most noticeable) factor that distinguishes fog machines from one another is the type of fog that they produce. Fog machines produce anything from a light haze to a high density fog (more about this in our guide to fog machine basics).
This fog machine emits smoke that is light and unscented, which makes it perfect for outdoor use or for indoors as well. The smoke is light, but still noticeable. It's a bit denser than a haze, but lighter than most fog machines.  This means that it's not an overly thick fog, which is quite ideal to add an ambience to the environment without actually restricting participants vision.
Basically, you don't have to worry about the density of the fog production or its thickness. Professionals can use this machine for weddings and events where usually fog machines might not be in demand.
Powerful Motor
The model comes with a power output of 400 watts, but there is also the option to opt for the 100-watt model. The powerful motor ensures that the output capacity of this machine is high, providing up to 2,000 CFM fog output rate.
Basically, the higher the wattage, the more fog that a machine will be capable of outputting. 400-watts is generally considered "standard" for a fog machine for home use, or for smaller events and parties.
Easy to Use
The controls of this smoke machine are user-friendly. This feature makes the machine easy to use and you don't have to spend a lot of time learning the controls.
The machine also comes with a wired remote control, which allows you to control this machine conveniently from a distance. Not quite as convenient as a wireless remote, but still much better than no remote.
You also get the visual meter that also serves as the fog fluid tank. The tank capacity is 300 ml, which is quite ideal for most purposes.
Durability
This fog machine is highly durable and will offer long-term use and performance. The machine is comprised of high-quality aluminum, which the brand uses to enhance its sturdiness. The material used for construction also protects the machine from rust and corrosion; another reason why this product offers great value for money.
It's built to last, and offers impressive durability when considering its affordable price tag.
Easy to Operate
You simply have to add the fog fluid to the machine and turn it on, and it will start emitting smoke. It's as simple as the press of a fog button! You can then use the remote control to operate the machine without having to be nearby.
User's Manual
The machine comes with a user manual so you can consult it if you have any trouble operating the controls. The manual is accurate and precise, and you should have no problem setting up and using your machine. For best results, be sure to follow the suggestions provided in the manual.
Non-Toxic Smoke
The smoke this machine emits is not only unscented but also non-toxic, which makes it safe for the people in the vicinity. You can ensure the fog does not cause unwanted health issues for people who might suffer from respiratory problems.
Compact Design
The powerful motor comes in a compact machine. The machine has a compact design to reduce its footprint. This feature also adds to the portability of the machine, which makes it ideal for professionals who handle many events every month. You can conveniently carry the machine around to any place where you want to use it, ensuring a hassle-free experience.
Overall, they've packed some pretty impressive functionality into this highly compact fog machine.
One-Year Warranty
1byone offers a one-year warranty on the product. This warranty makes the purchase risk-free for you, as you can use it to see if it meets your requirements.
The manufacturer will cover any damage or repairs required. This reason is why you should consider purchasing this model as compared to other options on the market.
| Pros | Cons |
| --- | --- |
| 1-year warranty | Some users faced issues with power |
| Compact design | |
| Non-toxic and unscented smoke | |
| Portable | |
| Easy to use | |
| Remote control | |
| Durable | |
| Powerful motor | |
| Light Fog | |
Creating Fog
We do have a few words of caution when using this fog machine at your next event. If you use this fog machine indoors, it is sure to fog you out of the room in under ten minutes. It may also set off smoke alarms according to some user accounts.
This particular fog machine doesn't come with fog juice either, so you will have to purchase it separately, or you can make your own fog juice with a simple distilled water and glycerin combination. Check out our guide for doing this here.
Which Fog Liquid Should I Use?
Fog machines are just one part of the equation. To function properly, these machines need to be loaded with proper fog juice. Different fog juices contain different compositions of ingredients which achieve fogs of different densities, appearances, odors, and more.
Of course, you need to be sure that the fog juice you choose is compatible with your machine, or it may actually damage the machine. Here are two top choices that are compatible with the 1byone 400-Watt machine:
Froggy's Fog is one of the most trusted names in fog machines and fog accessories. This fog liquid creates a dense fog that is unscented and long-lasting. It is a non-toxic formula and is safe to use.
It is also the ideal fog liquid to use in combination with amazing lighting effects and other general light enhancements at your next event. This fog liquid can be used in any high-quality fog machine.
This fog liquid is clean, dry, and odorless. It has a high-density formulation that allows for much better dispersion and is longer lasting. It can be used with any water-based fog machines like the 1byone 400. A great choice if you're looking to add a bit more opaqueness to your fog, for a thicker, less transparent effect.
The best news? It is actually optimized for these 400-watt fog machines! It has been made with premium pharmaceutical grade chemicals and is capable of producing fog that will be sure to impress your guests.
What Others Say – Customer Reviews
This product received a large number of positive reviews on Amazon from people who purchased and used it, including professionals. A majority of these people are happy with the performance of the fog machine and recommend it to other customers.
However, a few people experienced some problems when using this product. A couple of customers mentioned that the machine did not work properly right out of the box. One of the reviews stated that the customer tested the product, and it worked fine, but did not deliver the same level of performance later.
Source: 1byone.com
On the other hand, one customer wrote that this fog machine is bigger than many other models on the market and costs more, but he couldn't be happier with this purchase.
Another positive review mentioned that the customer bought this machine after using a cheaper model, and this one performs perfectly. A customer wrote that he placed the machine on his front porch, and it created the perfect effect, exactly the way he wanted.
Ideal Uses for 1byone 400-Watt Review
Sometimes, the best way to understand whether a product is right for you is to examine its ideal usages. Fog machines are ideal for a wide variety of purposes – from entertainment, to special effects, to concerts and events, and much more. But it goes without saying that different fog machines are more suitable for different purposes.
Therefore, let's examine what this machine does best, and what it doesn't do so well. This way, you'll be able to decide whether the 1byone 400-watt is suitable for your needs.
Best Uses for 1byone 400-Watt Machine
Halloween/Adding Ambience
A 400 watt fog machine like this one can create around 1500 cubic feet of fog per minute and is the perfect machine for home use when you are just trying to add fog to one room.
Therefore, this is the perfect machine if you're looking to spruce up your Halloween décor by adding ambience to your porch, or to a single room in your house. It's the ideal machine to add that "touch" of smoke which will really elevate your entire design. Many people place one of these machines on their front porch to create an eerie fog on Halloween night.
Smaller Parties and Events
This is the perfect smoke machine for livening up a smaller party or event. Although it isn't capable of filling an entire large room with smoke, it can still add a very pleasant smoke effect to a certain area of the party, which will still make a very noticeable difference to your guests. It's great for house parties, smaller weddings, and more intimate events.
What the 1byone Isn't Ideal For
Of course, we want you to make an informed choice. For this reason, let's take a look at what this machine isn't designed for:
Stage shows
The 1byone fog machine is only a 400 Watt machine. It wasn't designed for large shows or extensive theatrical performances (concert halls, theatres, etc.). If you're expecting this machine to be sufficient for these purposes, then you will likely be disappointed. It's all about managing your expectations realistically.
Big Events
Although the 1byone machine is great for smaller events and parties, it will likely struggle to fog larger events and bigger celebrations. For larger events, you will likely require multiple machines, or larger foggers altogether.
For this same reason, the 1byone fog machine won't be ideal for use at any bars or dance clubs.
Buying Advice
You can purchase this fog machine from Amazon for around $35. You might have to pay extra for shipping, depending on the seller you select.
However, be sure to remember the limitations of this machine. It's intended for single-room use, so you'd struggle to fog larger areas than this. When purchasing a fog machine, this is an important consideration to keep in mind. How large is the space you intend to fill with fog?
The higher the wattage, the more area the fog machine can cover. Also, when choosing the fog liquid, determine how dense you want the fog to be. A professional strength fog juice, for example, is capable of creating a much denser fog that allows for better dispersion and much more coverage.
Final Verdict (EXPAND)
Overall, the 1byone is a great machine, and it's useful for a wide variety of applications. But you have to know its limitations. There are many different foggers for many different occasions. This one is excellent for at-home use, and it's affordable price tag makes it very tough to beat.
A few defective units aside, there are no real drawbacks to using this fog machine. This product can prove the perfect purchase for professionals seeking non-toxic and unscented smoke.
FAQS
What is the Difference Between Haze and Fog?
Fog is a general term for any smoke created by a fog machine. Although sometimes you will hear "haze" and "fog" used interchangeably, it is not considered accurate to do so. Haze is generally considered to be the lightest, most transparent form of fog.  It is meant to be the least noticeable fog, and is most useful for amplifying light shows.
Do Fog Machines Leave Residue?
Fog machines might leave some residue, but it is almost always barely detectable, and will not cause any damage. Fog is a mixture of water and glycerol, which will settle on surfaces eventually. However, if you use a high-quality mixture, it shouldn't be a problem at all.
Will Fog Machines Set off a Smoke Alarm?
They might, but it really depends on your smoke alarm. Some smoke detectors will register fog as smoke, depending on the thickness or mixture of the fog. It's a good idea to test your fog machine around any smoke detectors beforehand, to know whether it will be an issue. Some also choose to set up their fog machines far from the nearest smoke detector.