Fog machines have always been the go-to device when you need to decorate your event, and they're versatile enough to work for just about any party you're having. They go well with lights, balloons, streamers, dancefloors or any other decorations you have and are easy enough to use with just one flick of a switch.
These days, you can do so much more than you used to with fog machines, with the latest trend being the bubble fog machine. These handy devices let you create bubbles with fog inside and various other effects that are perfect for parties of all kinds.
In addition to the bubble fog machine, there are others like a simple fog machine, bubble machine, and those in between. So, which one is which and what can each of them do? More importantly, which one is going to be the right choice for your next event. We're here to look at the difference between them all to find out which one is best.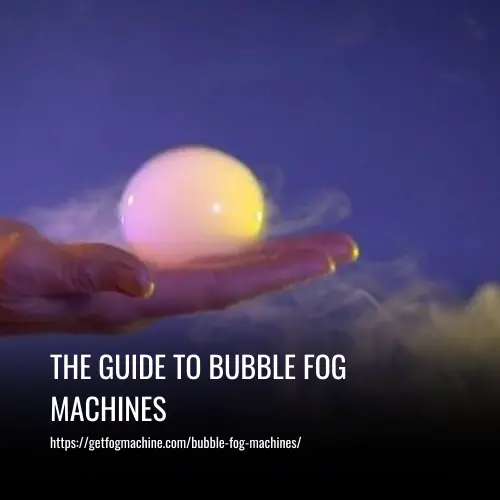 The Difference Between a Fog Machine and Bubble Machine
Fog machines are by far the most common type at a party, and with good reason. The smoky vapor they give off is the perfect atmosphere creator for events like kids' birthday parties, dance floors, or Halloween, so they're extremely versatile.
A fog machine works by using a heating element to heat the fog juice, which is then blown outside by a fan. When this vaporizes, it then mixes with the cooler air outside of the machine and turns into a thick fog. They come in many different sizes depending on the area they're being used in, and it's easy enough to make the liquid for them at home.
There are three different types of fog machines to choose from, chilled, heated, and haze machines. Each slightly differs in its effects and how they operate. Here is what each of them offers:
Heat Fog Machine
These are the most common fog machines, and they operate with an electric pump or inert gas to create the fog. The fog fluid, made by a mixture of glycerin and water, goes through a heat exchanger which mixes it up and vaporizes.
Chilled Fog Machine
This is a refrigerated fog machine that's made more to create a fog that's close to the ground, which rises and slowly dissipates. Rather than using vapor and heat, it relies on something like dry ice or liquid nitrogen to create the fog effect.
Haze Machine
These machines create a lighter and thinner type of smoke when compared to a fog machine. Their main purpose is to help light beams shine brighter, like on a dance floor or visual display, with a less obtrusive manner than a thick fog machine.
A bubble machine does just as its name suggests, and creates bubbles. Rather than having to manually blow them, these machines take a large amount of bubble mixture, have the blower automatically dipped in it, and then a fan within blows them out. You can usually adjust the settings so that it makes them large or small, or at different time intervals.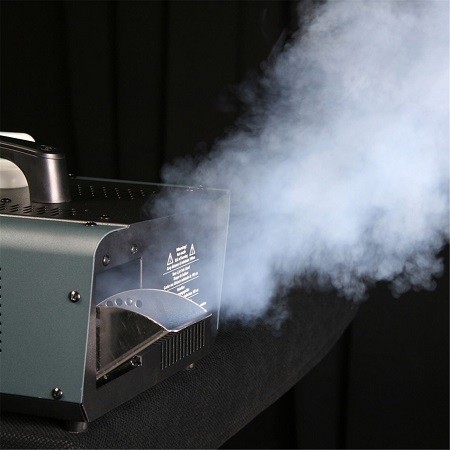 Choosing the Right Fog or Bubble Machine
In addition to your budget and the overall costs of these machines, you also need to consider a few other things as well including the size, the weight and portability, the warm-up time, maximum coverage area, and other features such as if it comes with a remote control, fuse protection, and what kind of warranty it has.
You should then consider what kind of fog or bubble juice the machine is going to require as well. Anything you purchase needs to be completely compatible with the machine. The liquid should also be non-toxic since most of the time, these machines are used in enclosed areas. You should also determine if the machine you are purchasing can be used indoors and outdoors.
Professional Bubbles Machines vs. Kids Bubble Machines
Both professional bubble machines and kids bubble machines work on the same principle, but one is just a larger scale than the other. A kids bubble machine can usually be purchased from a toy store or party supply store with bubble machines usually being harder to source.
Depending on the purpose and intended event that requires bubbles, you'll likely find one to suit. Kids bubble machines have been designed more as a fun activity for children to enjoy whereas a professional bubble machine is for large-scale events, due to the amount they can produce and the quality.
Combination Fog and Bubble Machines
The latest craze to hit the fog machine market is a combination of both fog and bubbles. These machines create bubbles that are filled with fog, and when they burst, they disperse the vapor around the room just as a regular fog machine might.
Other devices offer a little more versatility, and in addition to creating these fog-filled bubbles, they will also be able to make fog and bubbles separately. Obviously more expensive than a standalone machine, people with larger budgets may prefer these because of the sheer range of effects they can provide.
A third option includes a combination fog and bubble machine that operates with a black light. Although this doesn't directly affect the fog and bubbles, it does emit a black light. This can be particularly useful for Halloween parties as it can help the other decorations to glow and stand out more.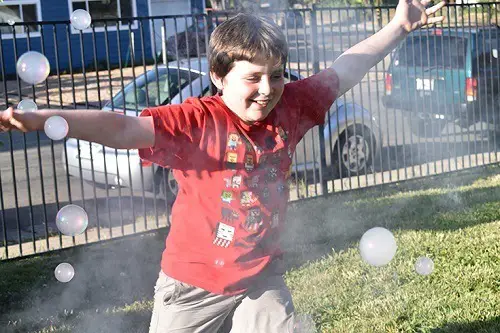 This machine offers 4 in 1 effect with fog bubbles, haze, and bubble modes. It is extremely easy to use and is lightweight so you can tote it around to each event. It is the perfect effects addition for a photoshoot, wedding ceremonies, birthdays, and other holiday and special events. It is also compatible for use with either a wireless or timer remote.
You will have 20-30 seconds of output followed by a reheat period of between 40 seconds and one minute. You will find that this machine will cycle between its output and reheating periods, and the heater core is not designed to create an uninterrupted stream of fog for the bubbles.
Notable Features
Adjusts for four different outputs: haze, fog, bubbles, fobbles (fog + bubbles)
Includes a 10-foot wired remote with a power indicator
400 fog heater core inside
Provides 20-30 seconds of output
---
This machine is 3000 watts and makes the perfect special effects addition for any event including parties, shows, live concerts, Halloween, and even Christmas. It has a heat-up time of approximately 8 minutes and out estimated output distance of around 8 meters.
Notable Features
Easy to use machine even with vague instruction manual
Produces fog and bubbles and also has lighting effects
Comes with a wireless remote controller
1-liter tank capacity
2 cooling fans
18 LEDs
Making the Right Choice for Your Event
Just one of these machines is enough to transform any event into something that looks professionally staged. Whether you opt for the fog machine, haze machine, bubble machine, or combination that offers them all in the one device, with the flick of a switch you can get the full effect with ease.
With the recent changes that have been made to fog machines, there's no telling where these devices will be headed in the future. As it now becomes easier to make them and for people to use them at home, their cost has also come down and made them more accessible for everyone.
Investing in one of these fog bubble machines will cover you for the entire year of events. From a New Year's Eve party to birthdays, discos, dances, and Halloweens, there's not much else you need in the way of decorations. Whichever one you choose, you're guaranteed an instant party starter every time.
Resources: