Most people dream of being pop or rock music starts, but not many have the talent to become famous. But we can still have fun pretending we're the best singers for at least one night. If you don't feel comfortable singing in front of strangers at a bar, you can get your own singing machine.
A karaoke machine is the best purchase ever. You can play your favorite songs on Youtube or any other device with Wifi. It is the best entertainment for parties or any other event with family and friends. Not only can you sing along, but also play music and makes announcements.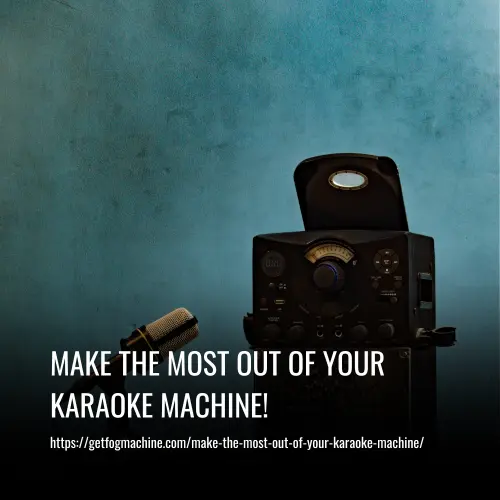 What Is a Karaoke Machine?
Simply speaking, it a is a type of equipment that includes a sound system and a microphone which captures the sounds. This instruments serves to play music and sing along it using the microphone. The most modern models also feature a video screen that shows the song's lyrics along with a moving indicator that guides the singer with the rhythm of the song.
In addition to the basic functions, the singing machine also features connectivity to home theater, and cellphones. While a bit old-fashioned, you can also insert CD/DVDs into the machine..
Why Do You Need a Karaoke Machine?
It is fun and entertaining: these devices guarantee hours of enjoyment with friends and family. Everybody will sing their heart outs with their favorite songs.
Getting together: sometimes people at the party are too shy to stand up and talk to others who are not their friends. With the karaoke machine, you can bring people together whether it's your family, colleagues, or friends. No more awkward situations at parties!
Discover your talent: While it is true that most karaoke users sign just for fun, a few others may find out they have a real talent for singing. This sound system gives you time to practice and maybe help you prepare for your first audition! But don't worry if you are not great: it's quite common.
The best memories: your friends and family will never forget the singing, laughing and crying with the karaoke player. It creates unforgettable moments; the best anecdotes to talk about! 
All these positive aspects make the singing machine the best option for any occasion. If you're thinking in startin your own venture, then renting the equipment is not a bad idea. The device is so popular and entertaining that your business will attract  many people. So you will definetly make a great amount of cash!
The Features of the Best Karaoke Machines
Great audio quality. It should include one of the following options: a good set of built-in speakers or audio output so that you can to connect it to your stereo's speakers.
A video screen. It's important that a singing machine comes with this feature so that you can follow the lyrics! In some cases, the machine already comes with a built-in display. But in some other cases, you have to hook them up to a TV or computer.
Practical setup. The equipment should be easy to connect. It should have a plug-and-play system.
User-friendly. It should be easy to use the different controls on the machine. For example, you should learn quickly how to adjust the volume and switch between different musical sources.
A 3-month guarantee. Make sure you receive at least a short warranty with your purchase in case the machine doesn't work well.
A Quick Checklist
First take into account what you'll be using the machine for: If it's only for having fun at home with friends and family, then a standard machine will be just fine. It it's intended for parties, then make sure yo have speaker loud enough to fill the room. If you want to use it at a bar, then maybe you can buy one singing machine that has special features such as audio effects or voice control.
Second, bear in mind the user. Simple control are a must if the machine will be used as a kid's toy. It may also include flashing lights to be more attractive to children. In the case of adults, you go for something more equipped. It can include features such as pitch control or echo effects. For real musicians, sound quality is a priority. This means you will have to put more money in buying the device.
Third, know how you will connect it. It's important to know which devices you'll be using with the karaoke machine to check that it's compatible with them. Some old versions of the machine, for example, may not be able to connect to iPads or Android devices. Also make sure what kind of outputs it features: either analog or digital (HDMI). 
Fourth, ask yourself if you would like to carry it with you to other places. If you're just planning to use at home than portability is not a problem. But in case you would like to take it with you at parties or other events, then you'll have to buy one that can be easily carried. Make sure it lightweit and small enough to fit in a bag.
Finally, where will you be playing your music from? There'sa variety of karaoke machines in the market, so make sure you make a good choice. Some come with a sampler CD+G disk. In this case, you'll have to pay for additional disks. Modern machines accept input from several devices, such as smartphones, MP3 players, or computers. Some others can even play songs from a CD or MP3 player and mute the vocals. This way  you can sing along to any song in your music collection.
About its Price
Buying a karaoke machine does not only mean investing on the device. Sometimes you'll also need to pay for the music you're going to play. This depends on the type of source you'll be using along with the machine. For example, if you use Youtube, it won't be necessary to pay anything else.
Updates
Nowadays, you can find karaoke as apps. You can download them on your cellphones with either an iOS or Android system. So, you can easily transform your smartphone into a karaoke player.
Let's take a look at some of the pros and cons of using these apps. On the one hand, it's much cheaper than buying a new singing machine. Moreover, you can record you performances and share it with your friends through social networks. On the other hand, you may end up paying more for songs on your cellphone than a singing machine that features a CD+G player. And most importantly, to have a good sound quality, you should better connect it to you home TV or stereo system.
Having a karaoke machine, either a new or old version, is a great source of entertainment. It is suitable for all ages and guarantees fun and laughter at any event! Share the most unforgettable moments singing your favorite songs with this amazing device.