Let's say you just bought a brand-new fog machine, but you're not completely happy with the effects that it's giving you. It's producing a lot of fog, but it's floating around the room and up toward the ceiling. This is weird, because all the fog machines you've seen have always had fog that sunk down on the floor, cascading it in a neat leayer of fog.
Well, fear not! Making the fog do what you want it to is easier than you might think. All you need is a smoke chiller!
Now, you might be asking yourself, what exactly is a fog chiller? How do I get one? What are they good for? How do they work?
Not to worry, your resident fog machine experts are going to answer all of these questions and more. We'll tell you all about fog chillers, how they work, which ones are worth buying, and even how to make your own at home. But first, let's cover the basics.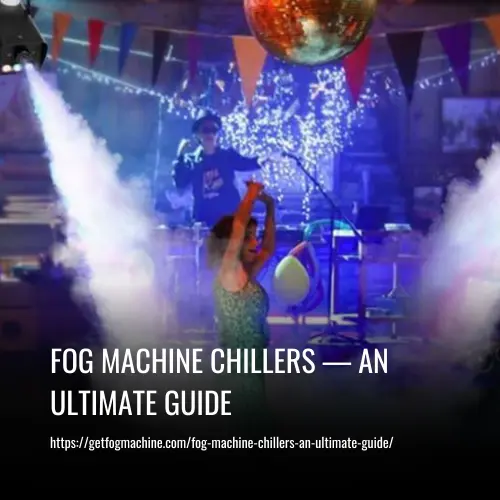 What Is A Fog Machine Chiller?
Most fog machines produce fog that is projected up into the air where is spread out and either collects near the ceiling or slowly fades away. This is one reason why it's so important to think about how much power a machine has before you decide to buy it. A fogger with more power often creates denser, longer lasting smoke, which you need if you want to create the eerie look of smoke along the floor. But we're getting ahead of ourselves.
A fog chiller does exactly what it says it does. It chills the fog as it comes out of the machine so instead of spreading throughout the air, it sinks to the floor, giving you the low lying fog effect you were hoping for. To understand why this does the trick, let's take a closer look at how fog machines work overall.
How Do Fog Machine Chillers Work?
Let's delve a little deeper into the science of it all. We should all know that hot air rises and cool air sinks.
Picture a hot air balloon. The heater in the balloon warms the air, which collects inside the above balloon. When there's enough hot air inside, the balloon lifts the passengers off the ground. Why? Because hot air is lighter than cold so it rises, taking the balloon with it. When it's time to land, the pilot releases some of the hot air, allowing the balloon to fill with cooler, heavier air so that the balloon sinks.
This is exactly how fog machine chillers work.
First, let's take a look at how a standard fog machine makes fog. You start by getting the right fog liquid for your machine and adding it to the reservoir. Then, turn the machine on. The machine pumps the liquid into a heat exchanger where it heats and vaporizes the air before pushing it out of the machine. When this vapor hits the cooler air outside, it condenses into hot fog and rises in the air because it's still much hotter than the air in the room.
When you attach a fog chiller to the nozzle of the machine, the fog cools a bit before it enters the room, so it sinks to the ground instead of rising in the air (think of dry ice). In this case, the fog is cooler and heavier than the air in the room so it sinks.
Pretty cool, right? Now, you're probably asking yourself, where can I get one of those?
Buying a Fog Machine Chiller
The first way you can get a fog chiller machine is to buy one. There are a lot of different models available on Amazon but most are listed for over $100, which might be too pricey for some people. The fact is that these add-ons aren't cheap.
Here are three of the most popular options out there:
Our Rating
There are two categories of fog chiller. There are attachments that connect to a normal smoke machine and cool the smoke, and there are dedicated chillers which are their own fog machines.  This product is a member of the former category.
This Vortex chiller creates amazing low-lying fog effects, and all you have to do is fill it with regular ice and attach it to one side of your standard fog machine. The cooling chamber condenses the fog, causing it to creep along the ground when it comes out the other side. At 19 x 16 x 13 inches, this is a close to standard sized chiller. It has an ice capacity of 20 pounds and the chiller itself weighs 6 pounds.
This is one of the more expensive options out there, coming in at just under $130. It's compatible with foggers that put out up to 10,000 CFM of fog between 200 and 1000 watts and has enough ice onboard that it can generate as much as 500% more fog than the machine that it's connected to.
Plus, it pushes the ground fog up to 30 feet away from the unit without using any fans. So, while this one is a little bit pricey, it's an impressive performer and it's covered with a one-year warranty. Overall, an excellent choice, and the ideal choice if you aren't looking to buy a brand new fog machine.
Our Rating
The ADJ Fog Machine Mister Kool II is a little different than the last model we looked at. This is because it's a fog machine with a built-in chiller. One of the best things about this model is that it gives you the smoke effects you want but isn't nearly as bulky as most fog chillers. This makes it much easier to travel with.
In just about three minutes, this machine is ready to go. The 700-watt heater creates fog quickly and the chiller helps create an impressive output of 3,000 CFM. This machine has a unique drainage system with an easy-to-use valve and a hose and bag so you can quickly get rid of excess fluid, which helps prevent splashes and spills. If you don't already have a fog machine, this rig is a good one to consider.
But as great as these products are, they're not cheap. You can see why many people choose to create their own fog machine chiller from scratch (more on that below).
For our full review of the Mister Kool II, check it out here.
Our Rating
Here's a real heavy duty machine. This is the ideal choice if you want to create a lot of ground fog. Of course, this fogger will definitely not be for everyone, and it's definitely more suited for professional use. It has the price tag to match, but if you need a fogger for professional applications, this is your one.
This machine is actually designed to be used with dry ice. You load the dry ice into an inner compartment, and it disperses out the nozzle in big quantities. This boasts a whopping 5920 sq. ft. fog output. It's the type of ground fogger you'd want for sporting events, haunted houses, and bigger events and weddings.
We know this fogger won't be for everyone, and you definitely need more extensive needs. But we wanted to include something for everyone on our list. Consider this fogger if you're in need of a quality investment for a lot of fog.
Make Your Own Fog Machine Chiller From Scratch
This is by far the most popular option among budget conscious consumers. Making a DIY fog chiller is actually much easier than you might think.  
With a cooler or garbage can, some piping or tubing, a set of simple tools, and an hour or two of your time, you can make your very own fog machine chiller. The best part is it costs as little as $10 to $20!
It takes about one to two hours to build a fog chiller, depending on the design and materials you use. As you can see, these are much more affordable than the models available for sale and, if you choose the right design, they work just as well.
There are a wide variety of styles and designs to choose from, many of which can be seen on various YouTube channels and internet forums. Here are some of the best designs we found:
1. The Ultimate Budget Fog Chiller
We highly recommend this Ultimate Budget Fog Chiller from Instructables. This is a great idea if you want something simple, yet efficient. It costs under $10 to make and about an hour to 90 minutes of your time.
Here's what you'll need for this design:
10-gallon storage tub – can be purchased for $4.50
2 feet of chicken wire or hardware cloth – can be purchased for $0.86/foot
2 PVC couplings – can be purchased for $0.99 at a building supply store
Glue gun and glue
Metal shears
This is a super low-budget option that gets the job done, though it doesn't look very pretty. That said, these large storage tubs are easy enough to cover if you're worried about the way it looks. In fact, this is a good message to keep in mind throughout this list. It really doesn't matter how the machine looks, as long as it works! The mark of a good DIY project is functionality, not style.
Either way, don't worry too much. No one's going to be looking at it, they're going to be too distracted by the awesome fog.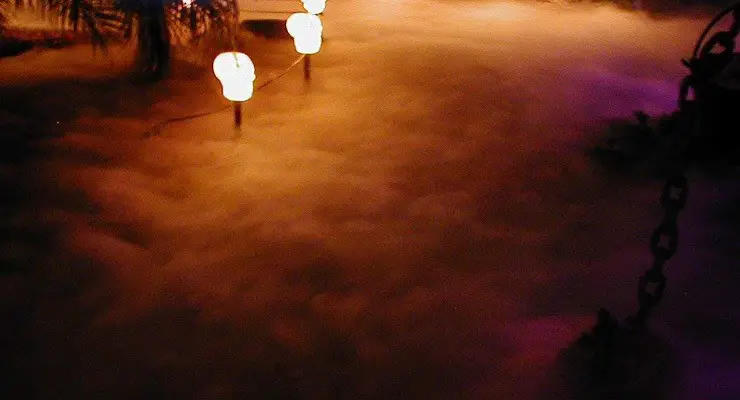 2. The Fog On The Rocks Design
Instructables also has this super cheap and easy fog chiller design that's just as easy to put together.
Here is what you'll need:
Foam cooler
Dryer hose
Fog machine
Ice
A compass
A knife
One of the things we like about this one is that it's so simple. You probably already have some of this stuff lying around your house or tucked away on a shelf in your garage. And if you don't, a quick trip to the hardware store and you can pick up absolutely everything you need.
3. MakeZine's Ultimate Fog Chiller
This unique chiller design won the 2004 HauntCon Chill-Off competition, so you know it was made by someone who knows what they're talking about. One of the reasons it's so great is due to its size. It uses a big trash can, which gives the fog more space to circulate and cool before coming out of the other side.
A lot of do-it-yourself fog chillers use a drink cooler with PVC tubing, but these materials are unlikely to keep the fog in the holding area long enough to chill it properly. This design from MakeZine rectifies that.
Here's what you'll need:
A trash can
A hole saw or knife
An aluminum dryer hose
Water-resistant duct tape
Ice
Fog machine
While this is an incredibly effective machine, it's also a little big. This might not be a good choice for a small venue or if you're looking for something subtle to up the creepy factor of your front porch Halloween decor. But, as you can imagine, bigger machines make more fog. The proper fog machine is really just the one that best matches your usage.
That said, if you're creative enough to put this machine together, you're also probably creative enough to find a fun way to make this one fit into your Halloween props with ease.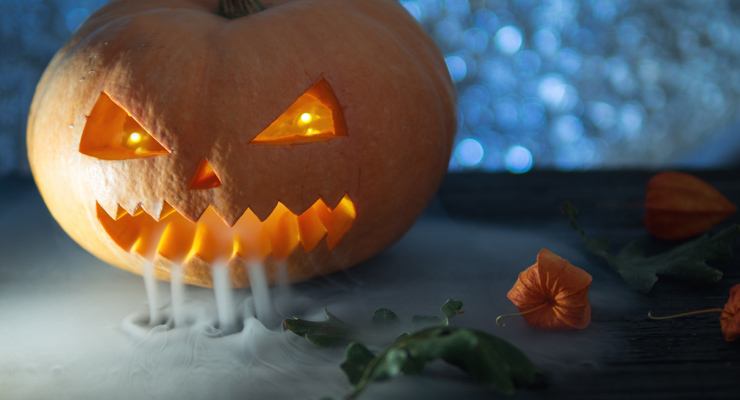 DIY-FX's fog chiller design is similar to MakeZine's model in that they each use a trash can instead of a drink cooler with PVC tubing, and the effects are the same. This DIY project is a bigger chiller with a longer tube, which allows the fog to chill effectively for you to get the best results possible.
Here's what you'll need for this design:
30-gallon plastic trash can
Rigid 4-inch dryer ducting
4-inch ducting band clamp
Flexible aluminum dryer ducting
Ice
Fog machine
This is another machine that's a little big and bulky but, again, it's entirely possible to find a clever and unique way to hide it or integrate it into your decor. If you're looking for a way to make a good amount of noticeable of real fog on a budget, then this.
Last but not least, we have this cheap and easy professional fog chiller from TeeDiddlyDee. This one's called the "Kitty Litter Fog Chiller" because, well, it uses a kitty litter container to cool the ice! A kitty litter container is actually a great vessel as a chiller. It's low to the ground, and has a wide opening for great dispersion.
This is one of the easiest models to make yourself and we really like it because the container itself is really durable. It should last a lot longer than a styrofoam cooler.
Here's what you need:
A 35-pound capacity flip lid kitty litter plastic container
L-shaped PVC pipe
Hand drill
A 2.5-inch diameter hole saw
Hack saw (for cutting PVC pipe)
Wire nippers (for cutting wire mesh)
Fog machine (any size)
One sheet of mesh
Three 2in PVC couplings
Two 2⅛-inch long pieces of 2-inch diameter PVC pipe
Four 8½-inch pieces of ½-inch diameter PVC pipe
One 8½-inch piece of 2-inch diameter PVC pipe
One 2-inch diameter right angle coupling
One ½-inch diameter cross connector
Four 3¼-inch pieces of ½-inch diameter PVC pipe
Four ½-inch diameter right angle couplings
As you can see, this one requires a lot more materials, but don't let that scare you. The project itself is really easy and, as we said, it should last a decent amount of time because the kitty litter container is pretty resilient.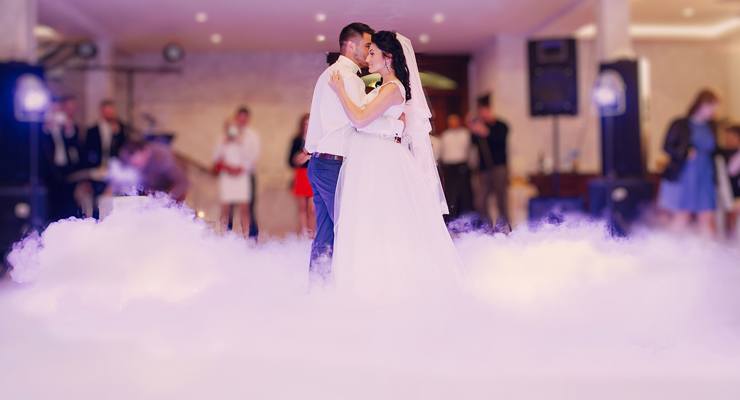 Choosing a Fog Chiller
As you can see from the list above, there are a lot of variations for a DIY chiller. It's actually quite surprising how many people have taken their own ingenuity to this unique area of fogging. Whether you decide on a DIY chiller, or a store-bought option, the most important part is going to be matching your chiller to your unique needs.
Certain chillers are more suited to certain occasions, and certain chillers are less suited. It may also be the case that you require a different type of fogger altogether. Either way, you want a machine that has the proper power, and creates the right type of fog for your event.
First, decide how you will be using the machine, and then pick the best machine for the occasion. If you're still unsure how you'll use your machine, check out our next section for some inspiration!
Best Uses for Low Lying Fog
If we've convinced you of the benefits of a fog chiller, then you might be wondering how to get the best use out of your machine. In this section, we're checking out the top uses for a fog chiller. We'll start with the most obvious:
Halloween
The top use for a fog chiller is as a Halloween prop. Fog chillers cascade the ground with a mysterious, spooky fog, creating the perfect environment for a Halloween haunt. No matter your decorations, and whether you are preparing for a Halloween display or a Halloween party, any festive October occasion can benefit from a fog chiller.
Dance Floor
Fog chillers are great for the dance floor. Fog covers the ground in a mysterious and whimsical layer of fog. It almost feels like dancing on a cloud. Light up the room for an elegant appeal, or dim the lights and pump up the beats for a big party. Fog chillers are versatile, and can create an effect to match any gathering.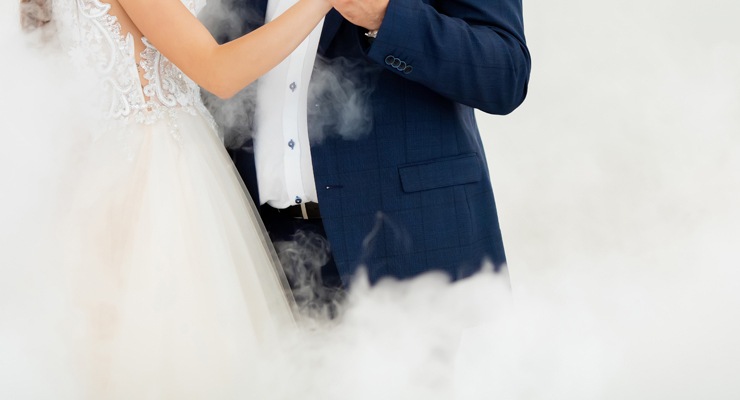 Special Effects
Fog chillers are great for special effects. A low-lying fog layer can add a special touch for any photographer or videographer. It can add ambiance, or even replicate real fog, smoke, or fire. Fog has been used by SFX artists for decades, and it doesn't show any signs of slowing down any time soon.
Theatrical Performances
Fog is heavily employed in theatrical performance, especially low-lying fog. Low lying fog is great for performances, because it creates a noticeable fog layer, without impeding the view of the performers or the set design. You get a fog effect without distracting from the actual performance.
This is also the reason that low-lying for is also used to amplify a musical performance. Rock bands have relied on fog for many years to give themselves more stage presence, and create more excitement at their shows.
Conclusion
Now that you know exactly what a fog chiller is, how it works, and how to get your hands on one, all that's left is for you to take our advice and roll with it! Whether you buy one or make one yourself, you won't regret it. Fog machines are some of the best decorative accessories out there and chillers help you make the most of their dream-like, gorgeous effects.
FAQs
Are Fog Chillers Safe?
Low-lying fog, like most fog machines, is completely safe to use as long as you use proper materials and equipment. Use high quality fog juice that has been manufactured with safe, non-toxic ingredients.
Additionally, be careful that the low-lying fog doesn't obstruct any objects that may cause participants to trip or fall. Don't put it near any low ledges or objects that may cause people to trip. And definitely don't put it near any stairs! As long as you exercise common sense, low-lying fog is completely safe for anyone involved.