Fog is one of those quintessential effects that suits just about any party, event, or space, and it's been around for years. If you're lucky enough to have your own fog machine or run a commercial business that sets the mood and creates an atmosphere for events, you'll know how important proper fog juice is when it comes to this machine.
You might be wondering – what is fog machine fluid? And what's in it that makes it such a cool effect? Basically, a lot of it comes down to the quality of the product. Having a premium fog juice means knowing exactly what you're looking for in the effect and what other features will be important for your event, and then shopping based off of that.
This buying guide will make the whole process easier, and help you find the perfect fog liquid, whether it's plain smoke machine fluid or colored fog machine fluid, and everything in between. Not only will quality fog juice make your event a success, but it will also ensure your fog machine runs without a hitch for years to come.
We've searched the web and found some of the best fog machine fluids on the market to help narrow down your list. Once you see what the top-rated products look like, and which ones we recommend to get your party started, you'll be able to get the absolute most out of your fogging machine!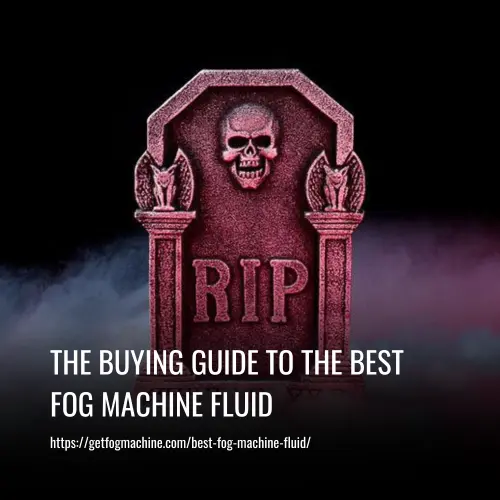 In This Article
In this article, we will provide you with a buyer's guide for the best fog machine fluid for each situation. After that, we will provide a guide to determine the type of features that are most important to you.

The best fog machine fluid is one that fits your needs. With this article, we will help you to understand the differences between the effects that can be achieved with each fog machine fluid. With this information, you can purchase the fluid that is best for you.
Our Picks For The Best Fog Juice
Buying fog juice can be a little more complicated than you might think, as there are many different types made for different purposes. Depending on what you'll be using yours for, and the events or parties you're wanting to add this effect to, we've found the top-rated fog machine fluid to suit.
Let's get right into it with our top picks. Remember to read through our list with your own preferences in mind. The best way to use our list is by matching one of these juices with your own preferences. And don't forget to check whether the juice is compatible with your machine!
1. Best Halloween Fog Machine Fluid: Froggy's Fog Halloween And Party Fog Fluid
There's no doubt that the most popular time people get their fog machines out is Halloween. This holiday is one of the most treasured by adults and children alike, and there's nothing better than a fog machine to get the spooky mood just right.
Our pick for the best Halloween fog fluid has to be Froggy's Fog Halloween and Party Fog Fluid. Froggy's Fog is a leading name in fog juice and for over 15 years they've been creating and perfecting their formulas for fog, with this one being designed perfectly for Halloween.
This is a long-lasting formula and one with medium hang time, so it's better suited for indoors.
Froggy's Fog makes plenty of other juices designed for outdoor use, so keep that in mind if you're looking for that specifically. Any indoor events though, you can't go past their Halloween and Party Fog Fluid to set the mood just right.
Froggy's Fog comes in a variety of sizes, so it depends on how often you use your machine. For home use, a gallon would be ideal, but for those wanting to create spooky scenes of larger scales, you might prefer the case that comes with four-gallon containers. You should get quite a lot of use out of this, and just the one-gallon container will cover your fluid level for a few Halloweens to come.
Froggy's Halloween Fog would be great with a ground fog machine to keep the dance floor covered and liven up any party. The thick smoke is great for a party, and will keep all your guests entertained.
The best thing about Froggy's Fog is that they make their products to be safe and suitable for use around even the youngest children. Their formulas are non-toxic and not hazardous, so you won't need to worry about anyone inhaling anything nasty, and it's a water based fog machine fluid for extra peace of mind.
Halloween is the perfect time of year to get the fog machine out and the effects that this fluid creates make it our top choice. You'll get a medium hang but long lasting and maximum output effect from Froggy's Fog Halloween and Party Fog Fluid, which means using less of the product to get the spooky atmosphere just right.
2. Best Thick Fog Fluid: Chauvet Fog Machine Fluid
There are times when you need your fog to be extra thick and want it so that you have almost no visibility in the area. There's also times when you need a fog that's going to stay nice and low without losing any of its density.
This means you need a thick fog fluid that creates a denser smoke than most others are capable of. This type of fog is very ideal when you want your fog generator to cover the entire ground, or when you want a fog that won't dissipate as fast. This is especially helpful outdoors, so the fog doesn't get blown away too fast.
There are plenty of fog fluids on the market that claim to be thick, but then fail to deliver the goods.
Chauvet has managed to deliver on their promise with their Fog Machine Fluid that's ideal for people who want absolute density and minimal visibility. You can bet that your fog output will be thick, noticeable, and strong.
Not only is this fog juice going to create thick, smoky fog effects, but it will hang around for ages. That means you'll be using less of the product to refill the area and ultimately will save yourself some money doing so.
This fog sits pretty low, so it won't be rising and dissipating as other brands do. This means it's perfect for dancefloors or stages where you want to keep the smoky look that sticks around. If your fog machine is placed higher above the main event, you'll probably need to shop for a less thick fog fluid that will allow it to move down over time.
According to the reviews, the best way to get results with this fluid is to use a Chauvet branded fog machine. This isn't really accessible for most people, and means the fluid isn't as versatile as other brands, so unless you're working with one of these already it might be a cost that you simply can't afford.
In terms of pricing and size options, you've got some choices depending on the volume you'll be using. The most popular size is their one-gallon drum which retails the same as most others we've reviewed, but for the best results, you'll need to be working with a Chauvet fog machine as well. When thickness is your goal for your fog effect though, this is definitely the one to go with.
Overall, this is a great choice if you have or are planning on buying a Chauvet fog machine (which are great by the way). A highly specialized smoke fluid for sure, but it could be just what you are looking for if you have the proper machine.
3. Best Long Lasting Fluid: Froggy's Fog Swamp Juice
There are many different uses for fog and preferences for the type of effect you need your fog to have. Sometimes, you'll require a fog that hangs around for a very long time. This means less effort in refilling the machine, but also less thickness in the smoke that it does create.
It should be no surprise to see another product from Froggy's Fog on our best seller list, as they're known for making some of the best fog juices around.
Their Swamp Juice product has been designed for longevity and is definitely the top-rated long-lasting fluid that we've found, so it's perfect for all kinds of events and spaces.
Because this is a long lasting fluid, you can't expect to get a thick cloud that sticks around. Rather, the effects that the Swamp Juice will deliver is a more constant thinner smoke, which means better visibility in the area while still creating a spooky and mysterious look. This will actually be better for parties and events, as it won't obstruct the vision of your guests.
Froggy's Fog Swamp Juice is ideal for people who are working in delicate spaces or want to be sure that no residue is left behind. It is constructed to be 100% water based, which means no marks or stains will be found after, and the product is completely safe for use around children.
Another great bonus with this fog juice is how it has no smell, which is a welcome surprise for anyone who's ever been around a fog machine. You'll feel comfortable letting your children play there and it won't irritate any party guests, so you get all of the effects without any of the usual disadvantages.
Often, people associate a long lasting fog with thickness. This is because the thickness allows the fog to linger longer without dissipating. But by putting this fog juice into your water-based fog machine, you can truly have the best of both worlds. A long lasting fog that won't overpower a situation, and will just set the mood with a nice haze.
This juice is a little more expensive than some others on our list, so be sure to shop for it at a time when it's discounted. One bonus is because of its long lasting effect, you won't need to use it as often, so you can expect a one-gallon container to last over a couple of Halloween events or through a few different parties.
4. Best Low Fog Fluid: Freezin Fog Low Lying Ground Fog
Choosing the right fog effect for your event can be trickier than you think. There are times when the ideal fog is going to be low lying and right down on the ground, but you can't get this effect with just any old fluid.
There are formulas made for this purpose specifically and they're perfect for graveyard settings or when you want the fog to linger just above the ground for a spooky effect.
However, you do need to keep in mind that these fluids are designed to work with special machines which can adequately cool the fog so that it sinks to the ground. You'll need a low fog machine (otherwise known as a fog chiller) to produce this effect. Otherwise, you might be unhappy that you don't achieve the low lying fog you desire.
Warnings aside, Freezin Fog Juice has created the best rated low lying ground fog for this very purpose and it can add an instant and dramatic spooky effect to your event. This fog juice has been formulated for both indoor and outdoor use, so it's versatile enough for all settings and it will stay thick and low to the ground for as long as you need.
Freezin Fog Juice Low Lying Ground Fog is one of the more expensive brands on the market, but when you need something as specific as this, you'll be glad to pay it. It's extremely dense and even with people walking, dancing, or running through it, it will stick around for ages to keep that mysterious effect alive.
Although low lying, some have found that this fog tends to rise after some time. There's an easy fix to this, which is to add some ice to chill the fog so that it stays low, but it will require a little extra effort. Finding a product that stays low constantly is near impossible though, and this is definitely the best performer we've found. After all, the low-lying effect is achieved by chilling the fog, not by the fog juice itself.
Low-lying fog is great for spooky settings like we have mentioned. However, it is also great for environments such as weddings and dancefloors. Any place where you want to add some extra excitement for guests, you can do so with a fog that envelopes the ground. It adds a mysterious, unique vibe to any party.
In addition to being truly low lying, it also smells pleasant and is virtually odorless. This fog fluid is made with non-toxic and non-harmful pharmaceutical grade materials and has been approved by the FDA, so you'll have absolute peace of mind that it's safe to use in every circumstance.
Another added bonus to this fog juice is that a little seems to equal a lot, so although it's costly, you'll only use a fraction of what you usually do. For the perfect graveyard experience or to fill a creepy walkway up with fog, there's no better low lying formula than this one from Froggy's – Freezin' Fog Juice.
5. Best High Output Fluid: FogWorx Fog Juice
When you want fog that's going to deliver true bang for your buck, you need to shop for a high output formula. These products are long lasting and will give you the optimal level of fog for a longer period of time.
Don't expect the thickest fog though, as they're better used for medium density use, but they will stick around for longer than average.
FogWorx is a brand committed to making affordable fog for a range of uses, and their standard Fog Juice is a medium density but long-lasting formula. This is not only budget-friendly but will also give serious value for money because of its high output, so it's perfect for most settings and for those shopping for an affordable product.
This is another great water-based fog fluid that's non-toxic and won't be harmful to anyone in the area. No matter what type of event you're holding, having a fog juice that's not going to cause any danger or irritation for people is essential, so you can be guaranteed of that with the FogWorx brand.
One of the biggest selling points of this fog is just how versatile it was with other machines. There are countless happy reviews stating that the FogWorx brand makes their fluid to work with all different styles and brands of fog machines so you're not limited to how you can enjoy it.
You'll only need a small amount to get a good fog effect from this juice so it's a real money saver. This is the perfect choice for those with large spaces to fill or an event that runs a little longer than usual, as you will find hours and hours of quality fog from the one-gallon container.
If you are looking for a juice that you don't have to overthink, then this is your go-to. This is a budget friendly, high output juice that probably works with your fog machine. It is very versatile, and will be great for a wide variety of settings.
When high output is your key need from a fog juice, this is definitely the way to go. It's affordable, high quality, and made with the safest FDA approved ingredients so you can simply pour it in and let it work its magic at your next event.
6. Best Fluid For Dance Floor: TechnoFog
One of the most common applications of fog juice is to elevate a party to the next level. As a result, fog juice has become very popular with DJs, club owners, bar owners, and anyone looking to give their guests the best experience possible. TechnoFog is the perfect fog juice to take the dance floor to the next level.
One of the first considerations for this type of fog is how it reacts to a light show. A major bonus of fog is that LED lights cut right through it, upping the excitement of any space. This fog juice is medium density, and has great hang time, meaning that lights will be very visible as they pierce the fog.
This fog is highly versatile as well, as it is designed to be used with any water-based fog machine. If you are familiar with fog juices, you know that this is a huge bonus. The world of fog can get complicated quickly, and if you can find a juice that works with a machine you already own, you will be happy.
This fog has quick dispersion, which is actually ideal for a party setting. You want it to disperse so that it covers the entire room, and remains relatively transparent. You don't want to be obstructing people's view, as it creates a safety hazard, and people want to be able to see each other. Additionally, a dispersed fog allows the light show to remain visible as it cuts through the haze.

Froggys Fog is always safe. They only use de-ionized water and pharmaceutical grade chemicals. This fog is clean, dry, and odorless, so there are no hazards or irritation for any guests or partygoers.

Froggys recommends this fog for DJs and club-owners, but also for entertainment venues such as laser tag arenas, and any light shows. If you are a mobile DJ, a portable fog machine which you can attach to your DJ booth would be a great idea as well.

Overall, if you are in the market for fog juice that will get the party going, then this is probably what you want. It has the ideal density, hang-time, and transparency to amplify lights and provide visibility. It is versatile with most fog machines, and odorless and clean. It has everything you would likely want in this type of fog. 
7. Best Fluid for Fog Burst: QuikBlast Fog Juice
Another product from Froggys Fog, but we just like their products so much! This one is ideal if you are going to be using fog for CO2 blasts. If you are unfamiliar, a CO2 blast is a special type of fog effect where you quickly blast a "geyser" of fog into the air. It is a short blast of fog which is meant to amplify an exciting experience.

The key components that make this an excellent fog for blasts is that it is extremely high density and has quick dispersion. You want your fog blasts to be very noticeable, as they are short and intense. Therefore, they must be very thick to draw eyes. However, since they are meant to elevate a certain moment, they also need to dissipate quickly, which is what this fog does.

A CO2 blast is generally used during a performance or spectacle, to add an extra touch to an intense situation. For example, at a sporting event when the home-team is taking the field. They are also common in performances, theatrics, and concerts. They are quite versatile in the right situation, and you can use your creativity to find the best use for you. 
As with many Froggys Fogs, this one is versatile and can be used with any water-based fog machine. This is a huge bonus if you don't want the headache of finding compatibility with a machine you already own.

This fog is also odorless, non-flammable, non-irritating, and non-toxic. It is clear why all of these features would be a big plus in any area where a lot of people are present.

Overall, this is a great fog juice for a very specific purpose. If you are in the market for creating an exciting CO2 blast, then this is the type of product you are looking for. Just be sure that this is the type of effect you are trying to achieve. This probably won't satisfy you if you are trying to fill a room with fog.

So if you have a performance or spectacle that you think would benefit from a quick, exciting fog blast, then give this product a try.
 For our last product, we're checking out a true high density for. If you're looking for the fog that will be thick, opaque, and create that true "whiteout" effect, then you want this new offering from Froggy's. Bog Fog is one of their latest creations, and it's name draws inspiration from the intense, deep fog of a swamp or bog.
This fog juice combines the effect of high density with a formula that is geared toward long hang-time. Many high density fog juices (such as the QuikBlast above) have quick dispersion so that they don't unnecessarily fog up a room for too long. Not the case with Bog Fog – it's meant to create an opaque fog that really lasts.
An extra bonus of the long hang-time is that you really get some bang for your buck from this fog. It fills a room (or outdoor space) and stays there, eliminating the need for constant operation of your fog machine. If you're looking for this type of fog, it's one of the most cost efficient options available.
This product is available in multiple size options, all the way up to a 55 gallon drum! It's trusted by home users and professionals alike, and has become a popular choice for theme park operators and haunted house owners.
As with all Froggy's products, it's made with exacting precision in the USA. It's made with high quality pharmaceutical grade chemicals, de-ionized water, and non-toxic ingredients.
Overall, this is an excellent choice, but only if you're looking for the highly specific high-density fog that this juice produces.
What To Look For When Buying Fog Machine Fluid
People often make the mistake of spending hours researching the best fog machines and then try to put just any old fog fluid inside of it. However, if you shop instead for the best fog fluid, you'll find that it can be used in most standard machines and can even help to improve their quality.
Shopping for the best fog fluid means knowing just what features matter to you and then choosing the best fit. These are some things to look for when purchasing fog fluid to ensure it's going to suit your needs and upcoming event.
Number One Tip: Know Your Preferences
Our number one tip for picking a fog machine juice is to know what you are looking for. It sounds simple enough, but you would be surprised how quickly you can become overwhelmed by choice if you don't know what you are actually looking for. Before searching for a fog juice, try to think hard about what you are going to be using it for, and the qualities that you actually need.
Will you be using it for an event, or to elevate a performance? Do you need it to be see-through or to create an opaque fog? Do you need to use it with LED lights? These are all relevant questions, and your choice of fog juice would differ based on the answers.
So as our top advice, we recommend you sit down and think about what you are looking for. You will be surprised at how much easier a decision is when you have a decision-making criteria. Once you know what you want, use our buying guide below to choose from one of our top fog juices above.
Size/Volume
The size of the fog fluid refers to how much of the actual liquid is in the container. The most common size is one gallon, but depending on your needs you can also usually purchase these in bulk. Some will specify the volume area that the smoke has been designed to fill, so it's a good idea to measure up your space so you can get the right one.
Longevity
A quick look at the product details or name of the fog fluid will indicate the longevity of it. This is usually referred to as "medium/long-lasting" and it sometimes impacts the density of the fog as well. If you won't be near the fog machine constantly refilling or monitoring, something long lasting is best.
Of course, you need to consider size and longevity together to get overall longevity. If you buy a fog juice that comes in a large quantity and is also long-lasting, then you should be good to go for a while. Of course, the more you buy, the more economical the pricing will be as well. So if you know what type of fog you want, then we recommend buying a large quantity at once.
Type of Fog
You might assume that all fogs are created equal, but that's not the case. Common types of fog include rising, low lying, thick, and thin, each specifying what type of effect you can get from them. Think about where you'll be using it and the effect you want (eg. dance floor or a graveyard setting for Halloween) and this will point you in the right direction.
We have a more detailed outline of the types of fog below, as they are such a key decision-making factor.
Residue/Contamination
When purchasing fog fluid, you need to be careful not to go with an inferior formula that's going to stain or leave reside as it works. This can damage people's clothing as well as the furniture, walls, and space that your event is held in. You'll be able to see if it's residue-free by reading the description and reviews, so it's worth a quick check.
If it is residue-free, the brand will be sure to advertise this feature. As a recommendation, you should always buy a fog juice that is residue free. It is well worth the additional investment for the money you would save in cleaning costs.
Odor
Most of us have experienced the terrible odor of cheap fog fluids, and you might have thought initially this was due to the machine itself. Fog fluid can be made these days without any odor at all or with a slight, sweet scent so that it's not irritating or overwhelming.
Any reputable fog juice would advertise themselves as odour-free. It is a key feature if you intend on your guests enjoying themselves. A strong odor can ruin any benefits that fog would bring to a gathering, so it is well-worth the extra investment.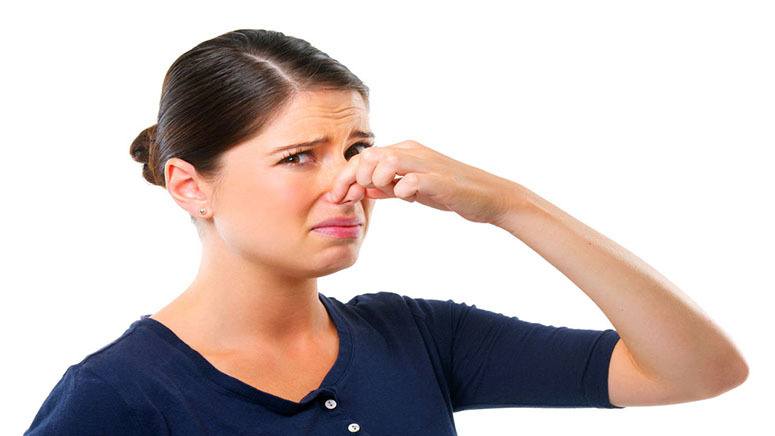 Is It Flammable?
Be careful when purchasing fog fluid not to purchase a flammable product and find one with pharmaceutical grade ingredients. Especially when used in small enclosed spaces, it can be dangerous to use a flammable fog fluid that can be a potential fire hazard.
Compatibility
Another feature that you need to be aware of is compatibility. Fog juice is not a one size fits all type of product. Certain juices will be more or less compatible with certain fog machines, and some will not be compatible at all. You need to check your machine to see which type of fog juice it is intended for. Not only will this minimize any damage done to your machine, it will ensure that you are producing the highest quality fog possible.
Other features
If you're after more than just the fog effect, there are some machines with multiple settings. However, you'll need to ensure that the fog fluid you've purchased has been made to suit these machines and will be compatible.
If you want more information, check out our mini-guide on the types of fog effects you can achieve below.
Types of Fog
A major consideration for purchasing a fog juice is surely based on the type of fog you want to achieve. Fortunately, fog is very versatile and can produce a variety of different effects. However, this also means that choosing the right one can be quite difficult.

Below, we will explain the basic types of fog effects that you can create with a fog juice. You will generally find that each fog juice is clearly labelled as to the type of fog it creates. So naturally, an understanding of these fogs is critical in making your decision. 
Low-Lying Fog
Low-lying fog is a fog that is meant to remain low to the ground. It is meant to envelope the floor, resulting in a mysterious, interesting vibe.
The fog itself is quite dense which allows it to stay quite low to the ground. The heaviness of the fog keeps it low, and it is slow-dissipating which makes it stay there (think of an effect similar to dry ice). A great ground fog will be able to completely cover a floor for long periods of time. Do keep in mind that the effect is achieved with the fog juice, but you also need a machine that is able to chill the fog. Low lying fog needs to be chilled so that it becomes heavier than the surrounding air, which is what allows it to sink down. A proper machine is a must.
Therefore, in searching for a great low-lying fog juice, you should find one that is thick and slow-dissipating. Typically, it will be clearly marked on the package if the fog is intended for these purposes.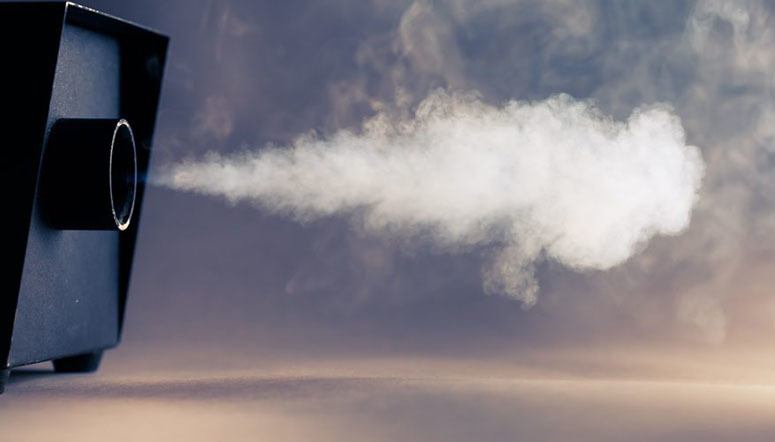 Usage
Typical usage for low-lying fog is to cover dancefloors at parties, or to cover the ground for some sort of display or theatrical presentation.

Covering the dance floor is a great way to heighten any wedding, club, bar, or party environment. It accentuates where the dancing is supposed to take place, and people have a great time cutting through the fog. It adds an extra element of excitement and mystery.

Low-lying fog is also very useful for adding those mysterious vibes to a presentation or display. Covering the ground in fog will inject that extra spooky element you might have been looking for. 
Medium Density Fog
Medium density fog is a great middle ground. It is thick enough that you can notice the fog, but not so thick that you can't see what is around you. If you are looking to achieve noticeable fog without distracting from the situation, this fog is for you.

This fog is typically quite good for filling spaces, and usually takes a relatively long time to dissipate. This also allows it to last a decently long time.
Usage
Medium density fog is useful for filling spaces without becoming overpowering. You might want to use it to add a mysterious vibe to a haunted house, or to flow through a dance floor.

It is a relatively versatile fog, and it is really up to your creativity to decide its potential.
High Density Fog
High density fog is the thickest fog available. It is meant to be relatively opaque, and you are really supposed to notice when the fog is there.

This type of fog is non-transparent, and will take a while to dissipate because it is so thick and heavy.
Usage
This fog is useful when you want to add a strong, noticeable fog effect. Often, this is helpful in theatrics or in special effects. If you want the audiences' eyes to be really drawn to the fog, then a high density is the best choice.

Of course, this will make it quite difficult to see anything within the fog, so it is really only the best choice when it doesn't obstruct anything important to the performance.
Haze
Haze is generally considered to be the lightest fog effect possible. Haze is meant to be almost completely transparent, allowing the focus to remain on other aspects of the situation.
When searching for a haze juice, you might need to have a special haze machine as well. It is a specialized effect, and you should be sure that any haze fluid you buy is clearly marked as such.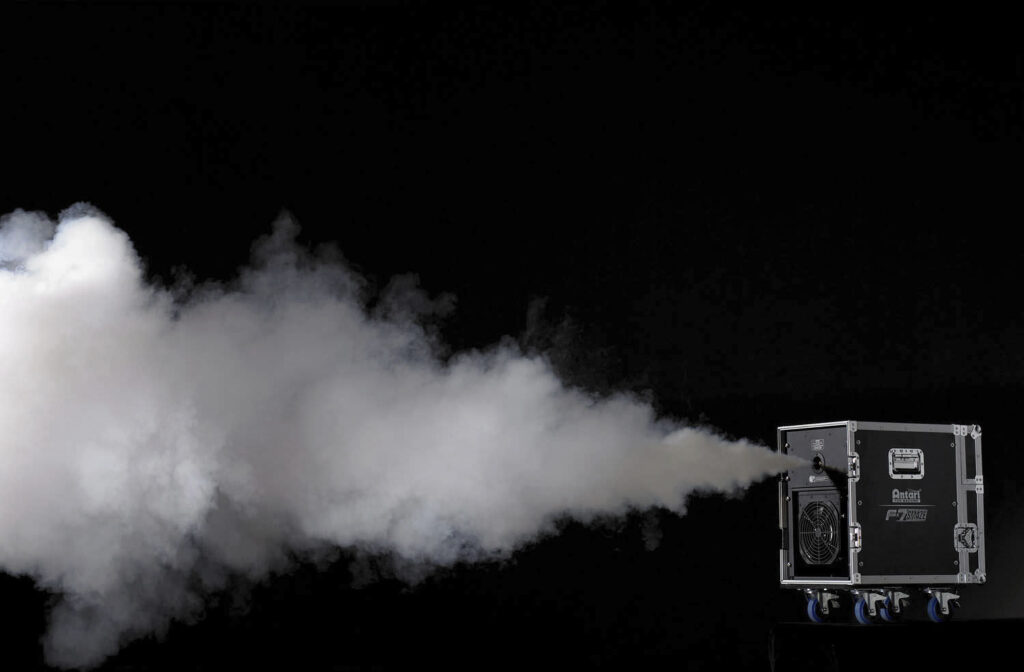 Usage
Haze is typically used to accentuate light shows. Because it is so transparent, it allows the light to cut through it, and the audience can clearly make out the full light effect. It is thick enough so that the lights stand out clearly, but transparent enough to keep the focus on anything else in the performance.

Because a hazer is so helpful with light shows, it is often used in concerts, stage shows, festivals, and more. It is almost essential to putting on a great performance that involves lights. Your audience may not even notice the haze, but they will notice how it elevates everything else on stage.
Fog Bursts
Finally, fog bursts are a specific type of fog meant to be used very quickly. A fog burst is actually an effect in which fog is shot out very fast, and dissipates fast as well. It is meant to heighten an event by adding a quick jolt of excitement.

The fog juice used for fog bursts creates a very thick fog. This is because it needs to be immediately noticeable. However, it also needs to disappear quickly, as the effect is not meant to last.

If you are in the market for this, you need to buy a fog juice that is clearly marked for creating a burst.
Usage
You will often see fog bursts in environments that are high intensity and exciting. This includes sporting events, concerts, festivals, and more. They often accompany a particularly exciting part of the action, and serve to get the audience pumped up.

These require special equipment, and are highly specific effects. So you need to be sure this is what you are looking for before buying a fog juice for a burst.
How Does Fog Fluid Work?
Many consumers find that their purchase decision is easier if they understand how a product works. In order to understand how a fog fluid works to create fog, we have to understand how a fog machine itself works.
Please note that there are many types of fog machines, and not all work in the same way. Most fog machines work by heating the fog, in a process similar to what we will explain next.
Basically, a fog machine will contain a reservoir in which you can fill the fog fluid (be sure the fluid is compatible with the machine). The fog fluid is pumped from the reservoir into a heat exchanger, which heats the fog, turning it into a vapor. The vapor is blown out of the machine with a fan, and exposed to the colder outside air. Upon exposure to the air, it turns into the "fog" substance you are familiar with.
Of course, this is a simplified explanation of the process, and different machines will work in slightly different ways. In fact, some machines (known as ground foggers) will also chill the fog, causing it to sink to the ground, creating a low-lying fog.
Getting The Best Use Out Of Your Fog Fluid
With the right fog fluid and a quality fog machine, you have almost everything you need to get the party started. However, you'll need to be careful when using the fog juice to ensure a long life for your fog machine as well as the best effects from your liquid.
When your fog machine is not in use, keep it stored away in a cool, dry place and ensure that you've emptied all leftover fog fluid from it. Give it a test run when getting it out of storage and run through a few minutes with your fog fluid to be sure that it works. If your machine is not working properly, it may also be time for a good cleaning using distilled water.
As each fog juice is made from its own blend of ingredients, you might need to play around with settings or space it's being used in before your event. This will ensure you know exactly how to work it and that there'll be no mistakes when the time comes to put your fog machine to work.
Conclusion
A fog machine is one of the most versatile tools you can have for a party or event. With a single fog machine, you can create an atmosphere that is dreamy, spooky, romantic, creepy, or scary, plus everything in between. But without the right fog juice, all of your dreams and planning may fall flat.
As you can see, there are so many different types of fog juice to use, and each of them creates their own unique effect. Whatever type of event you're having, whether it's setting up for neighborhood trick or treating or throwing a huge wedding, a fog machine is the best party accessory you can have.
The best fog machine fluid should be able to tick a number of boxes for you in order to make it a premium product. Look for one that offers the density and length of use that you need, as well as a formula that's nontoxic and going to be safe for your guests.
Using the right fog juice isn't just about getting the right effect, either. Your fog juice should be of a premium quality so that it doesn't do any damage to your machine and keeps it running smoothly for years to come. If you put the effort into finding the best fog juice, you'll be rewarded in more ways than one.
Resources: Wikipedia, HowStuffWorks.