All right, then? You've got a bit of responsibility. Your best mate found a bird who is proper sound, and even his nan loves her! That means it's time for wedding bells! He's named you his best man, so before their big day, it's on you to send him out of his lad days in style with a smashing stag party.
If you're a bit overwhelmed, then breathe. This guide will help you plan an ace party your mate will remember forever! From planning to the theme, this article will help you with all the details for the ultimate do… and help you avoid the do not!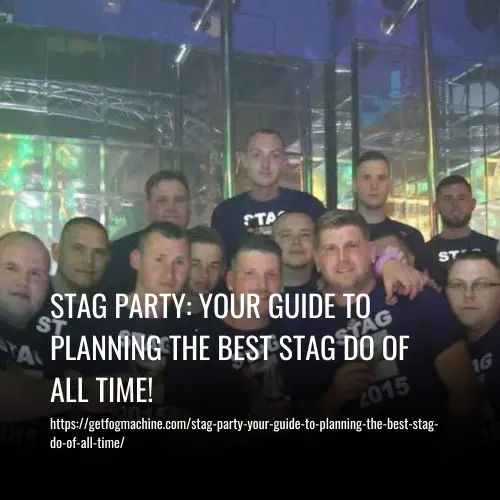 Getting Started
Right, the big difference between ace stag do's and right cock-ups is brill planning. Here are some of the details you need to take care of before the big event. Don't be a tosser. Leaving off the details to last minute is just not on.
Guest List
It's probably very tempting to invite absolutely everyone. The problem with this is that giant numbers are much harder to manage, much more expensive, and detract from the ability to have a good time with each other. The groom will feel overwhelmed just trying to pay proper attention to everyone on the list. 
Find out the key players. These are people who absolutely MUST be there. You know… best mates, ushers, that sort. These are the people whose schedules you will have to coordinate; everyone else is a bonus if they can make it.  Ideally, your final number should sit around 15 of your groom's best mates. 
Leave off the second cousins, family members, and gym buddies. You can plan a larger get together down the local on a different date. It's a big last night of freedom, so your mate probably doesn't want his future father in law along for the ride or Bob from Accounts, who sucks the life out of any event. To sort out the key players from the ones to leave off, just grab your best mate and head down the local (any excuse, right?) to go over everyone he knows and wants along!
You also want to make sure these geezers commit ahead of time. You don't want to be several hundred out of pocket on booking fees because some wanker flakes out at the last minute. Having deposits and financial commitments makes it more likely that they'll show, and saves you having to track down money from everyone later. 
Keep in mind that a lot of the guests won't know each other. Your mate has friends from all over the place, and you don't want it to be awkward. When you're planning, you can make stag do pamphlets. (If you have a crafty bird, get her to help. Girls are ace at this sort of thing and she'll be chuffed you asked!) These will have your itineraries, accommodations, and a picture of each guest along with a funny anecdote to start a conversation and how they know the groom. If you aren't into the books, then your first activity should be an ice breaker.
A good way to sort this out is to make a group chat once the list has been sorted. Avoid texts so no one's phone goes mad at work. Use a group chat service from Facebook, WhatsApp, or other places. This is a great way to bring the banter before the party and get everyone excited, breaking the ice between strangers ahead of time. It also creates a place to send important information.  
You also want to find out about any special concerns from each guest. If someone is physically unable to do certain things, or has a lot of allergies and a strict diet, or takes medication at certain times, you need to be aware of that when deciding the activities and planning. No one wants to feel left out because they're unable to participate. 
Pick a Date
You need to be very careful when choosing the right date. It needs to fit in the groom's schedule, and he will be very busy planning the wedding. You also need to check it doesn't clash with cup finals and other big events. Be reasonable, mate. As much as everyone loves the groom no one wants to miss out on their footie! It will be distracting all night.
You also want to serve notice ahead of your party. People need time to plan and budget for the stag night, especially if you plan yours out of town. They need to serve their notice to employers to get the time off work. If possible, give them 3 months or so to plan. 
Try to coordinate everyone's scheduled to find the perfect weekend, but don't sweat it if some people (who are not key people) can't agree on a good time. Just do your best. The stag do should happen a couple of weeks before the big day. You don't want to groom to show up hungover to his wedding, do you?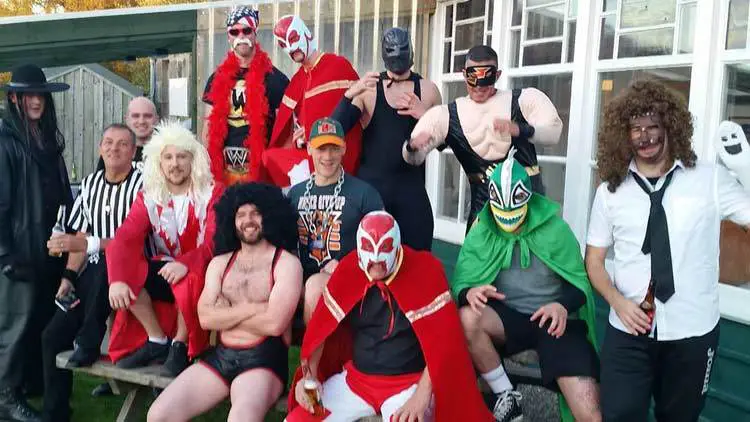 Set a Budget
Right, this is proper boring but it's one of the most important details of the party. Keep the budget tailored to the guests. You don't want the stag's best mates priced out of the party in place of the ones who are posh enough to attend, so make sure everyone's on the same page here and has plenty of time to budget for the plans. 
You need to have an honest chat to everyone about how much they are willing to spend and how much time they will need to raise the funds for the stag do. This lets you choose a realistic place and itinerary and also reduces dropouts due to financial issues. 
This is especially crucial for weekend trips out of town. Everyone loves the idea of heading to America for Disneyland or Vegas, but how many of your guests can afford this without half a year's notice? 
Don't forget that your budget needs to include more than just trip costs. Once you've paid for flights and accommodations, you need money left over for games, costumes, entertainment, shows, food, and especially booze. Make sure that you don't blow all your money too soon. 
One way to save some money is by keeping your accommodations basic. While it seems glam to have the full penthouse, the truth is that on a proper stag weekend, you won't be spending much time in the room at all. You'll just come home drunk to rest for a bit before waking up the next day and hitting a good fry up for brekkie. Why waste tons of money on a posh place when you won't even be there long?
Another thing you can do is to get a bloke nearly everyone at the stag do knows and trusts to be your banker. For things like split checks and running the kitty, you want a sound person who is sensible and good with money. This prevents people from skiving off their bill and also prevents cliques from forming. Not only that, but you can avoid the wealthier people running off and raising the bill beyond what everyone else can afford and prevent the 45 minutes trying to drunkenly calculate the bill split 15 different ways. 
You also need to figure out whether the stag is paying for himself or not. Splitting the cost of his trip among everyone is a great way to show how much you care, but may not be feasible financially. It's okay for the stag to pay his way, but if he does then you better leave money for an amazing stag surprise!!!
Make the Itinerary
This is where you flesh out the stag party. Don't worry; we've got loads of ideas for you further on in the article if you're lost. This will just cover the basics for you.
If you're only doing an evening, this should be pretty easy. Determine where you're going for dinner and drinks. Pub crawls are pretty popular, and adding in shows or entertainment also makes a great night. For these parties, the largest part of the itinerary will be the planned entertainment – games, scavenger hunts, etc. 
If you're doing a while stag weekend, especially a getaway, then this becomes even more critical. You need to plan where you are going, get travel taken care of, and also plan for accommodations. Are you flying or taking a train? Do you want to rent out a suite and sleep everyone on sofas and blow-ups, or do you want to rent out several hotel rooms so everyone gets bed space?
Plan out the places you want to eat and the shows you want to see ahead of time. Buy show tickets and book food reservations in advance for popular destinations – especially if you have a big group. Remember, on a busy weekend it will be very difficult to accommodate an unexpected group of 15 people so you'll end up being turned away or waiting a long time and missing out on other fun.
Don't be afraid to take charge when the big do comes, either. You might be considered the boring one, but your best mate will be well chuffed when everything runs smoothly and seamlessly all weekend with no long gaps of waiting time or lost time. This can also help keep your group on track. Drinking is a gas, but no one wants to chunder in the street.
Just remember to build some flexibility in as well. Every blinding party needs a solid itinerary, but if it's got no room in it to go off on a grand adventure when one pops up then it can just bog you down and prevent memories from being made. 
Spontaneity is a right good time as well, so keep it nice and balanced. Organize the necessary details that are hard and fast – like travel, lodging, and food – but allow some room for unplanned spur of the moment diversions, like a restaurant no one knew about or a club that seems all the rage.  
Have a Checklist
This is another thing that seems rather boring but will save your life in the end, especially on full weekends. Make sure every point of your itinerary, along with check-in and check-out times, is on your checklist.
The list should include all sorts of details. If you're making those stag pamphlets and books, consider adding some lists to them. You need to include a packing list and an itinerary. It also couldn't hurt to have a list of emergency contacts from each guest in case you need to call someone. 
For your itinerary's checklist, include every single travel reservation along with check-in, departure, and arrival times in chronological order. Include travel time assuming traffic. This should also include check-in and check-out times at any hotels, and pre-booked reservations for any restaurants and shows. Include stag games being played at each location or crawl as well. 
You also want to create a packing list. This list should include any necessary paperwork. If you need visas and passports, add them to the list. If any of your activities require insurance, add it to the list. Make sure that any foreign currency you will need is added to the list so favourable exchange rates can be planned for and used. Include any EHIC cards.
Take a look at all of your planned activities and tally how many fancy dress outfits you will need to pack, as well as any casual and sporting outfits. Make sure that everyone knows the dress codes for each spot on the party's itinerary so they can pack properly. Oh, and don't forget the sun cream!! Grooming, underwear, jumpers, and trainers should all get added to the list.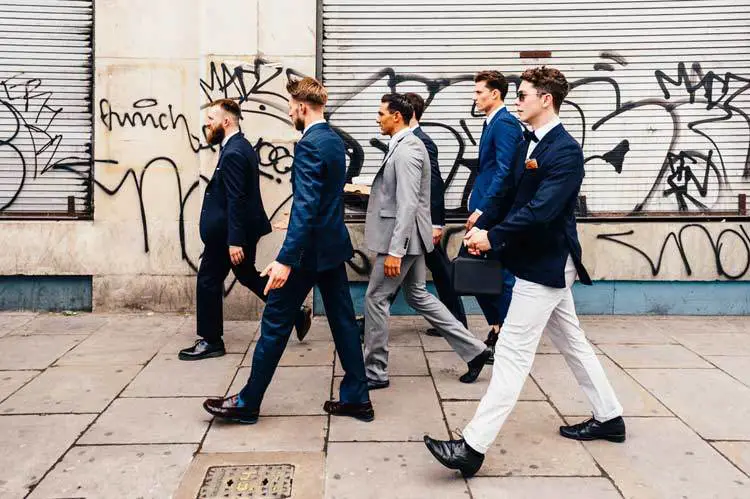 Personal Touches
Remember that this stag do is all about the stag. It can be easy to get swept up in planning what you think of as the most epic party ever, but what really matters is personalizing every detail to your best mate. It's HIS party, after all! 
When you are considering games and activities, think about his interests. Why spring for bubble footie if he hates sporting? Don't waste money on strippers if he's not a lad's lad. Consider his favourite foods and cocktails when you look at bar and food options.
This extends to party favours as well. Having some sort of personal favour for all the guests creates a sense of unity and makes bonding easier among strangers. Consider having personalized socks with STAG, Jason's Best Man, and Jason's Usher emblazoned on them for everyone. If you make custom shirts and jumpers, then give the stag do a name and have Baz's Big Stag Bash 2020 written on them.  Design them with his face, his name, and his favourite colours and styles.  
The games and challenges should also reflect his interests. He's your best mate, so by now, you should know whether he'd appreciate scavenger hunts or truth or dare more. You know the activities he will want to do before getting married. Make sure he enjoys every second! 
Stag Do Theme Ideas
If planning isn't your strong suit, then right now you may be feeling overwhelmed. You don't want to bollocks it up for your best mate! You may be wondering how to take these steps and plan a perfect weekend. If you need a bit more help for your stag do, then we can help with that, too. Here are some popular themes and getaways for you.
Stag Do Pranks
Now look… No one knows your best mate better than you. Pranking can be loads of fun or a complete disaster. If you toe the line just right, the stag prank will be bloody brilliant. If not, well… no one wants a minger on their record! Just keep your friend in mind. The goal of a stag prank is to have a good laugh that your mate can be in on at the end, not to be mean and ruin his good time. Here are a few fun ways to stitch up the stag!
Kidnapping
Start the weekend with a full-on kidnapping. Toss a mask over him and drag him off for a laugh. Just be sure that the neighbours and fam are in on it so they can hand off his packed luggage and necessities without calling the coppers down on you! Speaking of the fuzz, a nice variant of this is a fake stag arrest. Fake coppers, some handcuffs, strippers, and a happy ending make a great prank. 
Target Practice
If your itinerary includes paintball, then debag the groom and fire away! It's all a bit of a laugh and he will still have fun hiding and dodging. Who knows, he may even be able to nick some ammo off someone and get back in the game!
Busking
A creative prank to pull is nicking the groom's wallet, phone, and keys. Replace them with a busking pan and make him sing for his supper or pint. See how he handles busking and let him know he can rejoin the party when he collects enough coin! 
Fake Bride
For weekenders, a fake bride can be a real laugh. Get the stag well and truly pissed and let him wake up to find a babe in the bed with him. Upon further inspection, he will find a suitcase and marriage certificate. Just make sure you prep your actress with a convincing story and enough details about the groom to make it realistic. As long as you all have great poker faces, you can play along with the bit for quite some time before letting him off the hook!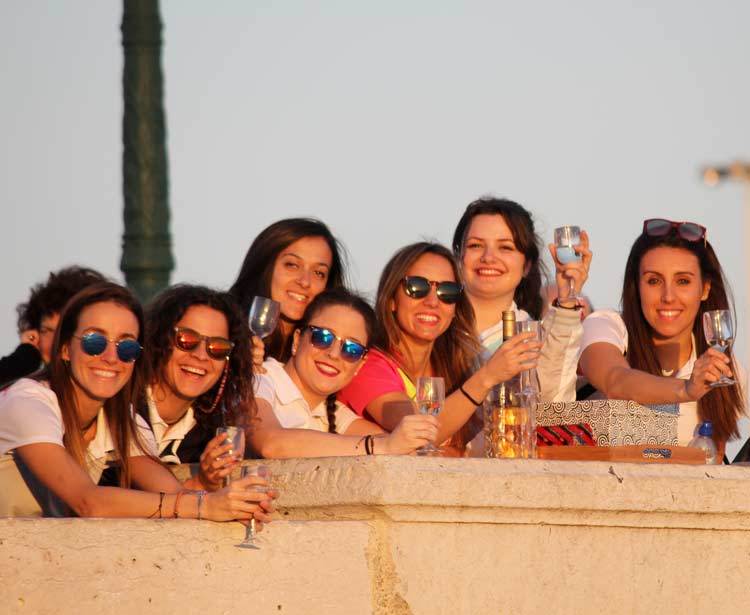 UV Shirt
If you are heading out to a club, then take advantage of the UV lighting. Buy a shirt for the groom and use some UV paint to mark up the shirt. He will put on his plain shirt and head out with you all. By the time he realizes he's wearing a shirt with a message like, "My nan thinks I'm well fit!" it will be too late to change! The more embarrassing the message or drawing, the better! Maybe you will decide to put a cartoon of his crown jewels on display with an invitation! 
Chat-up Challenge
For a combination challenge and prank, consider his hall of shame. Over the years, he's probably used a ton of awful chat up lines. Write them all down and distribute them among the lads. Get their help with finding lines you may have missed, and issue a chat-up challenge. Little does the stag know that he will be required to pick up the birds of your choice using these awful lines!! Failure to pull a bird will result in a forfeit! 
Handcuff the Stag
Handcuffs can also be great fun for pranking as long as you have a willing participant. Handcuff him to the pub, a hired little person, a stripper… you decide! It's really cheap if you don't hire a performer for the task, but don't lose that key!! 
"Cheeky" Candy Bar
If your mate's humour runs a bit more juvenile, then get him good and drunk and let him pass out. When it's done, stick a chocolate bar between his butt cheeks. It will melt by morning and give everyone a great laugh.
Stag Party Challenges
Challenges can make a party into a crackin' time – especially if you manage to take the piss out of the stag in a bit of cheeky fun! Make sure you don't get too dodgy, because you don't want to get arrested or get the stag in any real trouble with his fiancée, but enjoy coming up with great forfeits for failed challenges!
Musical Challenges
This is a way to take your mate's love of music and turn it against him. Challenges in this category include serenading random girls – seductively. Busking in the street is a good one. Kari-blokie can turn it around for the stag. As a reward, the guests must carry him to the next destination. Another transportation challenge is to tell the stag he's a numpty, and in order to change this judgment, he must serenade passing hotties until he scores someone's number. 
Dad dancing is also hilarious. The stag must hit the dance floor and do his dancing like a dad while keeping a perfectly straight face. To up the ante, challenge him to pull some birds with dad dancing and dad level chat-up line puns!
Secret Stags
For this sort of challenge, each stag must carry out his own personal secret mission. Anyone who gives it away will be forced to buy a round (or, if budget isn't great, some other form of forfeit, like allowing the blokes to give him a makeover for the evening). Try to tailor each challenge to the person so they have a good time but feel a bit awk. You want to actually challenge them but not make them miserable. 
Good ideas for this include cringe-worthy song dedications to the stag… karaoke-style, so the geezer has to sing along, catchphrases so the bloke has to create a stag party catchphrase that other members adopt and repeat, faked injuries they have to carry on for a certain amount of time, picking girly drinks until someone susses every time rounds are called, and use song titles in conversation until you're sussed out; if you hit 10 you win. Otherwise, you fail. 
Challenge Shirts
A fun way to create some healthy competition is to divide the group into teams. The groom needs to be his own team, and everyone else should be in teams of 2-4. Although you will spend the entire stag do together, each team will have a t-shirt with their own printed stag challenge. Any time you complete one of the challenges (in sight of another team) you must get them to check the box next to the item with a shirt paint marker. 
This lets the groom race other stag party members. Try to break up cliques and pair teammates who didn't know each other before the party. This avoids cliques from forming in the group and breaking off into splinter parties. 
Some good groom challenges include skinny dipping, bartending, getting a free drink, and performing embarrassing tasks like obtaining underwear from strangers. 
For groups, challenges can include performing a song as a male choir, acting out classic movie scenes, forming human pyramids, pulling a fit bird for every team member, having a round of shots with strangers, and more.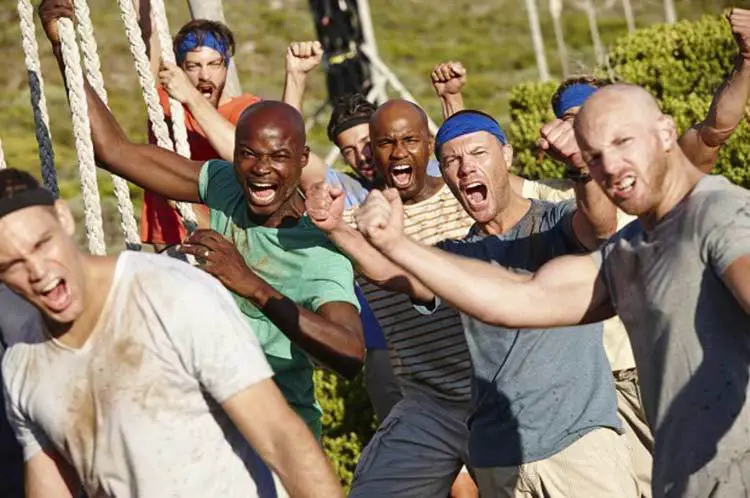 Scavenger Hunts
Come up with a list full of things to see and do. Make it a race to see who can complete it first. The winner gets a prize and the loser owes a forfeit!! Fun items include scoring a certain number of phone numbers, free drinks, finding outlandish things like red thongs, out of date fashions, and random objects. Triple threats are great additions to the list – obtaining selfies or kisses from a blonde, a brunette, and a redhead.
Phone Challenges
Challenges don't all require debaucherous behaviour at night. Phone challenges can be performed during any downtime on the trip for some extra fun.
The Long Lost Friend involves calling a random number and managing to convince the person on the other end of the line that they actually do know you. Whether you're an old friend from school or a friend of a friend, or even the serviceman who sends a card every year around Christmas, you need to convince someone they know you. To up the ante, perform this one face to face with a stranger so they can see that you don't even look familiar to them.
An awk phone call is also great fun. Have your stag pretend he's having a conversation that shouldn't happen in public. Whether he's having a steamy chat or begging for his job back, pleading with his partner not to leave him, or having a truly epic row, the possibilities are endless fun!
Amusing Challenges
There are some challenges that are wins all around for the whole group. These have a bit of harmless fun at the expense of strangers. See how many of these cheeky jokes you can get away with before getting caught. Make this one a group challenge, where each bloke does 1 thing and if the entire group succeeds there's an extra surprise. 
One of the best ones is to be a failed magician. Get a random stranger interested in seeing you perform a magic trick. Use props and donated items from the stranger and get really into it. The secret is that you are actually just trying to see how long you can keep their attention without actually performing any magic!
The celebrity look alike challenge is also pretty fun if anyone at the party looks enough like a celebrity. Simply pick the celebrity and have them try to convince a stranger that they are definitely that person. Bonus points if the person asks for a selfie or an autograph. Up the ante and pull a prank on the stag by making him do this with a celebrity who doesn't look much like him.  
Provocative challenges include anyone in uniform. If you see policemen, bouncers, and anyone in uniform simply tell them you love a man in uniform. For bouncers, just say how much you love a tough man in a suit. Wink at the barman any time he pours you a drink. 
Man Vs. Food (or Drink)
Another type of fun challenge is to have food and drink challenges. You're already drinking a lot, so be careful not to encourage too much dangerous binge drinking, but you can adjust the drinks a stag is allowed to order for the evening or how he drinks.
For example, you can force him to drink only girly drinks all evening. You can also make body shot challenges, where they have to set themselves up and wait until someone decides to go ahead and take a shot off their body… or have them try to find a stranger who is willing to let them take a body shot instead! 
Challenging them to binge on food works well. Another option is chilli challenges and seeing who can eat the spiciest peppers without water or milk. You can also require shots of hot sauce.
Fun Forfeits
The key to a good forfeit is the right level of embarrassment without ruining a good time. You don't want anything harmful, and if the wedding is near, you don't want to spoil wedding pictures with awkward hair colours, eyebrow shavings, or facial tanning that won't come off before the big day. That being said, you want them to have enough of a bite that they provide motivation to complete the challenges.
Makeovers
A great forfeit is a makeover. If a stag fails to perform a challenge in time, then he will have to wear whatever outfit you decide to put him in for the remainder of the night. A popular variant on this one, once you're out and about, is that a loser will have to sit on a stool and allow some willing females to give him a makeover. He won't be allowed to remove it for the evening, even if they give him a full Katie Price.
Punishment Shirts
Have some special t-shirts printed that say, "I'm with stupid." And "I am stupid." The loser's forfeit will be to wear the I Am Stupid shirt until the next challenge ends and someone else has to pay a forfeit of wearing the shirt instead. 
Beg or Busk
A traditional forfeit is to buy the next round of drinks. If budgets are tight for some people, you can change this forfeit by making it another challenge. Buy or Busk will allow everyone to have some fun without outright admitting that they're too broke to participate. No one will have to know who has money and who doesn't because the loser's forfeit requires them to find a different way to pay for the drinks! 
 If you have this forfeit, you must raise the money for the next round of drinks by begging strangers for mercy or busking for an honest donation. Give them a time constraint to get the money, and whatever they don't raise gets split among everyone the same way that traditional rounds would have been split without the forfeit. 
Stag Do Locations and Activities
If you want a truly epic stag party that involves more than just pub crawls and clubs, then here are some great weekend and daytime activities and getaways. Make sure to plan properly and find activities the stag will love. 
Activities
Here are some of the most popular activities for stag parties. Whether you're staying down the local or going abroad, these will be good craic. 
Casinos
Whether you go abroad to Monaco or Las Vegas, a casino can be a really fun time away. There's tons of gambling, plenty of drinks, usually a few good shows, and best of all… showgirls. Make sure you budget for this and be careful not to piss away more than you can afford to spend in there! 
Match Weekends
If you and the lads are all mad for sports, then consider planning a stag do around a big match. Whether it's the FIFA World Cup or the Premier League, you can plan to go support the stag's favourite team wherever they play next. Book tickets and travel and enjoy a weekend getaway centred around the city of the next big game!
Bubble Footie and Extreme Adventures
If you are part of an active group of lads who are all well fit, then consider playing some bubble footie. You get inside a giant bubble suit to restrict your movement and then you have to balance while floating on water, roll down hills, or even play a game of footie! 
Other great fun involves adrenaline weekends. You can do obstacle courses, archery, off-road buggies, zip lines, rafting over rapids, and camping and hunting! They're guaranteed banter and you'll get some great lad bonding time as well. Going paintballing also offers a few opportunities for stitching the stag! 
Road Trip!!
If you've got a smaller group of great geezers, then go on a road trip. You can choose to follow a map and itinerary or just have a spontaneous trip instead. This lets you stop for unexpected activities and novelty fun and check out some locally recommended hotspots. This is a great opportunity for pub tours, brewery tours, and scavenger hunting! 
Escape Rooms
Escape rooms are incredibly popular bonding activities. Find the theme that the stag will have the most fun in and lock yourselves in until you solve the clues and find your way out to freedom! This also lets you relax a little bit and have some fun of your own without worrying about itinerary and challenges. 
Locations
If you are going abroad, here are some popular destinations to consider. Tailor the location's culture to your stag's interests. There's a great opportunity for club crawls, foodie getaways, and physical activity.
Down the Local
If you are on a budget and need to stay in the UK, some cities offer great fun for stag parties. Check out places like Newcastle, Liverpool, Nottingham, London, Birmingham, Bristol, Essex, Brighton, Cardiff, York, Glasgow, Bath, Sheffield, Portsmouth, Leicester, New Quay, and more! 
Abroad… but Continental
If you're looking to get away without going too far out of the way or across the pond, then check out some of these really fun destinations. 
Amsterdam, Magaluf, Berlin, Madrid, and Dublin all have cracking nightlife. Other fun destinations include Barcelona, Riga, Prague, Tbilisi, Albufeira, Benidorm, Marbella, Krakow, Moscow, Valencia, Bratislava, Tenerife, Sofia, and Brno. For a great club crawl, head to Ibiza and for glamour, just hit up Monaco.
Far Far Away
If you want the lad to have the time of his life on the stag party and budget isn't a big issue, then go even farther and consider extending beyond a weekend. Las Vegas has so much to see and do that you'll need a full week just to hit up all the shows, casinos, and clubs you're interested in seeing! California is also great – you can see Hollywood, go to Disneyland, and tour Lost Spirits, a brewery that is like an adult version of Willy Wonka's Chocolate Factory!
Australia and New Zealand also have amazing vacation options. Check out Asia for some fun, too. Japan is a great place for culture, clubs, and tourism. China even has some great options, too.
Conclusion
At the end of the day, you will know what's best. Just remember to plan, plan, plan, and personalize the experience to your best mate. As long as you keep everyone on track and know the schedule ahead of time, you'll have a cracking stag do!