Fog Machines – The Best Party Starter
Regardless of the amount of party decorating your next event will involve, there is just a single, essential mood enhancing element that can set your party apart from everything else. Any ideas as to what that might be?
No, well, it is a fog machine! If you want to add a flair of mystery and sheer curiosity to your wedding ceremonies, Halloween party, live concerts, theatrical performances, etc., a fog machine is the best thing money can buy. It is a simple, easy to use-machine that, if used right, can last you a lifetime.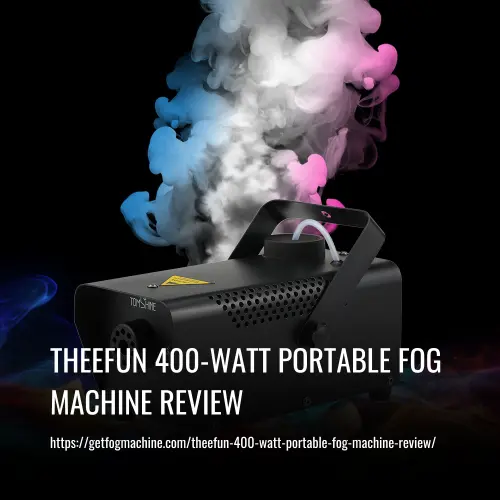 In This Article
In this article, we're looking at one of our favorite fog machine – the TheeFun 400 Watt Fog Machine. This fog machine is renowned for providing excellent functionality at bargain prices. We'll check out all the pros & cons of this fogger, and give you a full buyer's guide for deciding whether this 400 watt fog machine is right for you.
About the Product
Before you go out shopping for a smoke machine, you need to realize that buying a top-notch product is a prerequisite. That is why we wholly recommend the Theefun fog machine.
This fogging machine is lightweight, has easy to use controls, and can generate a lot of high-density fog output. Apart from sprucing up the event, creating a fog effect on the dance floor is delightfully simple.
There are a slew of methodologies to enhance the ambiance of the party you have planned. The Theefun fog device is a fun and quick way of generating some thick fog in the air, accentuating everything around it – and for that retro disco-feel at the club, dim the lights a bit more and play a romantic dance tune.
With a budget-friendly price and a plethora of features, the Theefun fog maker can become a staple for any fun event. In light of this, mentioned below are all the reasons why the device has taken the US market by storm.
Theefun Fog Machine – Top Features
Cutting-Edge Fog Spray
The spray-nozzle produces dense, uniform, and consistent fog without interruption. The machine sprays 2000 cubic feet of mist, which is a bit low compared to other fog machines. However, what is lovely about the product is the fact that it just takes 2 minutes to heat. So, you can expect the room to fill with fog in only a couple minutes.
The machine also has impressive power, for strong, continuous fog output, measuring in at 400 watts. 400 watts is considered quite ideal for home use or for smaller events. It's a "standard" wattage for a home machine, and this one definitely makes the most of its wattage, with 2000 CFM of output.
If you don't understand the technical jargon, don't worry. Just know that this thing is powerful, and emits lots of high quality fog.
Good Distance
Another reason to get your hands on the Theefun fog machine is the fact it can spray mist up to 2 to 3 meters. That is an impressive range! Moreover, the feature enables you to strategically place the device and flood the entire event area with fog. Again, it also has an output of 2000 CFM (cubic feet per minute) which is respectable.
Enhanced Durability
The fog maker is pure and durable aluminum, which means it will not break that easily and offers great heat dissipation. However, that does not mean that you should start handling it roughly. But accidentally tipping it over a hard surface or knocking it down on the floor from a height of 2 or 3 feet will not do any damage. Basically, it can stand up to regular wear and tear as you bring it from event to event.
Energy Saving
You will be surprised to know that this highly cost-effective fog machine comes with built-in energy-efficient technology and components. There is a wired remote control you can use to control when you need the fog and when you don't, conserving electricity. It's not quite as convenient as a wireless remote control, but at least you won't lose it as easily!
Also, the fog maker is non-toxic, so the vapor it produces is a mist that is safe to breathe in. But you need to refill the tank with quality fluid (for more on that, check out our recommendation below).
When you are using the wired remote, you should note that it needs to be connected to the fog machine all the time. This is true even if you are controlling the fog machine with a wireless remote. The wired remote still needs to be plugged into the machine during operation.
A Plethora of Applications
Another advantage of the Theefun fog tool is that there are a variety of applications of the product. The device can act as a dehumidifier, repel insects and bugs, keep internal temperature regulated, etc. Besides, it is perfect for family entertainment, concerts, weddings, festivals, birthdays, etc.
Portability
The fog machine is compact and portable, with the entire package weighing in at only 1.81 kg. You can store it in the garage, your attic, or the storage unit in your basement. And if you need to lug it around from event to event, then that's no problem as well.
What other Says
Often, the best way to get an objective idea about a product is to look at customer reviews. Let's see what customers have to say about the Theefun machine (the good and the bad!):
The Good
There is no question the Theefun fog device has taken the U.S. markets by storm. Most users are quite pleased with how easy it is to handle. A lot of other customers have stated that they used the machine for extended periods, and it is long lasting, and it has not overheated.
The general sentiment seems to be that users are very happy with the machine, especially for the price. Users came away quite satisfied that they could get a reliable, functional, and efficient fog machine for such a fair price.
Perhaps  the best thing about the device is that you can control the amount of fog generated by the machine via the wired remote control.
The Bad
Although most reviews were very positive, some users also had negative things to say.
Some aren't impressed with the device as it is for indoor use only, which was basically the only reason for a couple of average reviews. But with a low price and the rest of the features mentioned, the product is in high demand. Plus, some are not happy with how the machine disperses all the mist – it comes out from the top as well as from the default nozzle.
But those issues may be just a matter of preference.
Overall
Overall, we are happy to report that reviews for this product are great!
All in all, the product is reliable and has made a lot of people happy. Reviews are quite positive, and consumers are surprised that they can receive a device this functional for a bargain price.
How to Use Your Fog Machine
To use this machine, follow the easy steps below:
Step One. Pour your fog liquid into the fog tank, and then you can plug in the power cord into the desired power outlet. Keep in mind that the fog liquid is sold separately.
Step Two. Turn on the fog machine so that the preheating process can begin. After approximately three minutes, the fog machine will emit a sound, and this is how you know the warmup process is complete.
Step Three. Now you can press the fog button on the machine. Doing so will spray the fog for approximately 20 seconds. After this, it will pause so that it can reheat and then it is ready to produce fog again.
Tip: if you prefer to have colorful fog to add even more excitement to your next event, you can select one of seven light choices on the fog machine by pressing the R/G/B buttons at the same time.
Where to Use the TheeFun Machine
Often, the best way to see whether a machine is right for you is to look at how it can be used. In this section, we not only look at what this machine is best for, but also what it is not ideal for. This way, you can get an accurate idea of whether you need it:
First, let's check out where the Theefun Machine is best utilized. As mentioned above, it's a 400 Watt machine, which is rated for 2000 CFM of fog output. Basically, this makes it capable of filling single rooms with ease, but it would struggle to fill larger rooms and venues. As such, it is most ideal for:
Halloween Effects
This machine is excellent for really taking your Halloween décor to the next level. Fog is great for creating a spooky, mysterious atmosphere which can really elevate any Halloween scene. Some even take it a step further and build their own haunted house. Of course, you can use it for any special effects – it's not just a Halloween fog machine!
At Home Use
A 400 watt machine is a perfect size for at-home use. It will easily fill a single room, but won't let out too much smoke to overwhelm a situation. This brings us to our next point:
Smaller Parties/Events
The Theefun machine is perfect for single room use at a smaller party or event. It's ideal for filling a small gathering or space, or even adding excitement to a small dance floor. It's a great touch to really liven an event.
Where Not to Use
Of course, this machine has its limitations as well. It's not a flaw with the machine, it's just what it was designed for. Here's what the Theefun machine will not do well:
Big Events
For bigger events, such as large weddings, large parties, or for use at a bar or club, then you'll want a more serious fog machine than this. A 400 watt machine will be barely noticeable if you place it in a larger room, and you'll definitely be better off with a more powerful machine.
Theatrical Shows/Concerts
Along the same line of logic, this machine won't be enough for a bigger theatrical performance, or for larger concerts. Once again, you're better with a more powerful machine (more wattage).
A fog machine requires a proper fog juice to function. This is true of the Theefun fog machine, as well as every fog machine on the market. But not just any fog juice will do, as fog machines are designed to work with only specific types of fog juice.
TheeFun 400 Watt machine is designed to work with water based fog solutions, and we recommend the top brand on the market – Froggy's Fog. Specifically, we recommend their Halloween and Party Fog Fluid. This fluid is excellent, and it's been designed to work in most 400-Watt machines.
As the name suggests, this fog mix is great for Halloween and for parties. It's a thick, noticeable fog, that adds a great blend of excitement and mystique to the air. It's a strong fog, and it's long-lasting within a room.
This is high quality stuff, made with non-toxic, non-staining, and non-hazardous materials. The entire substance is made with pharmaceutical grade chemicals that have been approved by the FDA.
Overall, it's one of the best fog juices on the market, and it will work great with your TheeFun Fog Machine. And if you want to see the true difference with a high quality fog, check out this comparison video.
Buying Advice
You can get your hands on the Theefun fog machine for under $34 with free shipping on Amazon. With a price so low and a slew of great features, it is difficult to resist the urge to try the product out just once.
The only drawback, or potential drawback depending on your personal preference, is the fact that it does not entirely disperse the thick fog out of the nozzle. Instead, you will see smoke coming out from the top of the device as if the product were on fire.
It does help to create a fresh, happening atmosphere, but it can be counterintuitive if there are a significant amount of people attending the party.
Safety Precautions
When using this portable fog machine, you want to always make sure that there is enough fluid in the tank before each use. The nozzle should be fully immersed in the fog juice. You should also refrain from allowing the fog to spray directly onto people and it should be kept away from heat sources like a fireplace or radiator.
This fog machine is meant for indoor use but has no timer. The LED lights on this machine can only be activated after the fog machine has had ample time to warm up. You can run the fog separately from the lights.
Maintenance of Your Fog Machine
Maintenance is essential if you want to make sure that your fog machine stays in tip-top working order for every party and event you are throwing. To do this, make sure only to use a mixed liquid of 80% distilled water and 20% vinegar when it is time to clean the machine. The refractory pipe should be cleaned before and after each use. You want to be careful not to leave any vinegar in the lines either.
Once the cleaning is done, you should then reequip the nozzle after the machine has cooled down and then add in the fog juice for the next use. In addition to cleaning the inside of the machine as mentioned above, you also want to wipe down the exterior of the machine and make sure it is dry before you store it away.
Final Verdict
Without a doubt, the Theefun fog device can add a fun element to your events. What more could you possibly want from a fog device? It offers long lasting fog effects for the dance floor, for live concerts, or for whichever event you are hosting. Even though it is on the smaller side, this fog machine offers great heat dissipation and has an output of 2000 cubic feet per minute.
While this may not be the absolute best when compared to other fog machines, you will quickly find that it might be perfect for your venue and offers all the ambience and fun you were hoping for when you decided to go with this fog machine.
FAQs
How do Fog Machines Work?
If you're a first-time user, you might be wondering how these machines work. Their inner workings are a bit complicated. Basically, fog machines work by heating up the fog fluid inside the machine, which turns this fluid into vapor. Once it exits and mixes with the colder air, it looks like the fog you are used to seeing. Of course, this is a very simplified version of what actually happens. For a more detailed explanation, check out our complete guide to fog machines and how they work.
Does the Fog Liquid Leave Residue?
Many first-time foggers wonder whether all that fog will leave nasty marks on their floors, furniture, or anywhere the it lands. For the most part, it will not. Although fog does leave very small amounts of residue, it will mostly not leave any lasting marks, stains, or cause any damage. Of course, this will depend on the type of fog machine you are using, and the type of fluid you buy. This is why we recommend high quality juice, like the Froggy's Fog Juice we outlined above.